Beverly Hills' close-up? It looks different now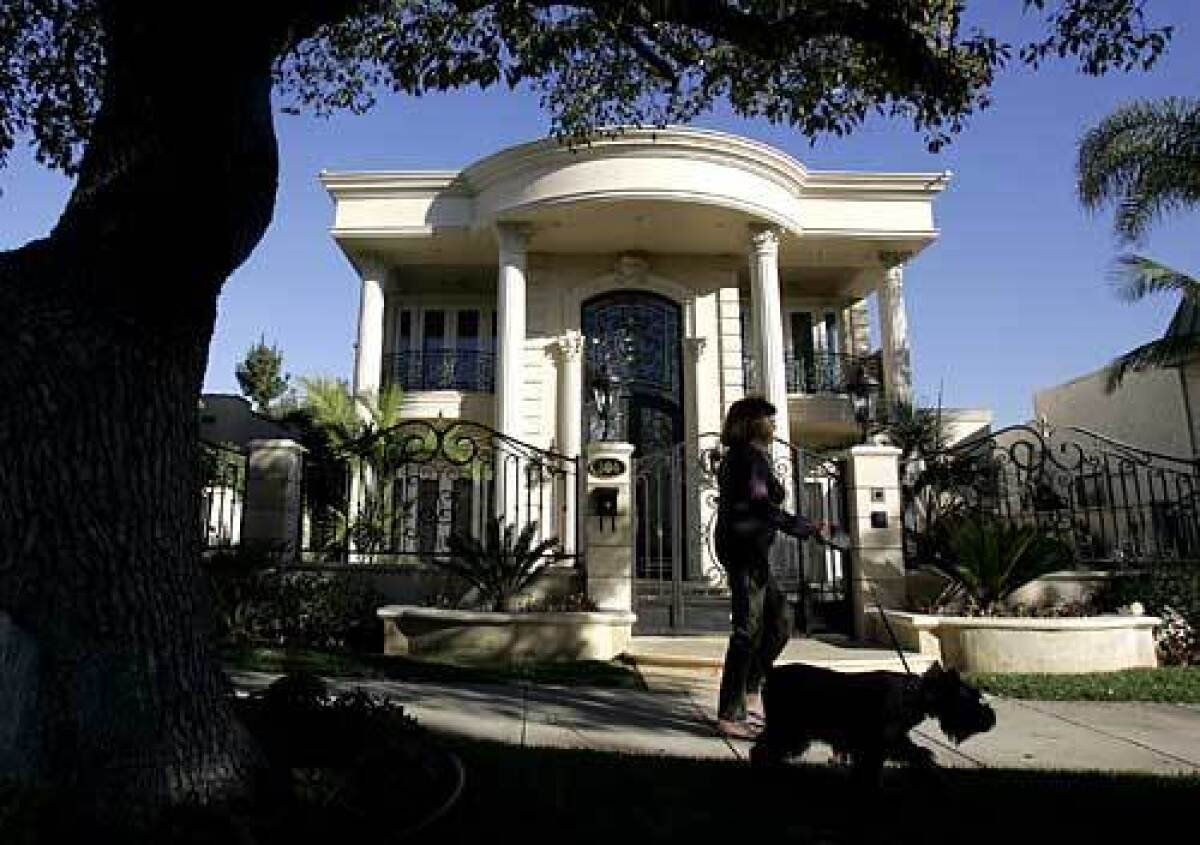 Times Staff Writer
Beginnings
In 1906, Burton Green and his wife named the land they purchased Beverly Hills, after Beverly Farms in Massachusetts. After construction of the Beverly Hills Hotel in 1912, the city gained popularity as a haven for celebrities. The town remained that way until the late '70s, when big changes occurred half a world away.
When the shah of Iran was overthrown in 1979, many wealthy Iranians fled the new fundamentalist Islamic rule and settled in Beverly Hills, internationally known for its high-performing schools and impressive homes. Most important, it was a city where some of their friends and relatives already had established roots.
---
FOR THE RECORD:
Neighborly Advice —The column in last Sunday's Real Estate section, a profile of Beverly Hills, included a reference to Cecil B. DeMille shooting a scene in "Sunset Boulevard." The 1950 film was directed by Billy Wilder.

---
"To come to L.A. was to come to an Iranian community, to be near friends," said Roxana Rastegar, an actress and Beverly Hills resident, now in her 30s, who moved here in 1980.
Rastegar's family bought a home in the foothills area north of Sunset Boulevard for $2 million in 1979. Today those homes sell for up to $30 million — $8 million "just for the dirt," said Paramount Rodeo Realty agent Elaine Young.
And now?
Whites are a majority of the city's population of 34,000; Asians make up the next largest racial group, at about 8% of the population, according to 2000 census data.
But Beverly Hills has considerable ethnic and cultural diversity, with a heavy concentration of residents with Middle Eastern, Russian and Eastern European ancestry.
Iranian Americans make up one-fifth of Beverly Hills' population and account for about 40% of students in the Beverly Hills public schools.
At Beverly Hills High School, 57 nationalities are represented and, in the Beverly Hills school district, 27 languages besides English are spoken at home, according to Jeffrey Hubbard, superintendent of schools.
The school district's touted melting pot boils over occasionally. Although the younger children largely ignore ethnic differences, high school students tend to segregate themselves by ethnicity, and conflicts can arise, Hubbard said. To ease those problems, the district has established a multicultural committee "to encourage tolerance and understanding of students who come from other countries," Hubbard added.
Drawing card
Luxury housing, luxury shopping, luxury hotels. Also, the city's excellent public schools.
Some longtime Beverly Hills residents who left the city during the last two decades to escape the influx of immigrants are reversing direction and moving back, according to veteran agents involved with the sales. The returnees want the cultural mix and public school education they feel is lacking in the other Westside enclaves many moved to.
Not all of the new residents are returnees. Judy Cohen, a Brentwood resident of 26 years who raised her two older children there, recently moved to Beverly Hills for the first time to send her two adopted daughters from Kazakhstan and China to the local public school. Cohen loves the city's "walkability" and the fact that the kids can safely ride their bikes on quiet, flat streets.
Some longtime Beverly Hills residents never left the city and embrace the town's new multiculturalism.
"On my block today, of the 16 houses, only three people were born in the U.S.," said Nancy Heimler, a 53-year resident. "My husband is Hungarian; there are Israelis, Persians, Egyptians and Romanians. There are seven countries represented."
Housing stock
Despite its reputation, not all Beverly Hills homes are mansions. Neighborhoods south of Wilshire Boulevard are dominated by apartment complexes, and more are under construction.
"It's surprising to many people, who think Beverly Hills is synonymous with glamour and celebrities, that many of our residents are tenants, not owners," said Michael Libow, a Coldwell Banker agent and Beverly Hills resident.
There are 737 condominium units and 171 apartments in the 90210 ZIP Code, and 7,015 houses. However, today's biggest sports and entertainment stars choose what agents have dubbed "Beverly Hills post office" locations in Beverly Park, near Mulholland Drive and Benedict Canyon. They get the cachet of a Beverly Hills address but live on secluded, gated estates far from the town's hub, realty agent Young said.
Report card
With an average 26-1 student-teacher ratio and consistently high test scores, public education is a strong draw for families. Beverly Vista Elementary School posted a score of 887 on the 2005 Academic Performance Index Growth Report. Hawthorne Elementary scored 877, and El Rodeo and Horace Mann Elementary schools scored 872 and 863, respectively. Beverly Hills High School posted 814.
Historical values
Residential resales for ZIP Code 90210:
Year...Median Price
1990...$1,265,000
1995...$812,500
2000...$1,317,500
2004...$1,880,000
2005...$1,910,000*
*Through November
---
Sources: DataQuick Information Systems; California Department of Education, api.cde.ca.gov; Afa Shafa, agent at Coldwell Banker, Beverly Hills; Michael Libow, agent, Coldwell Banker, Beverly Hills; Jade Mills, agent, Coldwell Banker, Beverly Hills; Elaine Young, agent, Paramount Rodeo Realty, Beverly Hills; Tom Dunlap, manager, Prudential John Aaroe Realtors, Beverly Hills; https://www.beverlyhills.org ; Beverly Hills Mayor Linda Briskman.
---