6 Images
Rose Bowl Peripheral
Texas Longhorns fans line-up to see their team arrive before the start of the BCS National Championship Rose Bowl Game against the USC Trojans.
(Donald Miralle / Getty Images)
The Southern California marching band dances in the parking lot in front of one of the Texas trailers before USC meets Texas in the Rose Bowl.
(Kim D. Johnson / AP)
A USC fan shows his colors during pregame festivities at the Rose Bowl in Pasadena.
(Allen J. Schaben / LAT)
USC fans swarm the team buses as they arrive for the championship game.
(Allen J. Schaben / LAT)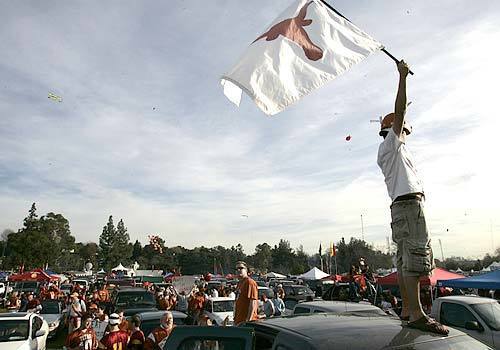 Longhorn fan Zack Balkin rallies with fellow fans from a trucktop.
(Allen J. Schaben / LAT)
USC student Mark Austin channels his inner Trojan.
(Allen J. Schaben / LAT)