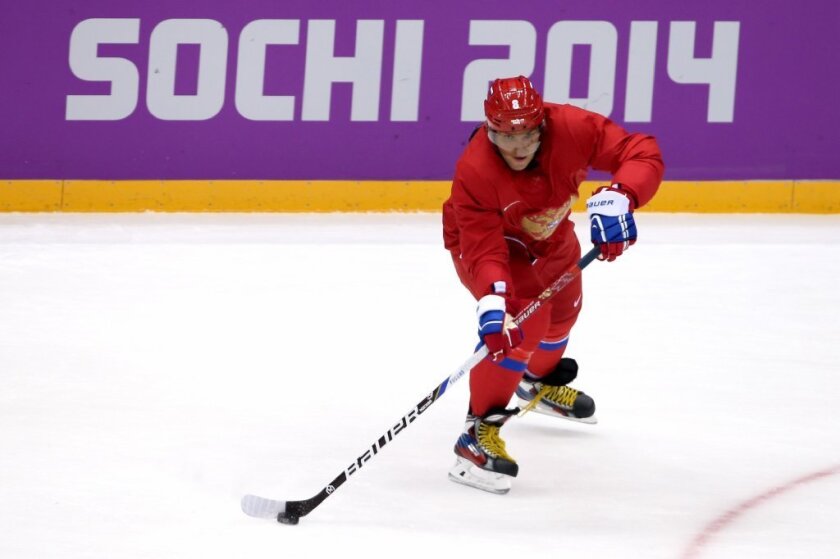 SOCHI, Russia — Alexander Ovechkin's face has been all over Sochi on advertisements themed to promote the Winter Olympics. Finally, the Washington Capitals' stellar winger arrived in person and practiced with Team Russia at the Bolshoy Ice Dome, skating on the wing with Evgeni Malkin and Alexander Semin.
Competing in the Olympics in his homeland means a lot to Ovechkin — so much, in fact, that he long ago said he would come here on his own if the NHL, the players' association and International Ice Hockey Federation hadn't reached an agreement on terms for allowing players to play for their respective countries.
There will be a huge burden on Ovechkin to help bring host Russia its first gold medal since it competed as part of the Unified Team at Albertville in 1992. And Russia might have to start, at least, without center Pavel Datsyuk, who has a lower-body injury and didn't participate in Monday's practice.
But on Monday, mere hours off a flight from the United States and after a get-your-legs-moving practice, Ovechkin wasn't ready to contemplate all of that.
"The pressure is going to come 100% but right now we just have jet lag. We have a different time right now. I'm pretty sure you guys had the same thing for a couple days," he told reporters.
"Right now we just don't realize what's going on but I'm pretty sure [Tuesday] is going to be better."
Asked if this would be the best hockey tournament ever, he said, "I hope so. We'll try our best."
And although he claimed to be jet-lagged, he managed to pull off a funny line when asked what a gold medal would mean.
"Mean gold only cost $50 billion," he said, a reference to the price tag for the entire Games.
ALSO:
U.S. routs Switzerland, 9-0, in women's hockey
Maria Hoefl-Riesch wins gold in women's super combined
Finland confident as it prepares for Olympics hockey tournament
---