Sochi 2014: Drew Doughty leads Canada past Finland, 2-1, in overtime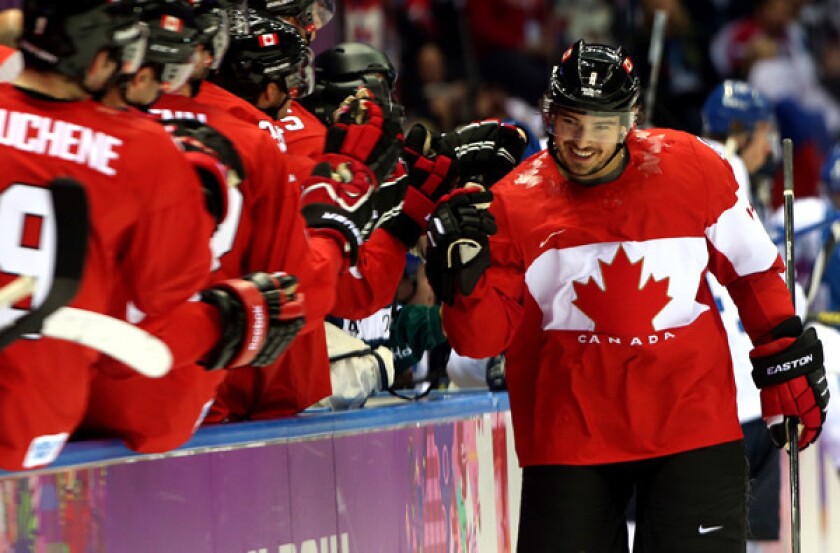 SOCHI, Russia — With four goals to his credit in the Sochi Olympic hockey tournament, Kings defenseman Drew Doughty has single-handedly outscored Team Slovakia (2), Team Norway (3) and Team Switzerland (2).
As he did at Vancouver in 2010, Doughty has again showed how much he enjoys playing on the big stage. He scored both of Canada's goals Sunday in a 2-1 overtime victory over Finland at the Bolshoy Ice Dome, which gave Canada the No. 3 seed and a few days off before Wednesday's quarterfinals.
Doughty skated in on the left-wing side to score the first goal, at 13:44 of the first period, during a power play. Tuomo Ruutu tied it late in the second period on a long shot that eluded Carey Price, but Doughty won it in overtime when he again skated up the left side and beat Tuukka Rask with a low shot to the glove side.
Kings teammate Jeff Carter called Doughty the most talented player he'd ever played with.
"He's playing great," Carter said. "I don't think he's doing anything differently than what he does back in L.A., but I think he might be shooting a little more and finding some more holes, and I hope he can continue it."
Doughty said he was nervous in his first Olympics, primarily because he knew few of his teammates — and most of them were much older. He's more settled and confident this time around.
"I'm not nervous. I'm just happy to be here and excited to be a part of Team Canada once again," he said. "It's always so much pride to be able to do that and it's so much fun. We're here to show Canada what we can do as players and as a team and it's an exciting opportunity."
Canada, the No. 3 seed, will face the winner of Tuesday's Switzerland-Latvia qualification playoff in the quarterfinals Wednesday. "We don't care who we face," Doughty said. "We're ready to go."
Finland, the No. 4 seed, will face the winner of the Russia-Norway game. Ducks winger Teemu Selanne said he hadn't been aware of the various scenarios and said it was too early to discuss facing host Russia, which is likely.
Selanne also denied having said anything during the game to Sidney Crosby, though he was seen speaking to Canada's captain soon after Crosby had drawn an interference penalty on Jarkko Immonen and it was widely speculated that he was telling Crosby not to dive.
"I talked to the referee. I thought it was not a very good call," Selanne said, referring to Canadian referee Kevin Pollock. "I said if it had been anybody else, a Norwegian player, they would not call that. Obviously the referee was Canadian. He did a good job. I tried to remind him, 'Forget the names on the back. You got to do the job you've been
doing the whole tournament.'"
Selanne did have a considerable compliment for the Sochi hosts, calling these Games the best he has participated in — and these are his sixth Winter Olympics.
"Awesome. Everything has been top-notch. Best organized Olympics so far, for me," he said. "Everything is easy for athletes. Everything is close. Everything is brand-new. $50 billion works."
So why not one more Olympics?
"In a different sport," he said, laughing. "I heard that downhill skating is going to be an event. Who knows? If I really want one more, I find something else. This is too hard."
ALSO:
Phil Kessel has a hat trick in U.S. rout of Slovenia
Kings, Ducks continue to make impact at the Winter Games
Ducks' Cam Fowler says win over Russians 'unbelievable to play in'
---