2014 Olympics opening ceremony live: The grand finale
A fireworks show ended the 2014 opening ceremony of the Olympics with a bang.
(Streeter Lecka/Getty Images)
Hong Kong's in the house. Flag bearer speed skater Lui Pan-To Barton leads his national delegation at the 2014 opening ceremony.
(Andrej Isakovic / AFP/Getty Images)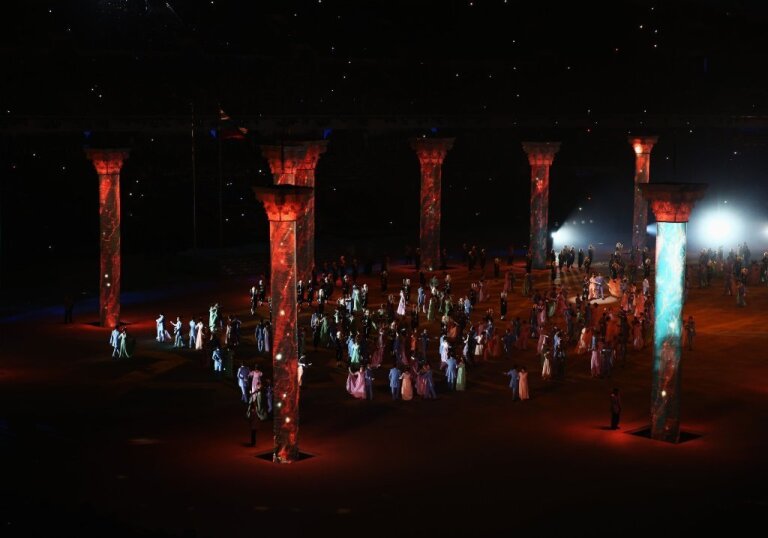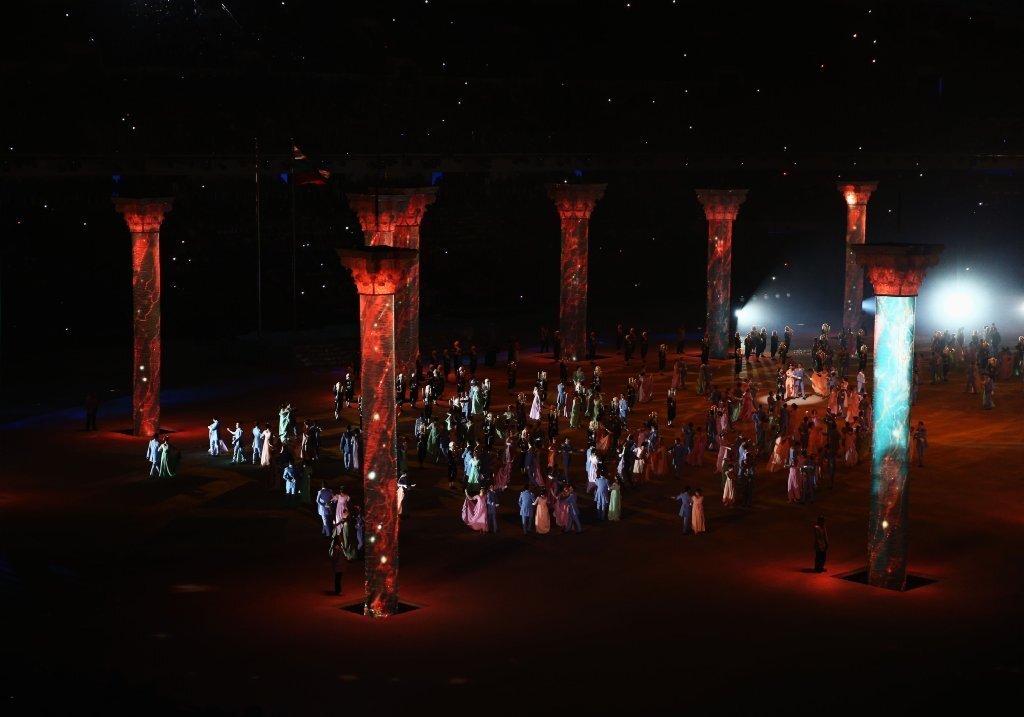 An elegant ballet was performed among tall columns during the opening to the Winter Games.
(Clive Mason/Getty Images)
Actors perform as characters from the time of Peter the Great during the opening ceremony of the Sochi 2014 Winter Olympics.
(Bruce Bennett/Getty Images)
Dancers Danila Korsuntsev and Svetlana Zakharova perform during the "War and Peace" segment of the opening ceremony entertainment.
(Pascal Le Segretain/Getty Images)
The Olympic mascots on skates, skis and snowboard.
(Tatyana Zenkovich / EPA)
Large helium inflatables are part of a colorful set at Fisht Olympic Stadium.
(Tatyana Zenkovich / EPA)
USA enters the Olympic stadium led by Nordic combined skier Todd Lodwick.
(Pascal Le Segretain/Getty Images)
Switzerland's team makes its entrance in Sochi.
(David J. Phillip / Associated Press)
Members of the Italian team party as they enter the stadium for the opening ceremony.
(Patrick Semansky / Associated Press)
Panagiota Tsakiri of Greece carries her country's flag during the opening ceremony in Sochi.
(Matt Dunham / Associated Press)
Brazil's team, with flag bearer Jaqueline Mourao, makes its Olympic march.
(Charlie Riedel / Associated Press)
Poland enters the opening ceremony venue in Sochi. Flag bearer is Dawid Kupczyk.
(ANATOLY MALTSEV / EPA)
Slovenia's team is led by ice hockey player Tomaz Razingar.
(Paul Gilham / Getty Images)
Bobsledder Hanna Emilie Marien carries the flag for the Belgian team.
(Mark Humphrey / Associated Press)
Bulgaria's flag bearer, alpine skier Maria Kirkova, leads her national delegation during the opening ceremony.
(Andrej Isakovic / AFP/Getty Images)
Skier Maria Hoefl-Riesch leads the German team into the stadium in their rainbow-colored outfits at the Olympics opening ceremony.
(Pascal Le Segretain / Getty Images)
Short track speed skater Jon Eley of the Britain Olympic team carries his country's flag at Fisht Olympic Stadium.
(Pascal Le Segretain/Getty Images)
Team Italy, with luger Armin Zoeggeler carrying the flag, enters the stadium.
(Anatoly Maltsev / EPA)
The Austrian team enters Fisht Olympic Stadium in Sochi, Russia.
(Damien Meyer / AFP/Getty Images)
Australia's athletes march into Fisht Olympic Stadium.
(Andrei Isakovic / AFP/Getty Images)
Platforms floated above the Olympic stadium, showing different landscapes of Russia.
(Barbara Walton / EPA)
The opening ceremony of the 2014 Winter Games ended with a massive fireworks show in Sochi's Olympic Park that reportedly set off car alarms and rattled windows.
The spectacular fireworks show followed the Olympic torch being carried into Fisht Olympic Stadium and the cauldron lighted.
Before the pyrotechnics, the crowd had a range of entertainment, including ballet and dancers in illuminated costumes, likened to glowing jellyfish.
During the ceremony, IOC President Thomas Bach welcomed the athletes with a message that stressed tolerance: "You have come here with your Olympic dream. You are welcome, no matter where you come from or your background. Yes, it's possible even as competitors to live together and to live in harmony with tolerance and without any form of discrimination for whatever reason."
Athletes drew thumbs up and thumbs down for their apparel as they made their way into the stadium. U.S. athletes wore their Ralph Lauren gear -- including a chunky, patchwork knit wool cardigan emblazoned with stars, stripes and patriotic graphics.
"Better in theory than in practice," said The Times' Helene Elliott wrote of the sweaters.
One Olympic goof was making the rounds on social media. Five massive illuminated snowflakes were supposed to open into the Olympic rings, but one remained a flake.
The ceremony will be shown in its entirety at 7:30 p.m. PST on NBC.
How to watch the Olympics online | ... and on TV
[For the record, 12:29 p.m. PST: An earlier version of this post said the Olympic flame was lighted by Maria Sharapova. Vladislav Tretiak and Irina Rodnina did the honors.]
---