NBC criticized for post-race interview with Bode Miller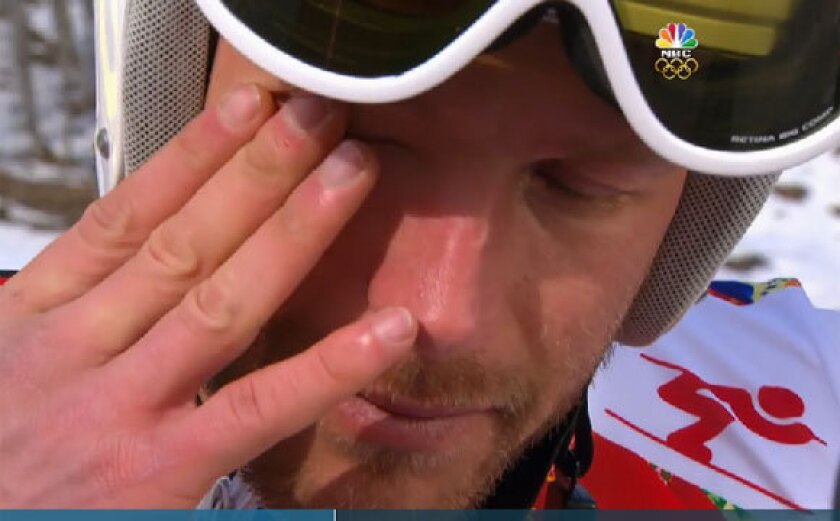 Bode Miller won a bronze medal in the men's super-G at the Sochi Games over the weekend, becoming the oldest Alpine medalist in Olympic history, at 36 years and 127 days. Miller dedicated the race and the medal to his younger brother, Chelone Miller, who died in April.
After the race, Miller was interviewed by NBC's Christin Cooper, who angered many viewers with what they felt was an over-the-top line of questioning designed to make Bode Miller cry.
You can watch the video here. Here is a transcript:
Cooper: Bode, such an extraordinary accomplishment, at your age, after a turbulent year, coming back from knee surgery, to get this medal today. Put it in perspective. How much does this mean to you?
Miller: I mean, it's incredible. I always feel like I'm capable of winning medals, but as we've seen this Olympics, it's not that easy. To be on the podium, this was a really big day for me. Emotionally, I had a lot riding on it. Even though I really didn't ski my best, I'm just super, super happy.
Cooper: For a guy who says that medals don't really matter, that they aren't the thing, you've amassed quite a collection. What does this one mean to you in terms of all the others.
Miller: This was a little different. You know with my brother passing away, I really wanted to come back here and race the way he sensed it. This one is different.
Cooper: Bode, you're showing so much emotion down here, what's going through your mind?
Miller: Um, I mean, a lot. Obviously just a long struggle coming in here. It's just a tough year.
Cooper: I know you wanted to be here with Chelly, really experiencing these Games. How much does this mean to you to come up with this great performance for him? And was it for him?
Miller: I don't know if it's really for him but I wanted to come here and, I dunno, make myself proud, but ... (trails off)
Cooper: When you're looking up in the sky at the start, we see you there and it looks like you're talking to somebody. What's going on there?
At that point, Miller breaks down into tears.
In the aftermath of the interview, Miller began trending on Twitter, with many people coming to Miller's defense, including Mike Eruzione, the team captain of the famous "Miracle on Ice" hockey team:
Some announcers just don't know when to stop asking questions-why can't they leave Bodie Miller alone and let him deal with his emotions.— MIKE ERUZIONE (@MERUZIONE) February 17, 2014
@MillerBode Great day today sorry you had to deal with that insensitive reporter— MIKE ERUZIONE (@MERUZIONE) February 17, 2014
Others who chimed in:
This Bode Miller interview got really uncomfortable/disrespectful very quickly. Christin Cooper should've backed off. https://t.co/aJfmrkPPkm— Kami Mattioli (@kmattio) February 17, 2014
The only thing worse than Christin Cooper's interview with Bode Miller is that NBC had hours to edit it & chose not to do so. @NBCOlympics— Chewy Smith (@Chewcipher) February 17, 2014
There are literally hundreds more to choose from, but you get the idea. All this brought a response from Miller, who tweeted:
I appreciate everyone sticking up for me. Please be gentle w christin cooper, it was crazy emotional and not all her fault. #heatofthemoment— Bode Miller (@MillerBode) February 17, 2014
My emotions were very raw, she asked the questions that every interviewer would have, pushing is part of it, she wasnt trying to cause pain.— Bode Miller (@MillerBode) February 17, 2014
Do you think Cooper went too far? Vote in our poll and let us know.
ALSO:
Trevor Jacob is a perfect fit for snowboard cross
Sochi Olympics: Men's hockey playoff schedule set
Sochi Olympics: Snowboard cross competition delayed by fog
---