Sparkling on Oscar night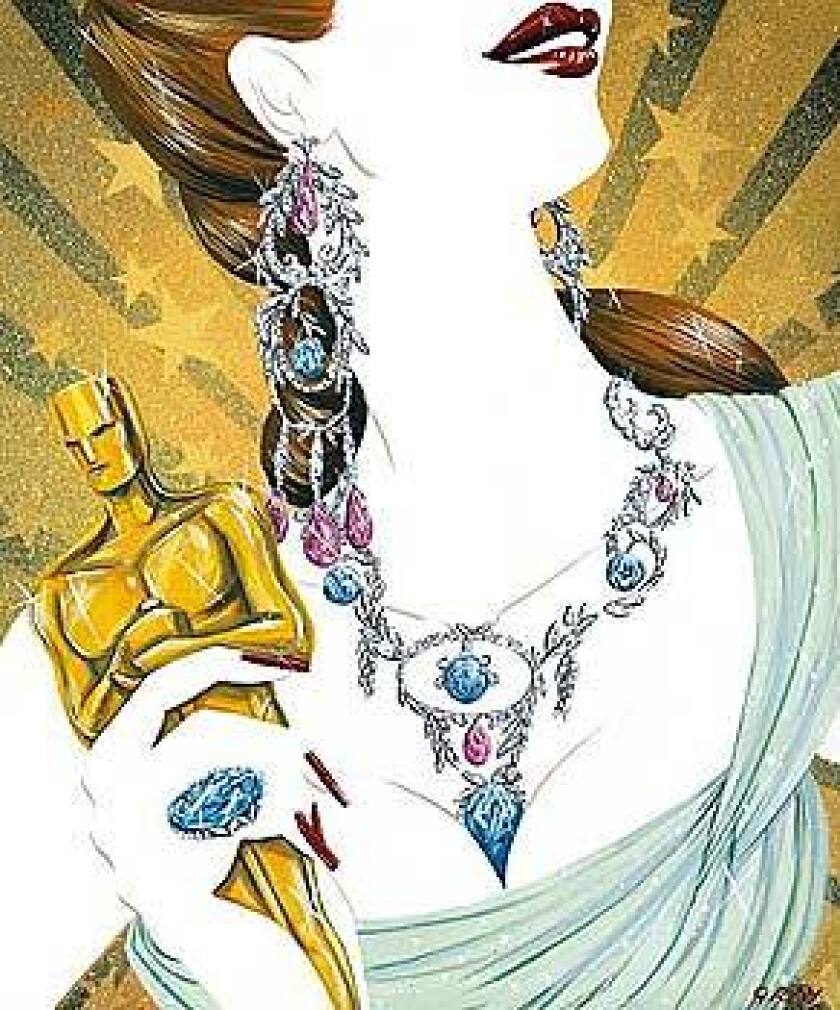 For the Times
Once in a while, the wrong movie dictates style trends. At the 1997 Academy Awards, "Titanic" prompted an outbreak of fussy Victoriana, and last year—despite the promise of glitzy looks inspired by "Chicago"—the working rich showed up at the Oscars looking like Frida Kahlo without the vibrant earthiness. Note to lemmings everywhere: If you're not vibrant and earthy to begin with, wearing your hair in a bun will make you look like Whistler's mother, not Salma Hayek.
The Frida bun was bad, but the earrings were worse. It's not that long, Vegas showgirl earrings are impossible. Nicole Kidman's shoulder-sweeping tassels that she wore to last year's Golden Globes were a risk that paid off, and they were designed to her specifications to match her dress (Kidman has replaced Tom Cruise with Bulgari, which seems better suited to her). But by and large, a tasteful pair of chandelier earrings is as hard to come by as, well, a tasteful chandelier.
According to Sally Morrison, director of the Diamond Information Center, many of last year's leading ladies had commissioned showier jewelry than they ended up wearing. "They weren't looking at tiny, discreet pieces," she says. "When the war broke out, that changed everything."
The exception was Queen Latifah (oh, that regal tart!), who dared to buck the dour proceedings by showing up in enough diamonds to fund a revolution. But when your first name is Queen and your décolletage is one vast empire, why accessorize like a Mexican socialist?
As for the tiaras that came and went a few years back, even Hayek couldn't pull that off. When she wore one to the 1996 ceremonies, along with blue eye shadow, she looked like she was getting into character to film the Barbara Cartland story. The fairy princess thing is such a dead end—where can it go next? Scepters? Wands?
This year, the chandeliers are finally shrinking. What we're more likely to see now are lanterns—drop earrings like the ones Julia Roberts wore last year. But Morrison claims that big, "important" jewelry will still appear. "I would expect this year we will see the full flowering of the elaborate plans that were put in motion last year and stopped midway," she says.
But be warned: Bigger isn't necessarily better. The prize for the single worst piece of jewelry worn to the Oscars goes to Celine Dion for the enormous $650,000 asymmetrical Chanel collar shaped like a star with a long comet's tail that she wore in 1997. As one waggish friend said, "It looks like the logo for a conservative Washington think tank!"
Sadly, we probably won't see anything so outrageous at tonight's show. There may be a trove of fabulous maharani jewels waiting to spring forth from Beverly Hills vaults, but at this year's Oscar pre-show, the Golden Globes, the jewels were big, plentiful—and utterly unremarkable.
Rita Watnick, owner of Lily et Cie, the vintage couture house where stars such as Winona Ryder, Christina Ricci, Renée Zellweger and Demi Moore have bought their one-of-a-kind Oscar frocks for the last several years, decries what she saw as "a poverty of good taste" at the Golden Globes. "There was a fear of accessories. It was sort of like department store jewelry," she says.
What would Watnick like to see? "Rather than saying someone is wearing $6 million, have them wear something fine and unique and distinguished by its craftsmanship, rareness and beauty."
So Watnick sent Alicia Silverstone down the red carpet at the Golden Globes in a pair of dangly earrings from 1894, and accessorized both her and Christina Ricci with Audemars Piguet watches—possibly the only women's timepieces on the red carpet—and drop-dead elegant. According to Watnick, Ricci had been watching her share of Grace Kelly movies, and it showed. Her choice for the evening was a vintage Madame Grès gown. Silverstone's earrings may not have equaled the average budget of an independent film but, says Watnick, "They were totally gorgeous, amazing, one-of-a-kind, fabulous things. The value is irrelevant because they're irreplaceable."
She chalks up the stars' poor showing on the red carpet to a lack of connoisseurship. "It's hard to go out and buy a painting—a Pollock, a Renoir, Chagall, Matisse—unless you know something about what you're buying," she says. "The same is true of diamonds and clothes." Abetting the stars in their bumpkinhood are celebrity stylists, who more often are brokers of product placement than designers or artisans. They're entirely too popular these days, and those who are sought after by Oscar nominees can be more arrogant than the stars they dress. "If you call me in the afternoon, I might give you five minutes of my time," one of them drawled archly before hanging up in my ear. And are these middlemen and women really doing clients favors by pimping their earlobes to Harry Winston?
"These actresses don't realize how little they've sold their real estate for," scolds Watnick. "When you're a race-car driver and you put a name on your cap, you get tons of money in sponsorship. That doesn't happen on Oscar night. It costs these companies nothing."
What it costs the stars is any semblance of class. In 2001, Julia Roberts, then the highest-paid actress in Hollywood, loaned several square inches of wrist bone to Van Cleef & Arpels. She won the Oscar that year for "Erin Brockovich." Little did she know, however, that as she made her acceptance speech she also was starring in a high-priced version of the Home Shopping Network: Singer Luis Miguel called up Arpels after the ceremony and bought the bracelet for his then-girlfriend Mariah Carey. How do you think Roberts must have felt when she read that bit of gossip in the trades? Talk about an Oscar hangover.
Nicole Kidman, on the other hand, didn't win an Oscar that year, but she got the unofficial jewelry diva of the year award for commissioning a rough-diamond Bulgari choker that she didn't own but did help design. Roberts apparently learned her lesson, and last year commissioned a pair of unassailably unique Royal Asscher-cut drop earrings from Me & Ro.
Once upon a time, Hollywood royalty wore their own jewels. Joan Crawford's décolletage was not for rent at any price. She wore pieces from her collection, including a giant, swooping brooch/pendant that she was photographed wearing again and again. And Liz Taylor wore the famous 69-carat Taylor-Burton diamond almost as often as Ron Howard wears a baseball cap. In their heyday, these women were collectors of jewelry, the way Jay Leno is a collector of cars, exercising a curatorial level of knowledge.
Today, Oprah Winfrey is the only Oscar regular who makes a point of wearing her own jewelry. The custom-made teardrop necklace she bought from Sidney Garber has made three appearances on the red carpet to date, in 1995, 1996 and 2002, and it probably will remain her best friend for a long time.
Gwyneth Paltrow holds promise as a fledgling collector, though she tends to broker her jewelry deals on the hoof. When she won best actress for "Shakespeare in Love" in 1999, her father, Bruce, bought her the custom-designed Harry Winston choker she wore, and Winston threw in the matching $25,000 earrings as a gift. A charming story, until one calculates how well Harry Winston made out—not only did the company have the use of the Oscar-winning, fashion-list-topping Paltrow as a billboard, her father bought the first $160,000 worth of merchandise. Like the guy who advertises for Hair Club for Men, Paltrow is not only the spokeswoman, she's also a customer.
This year's accessory, which actresses are buying in droves, is a bit of tricky technology that stylists call the "right-hand ring." This is a big, gaudy bauble or pavé thing that, if worn on the left hand, would make you look as if you were engaged to become Truman Capote's beard, or a concubine to the sultan of Bahrain. Think of it as a tiara worn on the finger. Really, it's just what your mother used to call a cocktail ring, except that hers was made of citrine or garnet or pink paste (you can get them on EBay for as little as 99 cents).
The reinvention of the cocktail ring as a high-dollar, neurotically large, faux engagement ring must be a ploy: When actresses such as Jennifer Lopez look at their reflections, their brains fall for the mirror-image effect, effectively short-circuiting the multiple-marriage compulsion. It's really part of a plot by the conservative powers that be: With right-hand rings deployed across Hollywood, the marriage rate for starlets is expected to fall by something like 30% (some of them do, of course, eventually figure out that the image they see in the mirror is reversed). Agents, publicists and magazine editors all hope that the reinvention of the right-hand ring will stabilize the celebrity marriage rate at an optimal 1.5 weddings per star per year.
---