13 Images
Wednesday Test Gallery
Former WorldCom chief Bernard Ebbers leaves Manhattan Federal Court with his wife, Kristie, after being convicted for his role in the biggest corporate bankruptcy filing in the U.S.
(Peter Foley / EPA)
"I wanted to give the restroom the greatest look I could,' says service station owner Paul Moghadan.
(Perry C. Riddle / LAT)
St. James Davis, 62, lost his fingers, an eye, part of his nose, cheek and lips.
()
LaDonna Davis describes the eyes of a chimp that attacked her and her husband, who remains unconscious in critical condition. She is recovering from less-serious injuries.
(Luis Sinco / LAT)
Joe Kane points to a test pattern displayed on the screen behind him by Hagai Gefen's front-projection TV. Kane travels with a laptop, a light meter and software to do his job.
(Mel Melcon / LAT)
A poster of Syria's late President Hafez Assad in Beirut is one of the symbols of that nation's influence slated for removal in the Lebanese capital.
(Ramzi Haidar / AFP/Getty Images)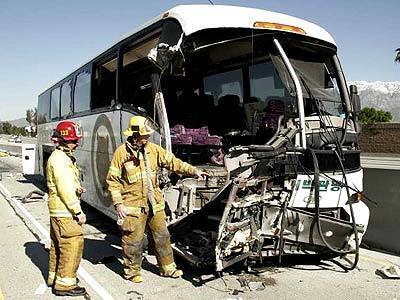 Firefighters, Jim Schiller, left, and Don Mayfield, look at a tour bus that collided with an Upland firetruck on Interstate 10 in Ontario. The accident killed at least one person on the tour bus.
(Francis Specker / AP)
Teachers and other opponents protested outside the Sheraton Grand Hotel where Gov. Arnold Schwarzenegger was believed to be attending a fundraiser Monday.
(Andy Alfaro / Sacramento Bee)
Schwarzenegger gets frisky with Assembly Speaker Fabian Nuñez before they met Tuesday for discussions.
(Rich Pedroncelli / AP)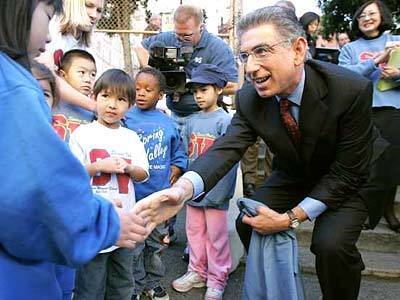 California Treasurer Phil Angelides greets students in Dawnell Boylan's kindergarten class after announcing at Spring Valley Elementary School in San Franciso Tuesday, March 15, 2005, he will run for Governor of California as a Democrat.
(Jeff Chiu / AP)
He played a role in starting California Indian Legal Services and the California Indian Education Assn.
(Debbie Aldridge / UC Davis)
Shown in 1994, her case became a rallying cry for people working to reform mental health treatment practices through the courts and state legislatures.
(Larry Kolvoord / Austin American-Statesman)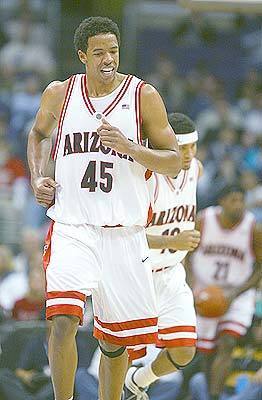 SOLID:
Channing Frye is sometimes overshadowed, but he is a main reason Arizona is seeded third.
(Alexander Gallardo / LAT)