Long-closed punk-rock bar still has a fan in new building owner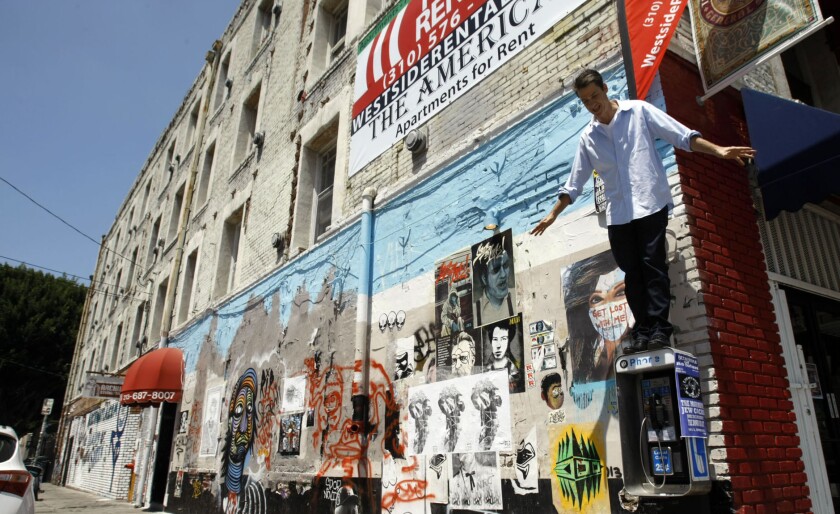 Aspiring punk-rock and alternative bands packed patrons into grungy Al's Bar in downtown Los Angeles throughout the 1980s and 1990s, making it one of the West Coast's best-known venues for hearing edgy music of the era.
Well-known performers such as the Red Hot Chili Peppers, Nirvana, the Fall, Sonic Youth, Beck and the Misfits all strode the modest stage in the dive bar at 303 S. Hewitt St. before they made it big.
The bar closed in 2001 but its memories still echo among many Angelenos, including entrepreneur Mark Verge, who recently purchased the old hotel now known as the American apartment building where Al's once raged. "I went there twice," Verge said. "It was a trip."
With broken-down furniture and walls covered in graffiti, Al's was the antithesis of so-called yuppie bars of the time that catered to upwardly mobile singles on the make. Al's was an aggressively unpolished saloon in a rough-edged neighborhood and gave off a whiff of danger.
Now the neighborhood is changing rapidly, and Verge has long-range plans to upgrade apartment units in the building and put a Westside Rentals office in as part of the American office. He owns the rental company.
First, he plans to upgrade the 12 apartments that are vacant. He doesn't plan to change any of the existing businesses, he said.
Even though Al's Bar has faded into legend, some new tenants keep the edgy vibe alive. The Archway Studio/Theatre occupies the space that Al's once did, offering yoga classes instead of draft beer. It does, however, observe tradition by using graffiti to advertise coming shows.
The Pie Hole bakery and restaurant and a small grocery store also sit at the street level of the complex.
"It's just kind of an old historical building, so I think little by little, I'm just going to try and make it nicer," Verge said. "The tenants are great. I'm not trying to reinvent the place; right now I'm just trying to learn it."
Verge graduated from UCLA in 1990 with a degree in history and has always been drawn to places in Los Angeles that have a good back story.
His longtime friend and downtown L.A. business partner, Cedd Moses, once played guitar and was a backup singer for a band called What Is This, which included musicians who went on to form the Red Hot Chili Peppers.
"I didn't play Al's Bar with them," Moses said of the Chili Peppers. "But we ran into each other there."
But the music industry wasn't for Moses, who now operates some of the most popular bars in downtown. He played with a few bands that performed at Al's but was eventually ejected from each group.
"I was kicked out because I was terrible," he said.
Even though he didn't make the cut onstage, Moses said, he still loved going to Al's Bar.
"I saw tons of great bands there, lots of great punk-rock shows like Fear and Flipper," Moses said. "It was the most legit punk-rock venue in town for quite some time."
Verge said he had no choice but to buy the 17,100-square-foot property. Memories of his friend's anguished musical missteps and the rich history of Al's were just too strong for him to pass up, he said.
The worn brick building is more than a century old and houses 47 single resident occupancy apartments. There are three stories of these apartments, which are small enough that residents share bathrooms with other tenants. The outside is covered in peeling paint and there's an awning that hovers over the entrance to the apartments.
"I'm the only one crazy enough to buy this thing," Verge said, laughing.
He wouldn't disclose the selling price of the property, but it was assessed at nearly $1.8 million last year and the former industrial area where it lies has a growing reputation as downtown's new residential and creative business frontier.
"It's a very hot market right now in the arts district and we're seeing a lot of activity in the neighborhood," said Luke Jones, a business development associate at the Harris Group of Marcus and Millichap Real Estate Investment Services, who helped broker the deal.
The arts district is growing quickly and several new restaurants and luxury apartments have opened or are in planning stages around Traction Avenue and Hewitt Street, Jones said.
With Moses, Verge owns a company called 213 Ventures that manages a variety of bars and restaurants around L.A., including Seven Grand, Golden Gopher, Broadway Bar, Casey's Irish Pub and Tony's Saloon. A 213 Ventures brew pub is also planned in the arts district.
Verge bought the American property through a company called OneRed, which does not include Moses. The seller was EVOQ Properties Inc., according to real estate data provider CoStar Group Inc.
Verge said he's excited about the acquisition and has no plans of selling it any time soon. "It's kind of a fun project," he said. "I'm not a flipper."
---