18 Images
Civil War In Haiti
Members of the opposition force, who took control of the town of Gonaives last Thursday, remain in power five days later.
(Carolyn Cole / LAT)
Fedelin Thelusma, 25, center, mourns the death of his brother Micial Thelusma, 31, who was shot by U.S. Marines after he failed to stop his car at a roadblock. Fedelin said Micial thought the roadblock was a trap set up by robbers.
(Carolyn Cole / LAT)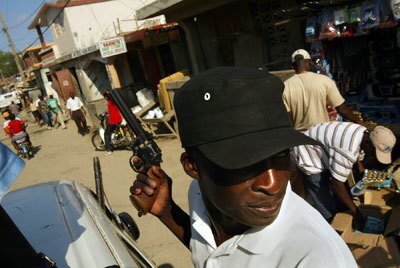 A man brandishes a gun in Port-de-Paix after rebels captured the Haitian city. Residents of Port-au-Prince braced for an attack on the capital, where police abandoned their posts.
(Carolyn Cole / LAT)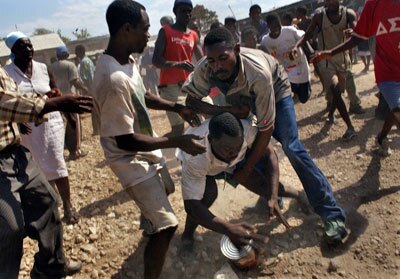 Men scuffle over a can of cooking oil in the rebel-held city of Gonaives, amid the chaos that broke out as food was distributed by the aid agency CARE. Concern was rising in the international community as the revolt against the government of Haiti 's President Jean-Bertrand Aristide continued to spread and threatened to create a humanitarian crisis in the impoverished nation.
(Carolyn Cole / LAT)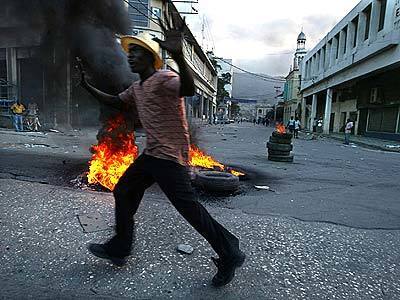 A man runs by a burning tire barricade, signaling five more years for President Aristide.
(Carolyn Cole / LAT)
A woman cries after Josephat Lukner, her relative, was shot and killed near Haiti's National Palace.
(Carolyn Cole / LAT)
A woman shows support for President Aristide, holding up her hand to indicate five more years for the embattled leader.
(Carolyn Cole / LAT)
President Jean-Bertrand Aristide has accepted a power sharing plan with the proviso that he would "not go ahead with any terrorists." It is a label he has applied to both mainstream opposition members and armed rebels.
(Carolyn Cole / LAT)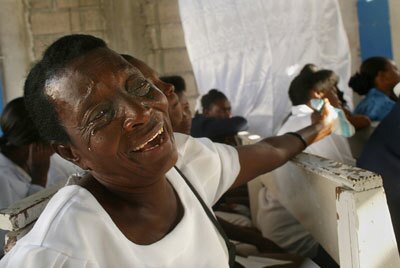 Mourners grieve at the funeral for a Haitian woman who was slain by rebels during the violence that has roiled the city of Gonaives. "We are witnessing the coup d'etat machine in motion," Prime Minister Yvon Neptune said.
(Carolyn Cole / LAT)
Mourners carry a casket in one of three funerals in Gonaives on Saturday, the first day in a week that burials took place. The Haitian city's morgue has a backlog of about 20 bodies after violence shut down operations in the burial industry.
(Carolyn Cole / LAT)
A woman holds her hands up as police do a random check for weapons on the steets of Port-au-Prince in an attempt to stop the violence.
(Carolyn Cole / LAT)
U.S. Marine Aubrey Harpenau, 18, of Florida looks out for gunmen who opened fire on a group of anti-Aristide demonstrators near the National Palace. At least five people were killed and 20 injured in the ambush.
(Carolyn Cole / LAT)
U.S. troops help evacuate civilians from a Dominican Republic facility in Port-au-Prince. Foreign nationals have been leaving Haiti in increasing numbers as security in the capital has grown more uncertain.
(Carolyn Cole / LAT)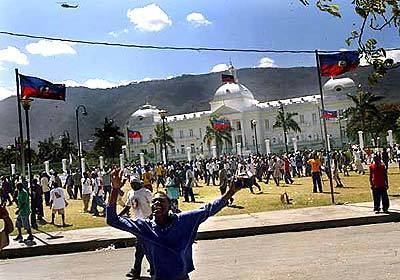 Supporters of ousted Haitian President Jean-Bertrand Aristide roam the streets in front of the National Palace in Port-au-Prince, the capital. President Bush called Aristide's departure "the beginning of a new chapter" for the Caribbean nation.
(Carolyn Cole / LAT)
The bodies of four men were found in a dump outside Port-au-Prince. They had been shot in possible vengeance killings, and three had their hands bound.
(Carolyn Cole / LAT)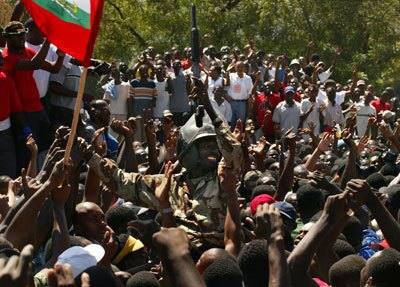 A crowd of cheering supporters hoists one of the rebel fighters up in the air as they wave the Haitian flag upon their arrival at the National Palace and police station in central Port-au-Prince on Monday.
(Carolyn Cole / LAT)
A man lies dying after being attacked in Port-au-Prince, Haiti's capital, where looters ransacked warehouses. Gunmen prevented him from being taken to a hospital.
(Carolyn Cole / LAT)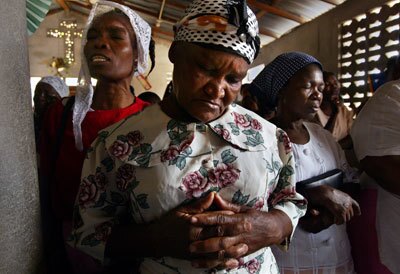 Women pray in Haiti 's capital of Port-au-Prince as the revolt against President Jean-Bertrand Aristide intensified. Rebels have overrun the northern port of Cap-Haitien, Haiti 's second-largest city, extending their control to half the nation. U.S. and other foreign diplomats have pushed Aristide opponents to accept their proposal for quelling the deadly revolt.
(Carolyn Cole / LAT)