12 Images
Pantone Color of the Year 2020
Pantone's Color of the Year is Classic Blue.
Ikea's Friheten sleeper sofa in blue, $399, is just the right tone for the Pantone Color of the Year 2020.
(Ikea)
"We're on the same page as Pantone for 2020. Deep blues like their Classic Blue and our own 2020 Color of the Year, Naval SW 6244, are poised to carry us into the next decade. Relaxing, assuring shades of navy add a calm confidence to any space of the home, from living rooms to bedrooms and kitchens." – Sue Wadden, director of color marketing at Sherwin-Williams.
(Sherwin-Williams)
The Goodwin Sofa from Room and Board, $1,799, is on trend for 2020 as Pantone Color announces Classic Blue as its Color of the Year.
(Room and Board)
"Deep blue tones like Pantone's Classic Blue are timeless colors that offer homeowners flexibility from a design perspective. Homeowners are interested in flexing their creativity by cultivating spaces that are thoughtfully designed to evoke certain feelings or emotions. Deep blues can be used as both beautiful, grounding accent colors or even as a dominant color in a room for a bolder statement, like theater rooms, living rooms or smaller powder rooms." – Jackie Schneider, CID, Vice President of Marketing at Marvin
(Marvin)
Navy Sun Burst throw pillow from Crane & Canopy, $72.
(Crane & Canopy)
"As we enter a new decade, Pantone's 2020 Color of the Year, Classic Blue, provides a calming anchor for people seeking comfort and stability in the spaces that surround us. Classic Blue is a bold, boundless hue that works in just about every commercial and residential space as a neutral or a feature color. Formica Laminate in Marine Blue is a darker, sophisticated take on the classic blue that evokes deep feelings of relaxation." – Renee Hytry Derrington, Global Design Lead at Formica Corporation
(Formica)
Marvin Windows and classic blue furnishings in the Lake Arrowhead home of Emily Henderson, showcase Pantone's Color of the Year for 2020.
(Sara Ligorria-Tramp)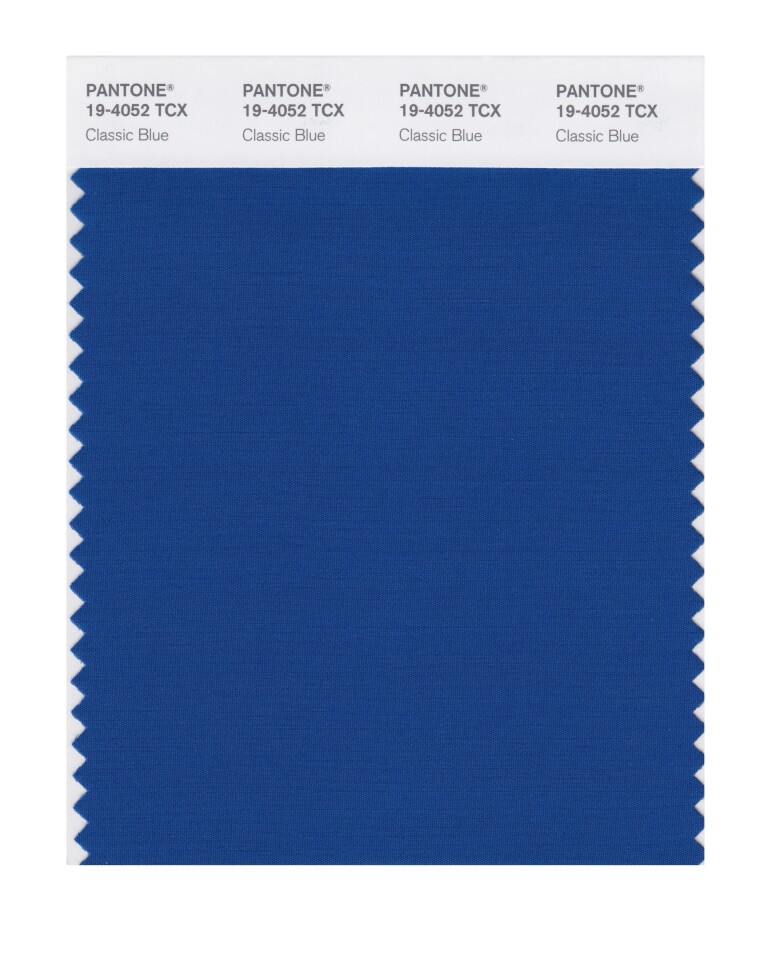 The Pantone Color of the Year 2020 has just been announced, and itÕs Pantone 19-4502 Classic Blue! Classic Blue symbolizes protection, stability, peace, and confidence, as well as encouraging deep thinking, open mindfulness, and communication.
(Pantone)
Pantone Reveals Color of the Year 2020: PANTONE® 19-4052 Classic Blue
(Pantone)
Pantone Reveals Color of the Year 2020: PANTONE 19-4052 Classic Blue
(Pantone )
"Pantone's 2020 Color of the Year, Classic Blue, embodies a casual sophistication that compliments a wide array of other colors, making it a harmonious tone. Masterbrand Cabinets has seen blue kitchen accents making waves in our segment of the market with finishes like Maritime, Naval and Blueberry. It's optimistic and inviting and pairs naturally with shades of white, gray and trending wood tones. Classic Blue represents a new era that cements deep blues to be an important tool for designers and a confident choice for homeowners." – Stephanie Pierce, director of design and trends at MasterBrand Cabinets
(Masterbrand)
Erika Woelfel, color expert at Behr, recommends
Optimum Blue M540-7
as a perfect paint color match to incorporate this trending hue in homes or apartments.
(Behr)