Well that was quick! Our warm, dry winter is pushing an early spring in Southern California, and plant sales are bursting out all over.
If you decide to plant in early March, be sure to keep an eye on the weather forecast and be prepared to protect your tender seedlings if the nighttime temperature threatens to dip below 40. Cover the plants with a light row cover material or cut out the bottoms of empty milk jugs or cartons and use those to protect your plants; just remember to take them off in the morning so they don't get overheated during the day.
One other note: unlike the last two years, we had relatively little winter rain so our gardens don't have a reservoir of stored water. Thus, when you're ready to plant, first fill your holes with water once or twice and then add your plants. Experts say that extra boost of deep water should encourage the roots to grow deeper into the soil, where they'll be healthier and happier once the heat of summer arrives.
More questions? Most of these sales have gardening experts to help you. If we missed one of your favorite sales, email the details to jeanette.marantos@latimes.com and it may be included in an upcoming Saturday section.
March 19-21
Orange County Cactus and Succulent Society Spring Sale and Show has been canceled. A new date has not been announced.. Occss.org
March 21 & March 24-27
Poppy Day at Theodore Payne Foundation for Wild Flowers & Native Plants has extended to number of days for its annual spring plant sale to reduce crowding. The nursery offers a 20% discount on all 4-inch California poppy plants and other spring native annuals from 8:30 a.m. to 4:30 p.m. at 10459 Tuxford St. in Sun Valley. theodorepayne.org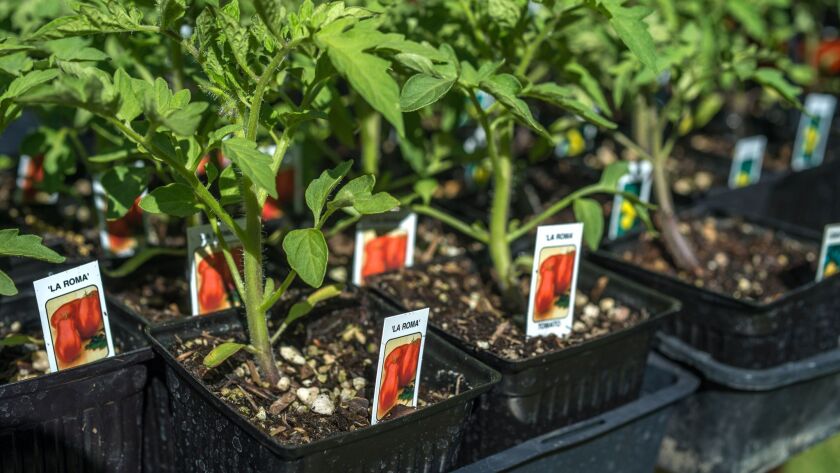 March 21-22
Veggiepalooza!
Fullerton Arboretum's annual "Monster Tomato and Pepper Sale" has been canceled due to coronavirus concerns. A new date has not been announced. f Fullertonarboretum.org
Ocean View Farms 16th Tomato-bration
Ocean View Farms, a nonprofit community garden in West Los Angeles, has postponed its annual tomato-bration due to coronavirus concerns. A new date has not been announced. oceanviewfarms.net
March 27-28
Incredible Edibles at Los Angeles County Arboretum has been canceled due to coronavirus concerns. A new date has not been announced. Arboretum.org
March 27-April 5
Orchids.com and Norman's Orchid's Spring Open House, 9 a.m. to 5 p.m. at 11039 S. Monte Vista Ave. in Montclair. Various orchid lectures every Saturday and Sunday at 11 a.m. and 2 p.m. orchids.com
March 28
Grow Native Nursery Spring Plant Sale at California Botanic Garden (formerly Rancho Santa Ana Botanic Garden) has been canceled due to coronavirus concerns, rescheduled for April 2-5 (see below). calbg.org
April 2-5
Grow Native Spring Plant Sale at California Botanic Garden is canceled due to coronavirus stay-at-home restrictions, however the nursery's native plants can be purchased online starting March 26 with a 10% discount for general public or 15% discount for garden members. Purchased plants can be picked up by appointment in the garden parking lot. The garden is requiring a minimum purchase of five plants or a total of at least $50 to make online purchases. calbg.org
April 4-5
Fullerton Arboretum's Green Scene Plant & Garden Expo has been canceled due to coronavirus concerns. No decision has been made about a new date; check the website for more information. fullertonarboretum.org
South Coast Cactus & Succulent Society Show & Sale has been canceled due to coronavirus concerns.
southcoastcss.org
April 18
Bromeliad Spring Sale by the South Bay Bromeliad Associates has been canceled due to Covid-10 stay-at-home rules. . bsi.org/webpages/sbba/
April 18-19
South Coast Botanic Garden Plant Sale & Spring Festival has been canceled due to Covid-19 stay-at-home restrictions.
southcoastcss.org
April 24-26
The Huntington Library, Art Museum and Botanical Gardens Annual Spring Plant Sale has been canceled due to coronavirus concerns. A new date has not been announced.
huntington.org
---