While last year's Pride was exuberant in its celebrations, the COVID-19 pandemic and Black Lives Matter movement have given Pride 2020 a more introspective feel. With diversity more important than ever, the LGBTQ fashion community is hopeful that massive reforms are coming.
As this Pride Month comes to a close, The Times turned to nine LGBTQ movers and shakers for a passionate discussion about racism and equality in the fashion industry, examining how the recent protests have reshaped their thoughts about life and their future collections. The responses below have been edited for clarity.

Jonny Cota, designer of Jonny Cota Studio and Amazon Prime Video's "Making the Cut" winner
What does real equality mean to you when you consider the Black Lives Matter movement and the rights of the LGBTQ community?
Real equality looks like equal access, equal treatment and equal opportunities for all people across race, gender, sexuality and socio-economic status without discrimination. In Los Angeles, this means that equal access to community and health services to all people is paramount and that equal treatment under the law — without prejudice and racial bias — is absolutely essential.
Equality means that in order for all lives to matter, Black lives must matter first and Black livelihood is no less valuable in the eyes of the police, educators and employers than that of their white counterparts. Equality means that as a gay person, a trans person, a Black person or as any marginalized person, the social contract you have with your surroundings, community and authority is identical to the agreements shared by the dominant population in the same surroundings.
We speak with the winner of Amazon's fashion competition "Making the Cut" about halo effects, career boosts and judge Naomi Campbell.
What improvements do you want to see in the fashion industry?
As a queer designer, I want to see LGBTQ models and imagery celebrated more than they are fetishized. I want to see gay pride-inspired products being released year around rather than only during Pride Month. I believe that a fundamental aspect of "queer power" is body positivity and appreciating all bodies, and I would like to see that more organically blended into the fashion imagery we see in our magazines and on billboards. I want to see the diversity in fashion become normalized rather than strategic branding.
How have the Black Lives Matter protests inspired your work?
Seeing the images and hearing the chants of the protests from social media, news sources and every direction I turn has been one of the most exciting and galvanizing moments in my adult life. It would be impossible for me to not integrate this inspiration into my work. Next season will be inspired by revolution.
Empowerment and equality are quintessential inspirations in my fashion-design work and mandatory practices in running my business. As a small company, every contribution from my team is a significant part in growing the brand. And throughout my 12 years in downtown Los Angeles, my success has been absolutely made possible by the diverse Black, brown, Asian, gay and trans voices of my team working together. I strive to shoot every campaign with a strong mix of diverse casting, lead my brand imagery with bold, powerful voices and even integrate political calls-to-action on my clothing including pieces that say "Radical Feminist" and "Rise des …up." I am a streetwear designer in the sometimes-harsh streets of downtown L.A. And down here, the palpable energy of fighting for equality, representation and advancement is a way of life.
Kanye West and Gap are partnering for a collaboration on his Yeezy brand, minus the sneakers. Ye even has a history with the clothing chain.
What are you working on?
I am working on launching my new concept store, Jonny Cota, at Row DTLA this summer. This will be a physical space, celebrating the launch of my namesake label, after winning Amazon's design competition "Making the Cut."
I am building a contact-free, socially distant retail experience that transforms a store into a showcase and replaces clothing racks with shoppable art installations. The world is a different place after the hardships felt during 2020, and this project is an opportunity to build something in a radically new image.
Nik Kacy, creator of Equality Fashion Week and founder of Nik Kacy Footwear
What does real equality mean to you?
As a designer and activist in L.A. since moving here from New York in 1993, I've spent most of my adulthood passionately fighting for equality, at first on a personal level as a queer, young lesbian and later as creator of the first gender-free footwear and accessories brand. I also founded and executive produced Equality Fashion Week, the first LGBTQ+ focused fashion week in L.A.
Every effort is made to amplify the voices of the most marginalized in order to inspire equality for people of color and trans and nonbinary folks. From the events I produce, which provide equity for our under-represented communities to the designs I create which are all gender-free, I believe that by creating avenues for people to remove gender from products gives them the opportunity to express themselves authentically without limitations of the gender binary.
I also believe in inspiring change of perspectives through my designs because, for example, if "Jane" and "Joe" both bought the same product for the same price, hopefully it will inspire Joe to realize Jane should be paid the same if she/they are spending the same. My designs are also uniquely designed to fit equally in comfort, durability and quality — something which is often missed when compared between "women's" designs versus "men's" in the footwear industry.
As I continue to be mindful of being inclusive and inspiring equality in my designs, I plan on continuing to design utilitarian accessories, which can help individuals of all gender spectrums and identities express themselves through fashion more authentically.
Darth Vader, Bane, Lucha Libre wrestlers — and a healthy dose of humor — might get more guys to cover up.
What improvements would you like to see in the fashion industry?
The fashion industry continues to lack representation for the LGBTQ+, body positive and people of color. The last few years have seen a dramatic change and improvement as more people from these marginalized and under-represented groups continue to innovatively come up with solutions.
I would like to see all fashion brands and retailers update their archaic way of looking at sizing and genderizing and create gender-fluid shopping experiences so the shopper can choose what fits them both physically and identity-wise. Selfridges attempted this a few years back for a brief period, but I think it should be universalized across the board — the same way I've sized my shoes.
What are you working on?
The latest release is my modular, gender-free, utility holster wallets, which can be seen on the latest season of "We're Here" on HBO. This is the first holster wallet that can be fully adjusted for all body types and, in its unique modular design, can be changed to be worn in many different ways.
Prior to the pandemic, I also released my first sneaker design. Its design reflects my mission to create an aesthetic that is gender fluid while [offering] comfort that is gender equal. [By using the code "Pride," Nik Kacy customers can receive a 20% discount off all in stock items.]

Uzo Ejikeme, cofounder of Stuzo Clothing
What does real equality mean to you?
Real equality means we as Black and LGBTQIA people no longer needing to protest for basic human rights — human rights that are only available to some. True equality begins when life is valued more than anything else. There is no Pride without Black pride. We must start raising our standards. We are all human beings. We have to start acting like it.
We create based on what world we want to live in and highlight our favorite time period or genre. When you feel confident in what you're wearing, you show up as yourself. We make clothes for people, not genders. It is our mission to affirm us as the beautiful beings that we truly are.
What improvements would you like to see in the fashion industry?
What we would like to see improved in the fashion industry is to see more Black and LGBTQIA designers published, more Black and LGBTQIA designers recognized. We would like to see a more inclusive narrative. We want to be recognized for the work we do, not because we are Black or LGBTQIA but because of its purpose.
What are you working on?
We built our business on going to festivals and Pride events. With the current state of the world, we have to pivot to building out our online store and platforms to sustain and propel us forward. The survival of our business is so important to us and our community. We have a voice, and we need and must be heard.
Along with my partner, Stoney Michelli — we are both the cofounders — we are working on keeping people safe with our masks and are doing a sale for the month of June on all of our Pride items.
These are some of our friends and brands and businesses we love. We have a bricks-and-mortar location in Los Angeles, which is not currently open, but online is operational. We also expanded our reusable mask collection. [Stuzo Clothing is offering a 20% discount that can be applied to all Pride items such as "Gays of the Week" T-shirts and "Yup Still Gay" tanks.]

Corey Rae, trans fashion influencer
What does real equality mean to you?
It means that people of color and LGBTQ+ individuals deserve to be treated the same as white, cis, hetero people in all industries, but that's just the first step. What we really need is equity, which is the ability to have the same opportunities and support that white, cis, hetero people have in order to achieve fairness.
How has the movement inspired your fashion work?
This movement has made me want to ask new hard-hitting questions to potential fashion partnerships. What are these fashion houses doing to employ more people of color and LGBTQ+ individuals? Do they have a charitable component? Are their designs made for every type of person?
L.A. sustainable fashion and accessories designers share their survival stories in the time of COVID-19.
What do you want to see improved in the fashion industry?
More inclusion of transgender and gender-nonconforming individuals of every shape, size, race and ethnicity with major fashion houses. Whether that's hiring these models for runway shows, lookbooks, ad campaigns, e-commerce, I want to see more of us being faces of major brands. Myself included.
What are you working on now?
For years, I've slowly been working on my own fashion label, which I am still extremely passionate about. Right now, I want to focus on partnering with companies who are doing good for the world and promoting them via my social-media platforms.
Jordi, creative director of Radimo
What does real equality mean to you?
I think of a cartoon I once saw about the difference between equality and equity. And I feel like my focus right now is more so on equity. I am processing this time and how much emotional and spiritual labor, specifically Black LGBTQ people are doing. To heal and fight simultaneously is a feat I can only say I've learned from the Black trans community. Within the exploration of equity, I center the conversation of reparations, siphoning resources to the most marginalized and magnifying the voices of the oppressed. When there has been an overwhelming imbalance of power, to balance the scale, my brain doesn't go to wanting just equality. I want equality plus interest.
Equality informs what story I am telling. Within the fashion and entertainment industry, there is a very clear homogeny that my identity goes against the grain of. Even specifically, the face of gender-nonconforming queer fashion styles is still dominated by cis-gendered, hetero white able-bodied individuals.
What do you want to see improved in the fashion industry?
Divestment. I want to see larger companies, a majority of them being owned by white men, siphon the resources they are monopolizing to marginalized creators; more eco-friendly creations that focus on repurposing fabrics [and] recycling looks and provide full benefits to the people who produce them. And more trans nonbinary creators and models getting paid.
The fashion industry kept Kristen Turner feeling alienated and overlooked. She decided to do something about it. Her new magazine, Mae Jones, also has a hashtag challenge for fashion brands called #NotJustInFebruary.
How does that play into your designs and work?
Disruption and amplification are two words that inspire all of the collaborations we have been able to do this past year. To create images that have been invisibilized by the violence of homogeneity and pay homage to the many Black, people of color LGBTQ elder creatives who paved the way is my intention in every project I do.
What are you working on now?
As a creative agency, right now we're focused on brand consulting. To work with other companies who are looking to expand, explore, stretch the limits and set the trends is our intention. By having full control over visual storytelling, creative direction, production, casting and crew, our goal is to collaborate with brands that set the precedent for creative evolution across all industries.
[At Radimo,] we recently produced and shot multiple campaigns for release with Le Wand, b-Vibe and the Cowgirl. We have intentions set on collaborations with brands and companies that are already doing the work — Fenty Beauty, Nike or Westbrook Media.

Eduardo Lucero, owner and designer of Eduardo Lucero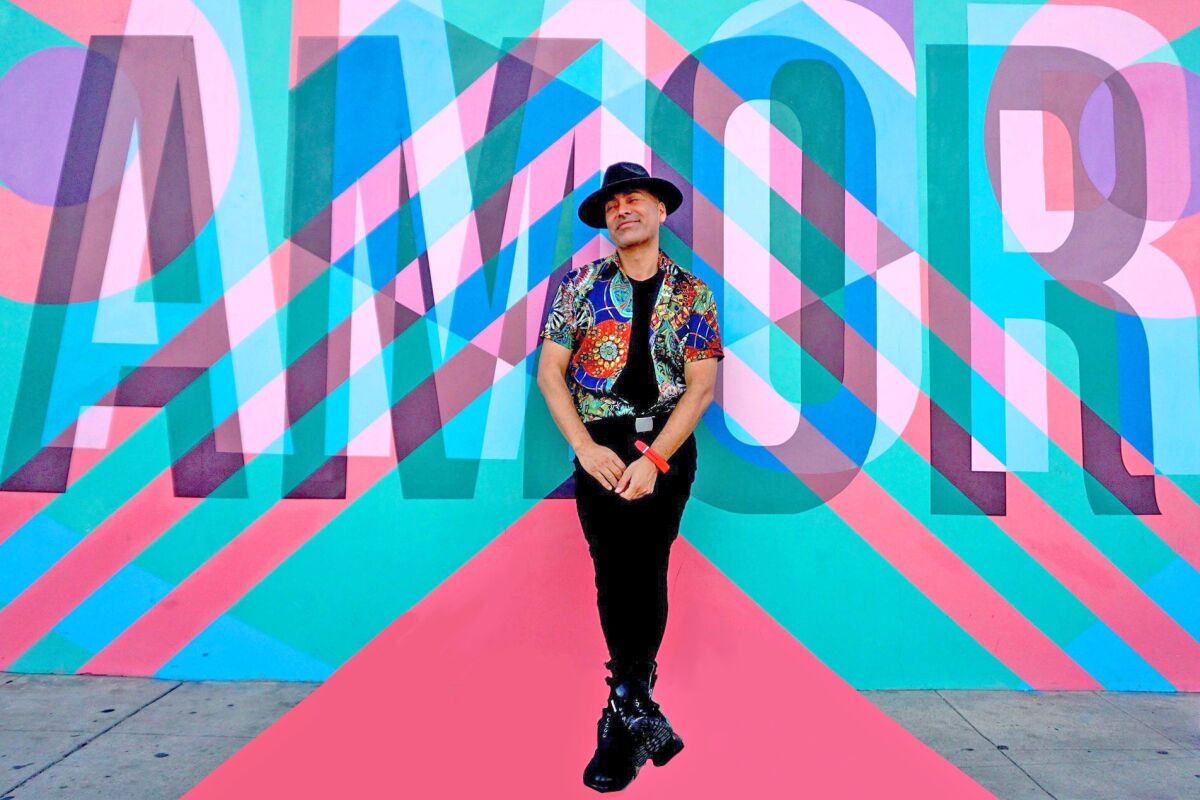 What does real equality mean to you?
Anyone from any community being able to define themselves on their own terms instead of by institutional prejudices and limitations. Growing up as a gay Latino immigrant in middle America was no piece of cake. At the time, there wasn't much integration as far as racial diversity, much less gay visibility, so getting bullied and having to fight my way home after school became a normal occurrence.
True equality, therefore, means not only acceptance but the celebration of the differences between us all — whether we are talking about the LGBTQ community or Black Lives Matter. There are many issues that cross over between these two groups, and becoming allies in breaking down barriers is essential to me at this moment.
How does that play into your designs and work?
I understand the power of putting on something that says, "This is who I am right now." In the LGBTQ community, we sometimes use dressing up as armor to face the day; sometimes to blend, sometimes to stand out. So the power of transformation and defining ourselves through what image we portray inspires me. That's the reason I'm a designer.
We are at a pivotal time in history right now, and I want to contribute. I lived through the AIDS protests in the late '80s and early '90s. The importance of raising your voice and being visible saved lives back then. Hopefully, it can do the same now.
What do you want to see improved in the fashion industry?
Fashion is a wonderful industry, but it is also very difficult for minorities and people of color to really enter and maintain a presence. Many times we face inequalities and access to education and financing that prevents new creative voices and perspectives from flourishing.
And right now, we need a new way to look at the world to inspire us, give us hope and see things with new eyes. I would love if funds were set up to help more diverse minority voices and designers of color.

Paige Mycoskie, founder and designer of Aviator Nation
How have the recent protests across the country affected you creatively?
I have made brighter, louder choices in our colors this season. Most of the new designs we have coming out are super bold, including rad neons and funky tie dyes. I'm really feeling the bright stuff right now, and I think it has something to do with being cooped up for the last three months. It's time to be out, loud and proud of who you are, regardless of your skin color.
I have also designed some giveback tees to support equality and Black Lives Matter. These designs are in development, and we are hoping to launch those in the summer. We are sifting through various charitable organizations, deciding who the tees should benefit. All proceeds will go to a cause we align with, and our goal will be to raise money and awareness for our communities that need it most.
There is no doubt this movement has inspired us to want to do more, and I think the best thing we can do is to create garments that bring attention to the cause while also raising funds to support it. This important movement affects all of us, and Aviator Nation will continue to enforce equal rights for all within our company walls and on the streets and communities that surround them.
What are you working on?
This past year, I decided that I wanted to actively drop new styles weekly rather than one big new drop each season. This new strategy keeps me challenged to constantly design and also maintain a close pulse on how the clothing is being received. I think the days of long lead times and months of prebooking are over.

Timeekah Murphy, owner and designer of Alani Taylor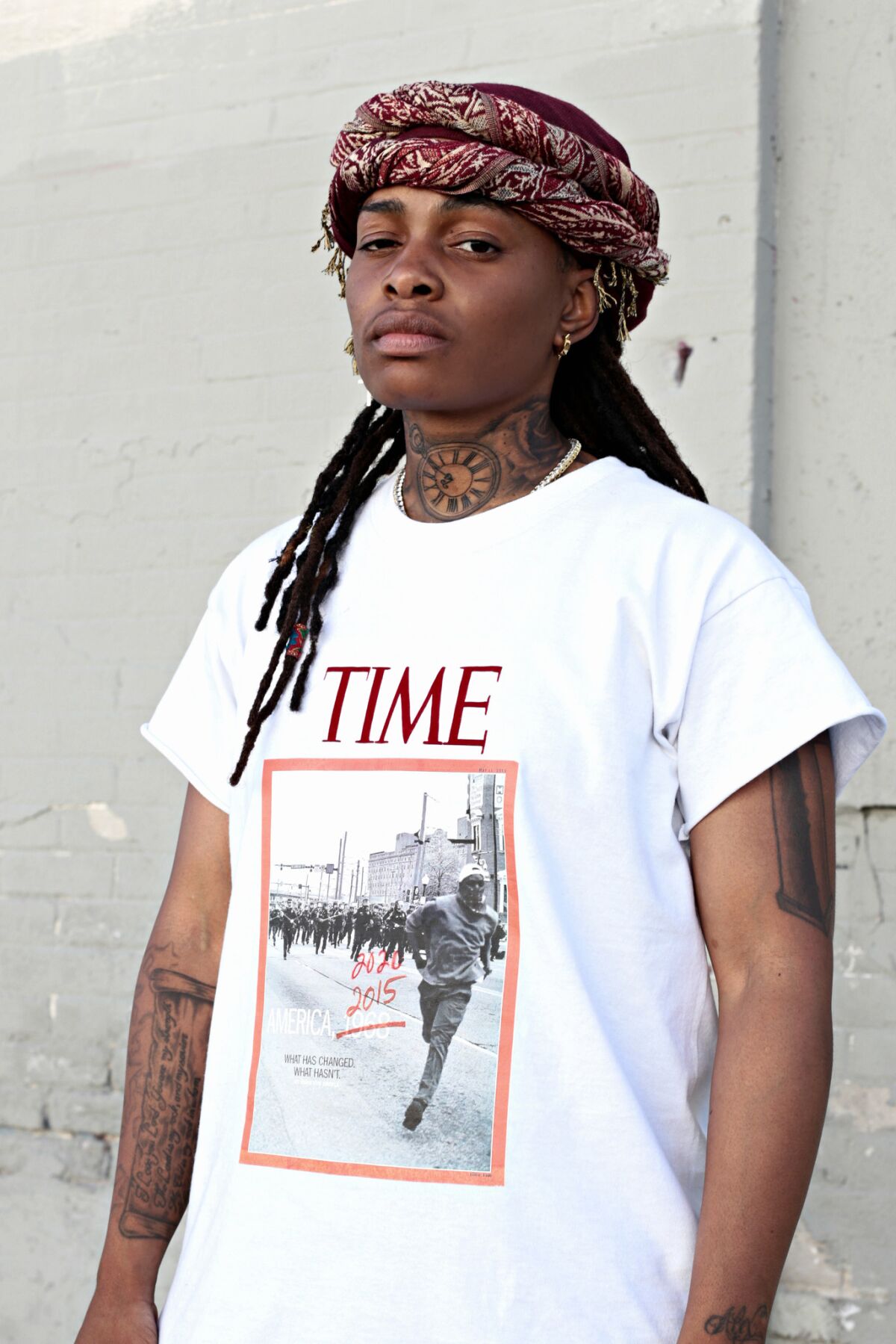 What does real equality mean to you?
Equality means giving everyone the equal opportunity to live, dream and be free. We never asked for special treatment in the LGBTQ [community]. We asked for equal treatment. We want to stop being marginalized and passed over. Treat me like the man standing next to me applying for a job. Look at me like the qualified candidate you need. It hurts me to see that many gay and lesbian designers have to hide themselves in order to get a certain job in the industry.
I am part of two worlds — the LGBTQ and the African American communities — who are often mistreated. We are often overlooked, scrutinized and belittled for who we are and what we look like. Being a Black lesbian woman, you would think I was born with three strikes. According to society, I was never supposed to win, but I did. When I was in the Army, you would get kicked out for being gay. Our love preference should never be something that keeps us back from receiving the equal treatment we deserve.
Frank Rojas was seeking community and understanding and found it, in person and on Zoom, through L.A.-based organization the Wall Las Memorias Project.
What are you working on?
My overall brand, which is a bridge between streetwear and high fashion. I am creating bold color and patterns that feature controversial statement pieces. I wanted to create eye-catching clothing that makes you examine your commitment toward being more inclusive [and] making a change.
For my Power of a Movement collection, my clothing represents Black uniqueness, beauty and strength. I feel this makes a statement that we are no longer willing to stand down. We are ready to fight for equality and justice for the community. [AlaniTaylor.com has a 20% off Pride sale running through the month.]

Karen Chatelain, owner and accessories designer of Burkinabaé
What does real equality mean to you?
Equality means being judged solely by the quality of your work, being paid for your work equally to other people in your genre or medium and not being looked upon in a different way because of either the color of your skin, your gender or your sexual orientation — anything else that people may want to use to discriminate against you.
Art and the beauty of art should be blind to discrimination. Art is the soul of the creator, so it is sacred.
What do you want to see improved in the fashion industry?
A tale as old as time, I would like to see real people on the runway. Yes, it takes less material to make a dress for a Size 0. Yes, most Eurocentric magazines have images of white people in high fashion, but I think it's truly important to have representation of every ethnicity.
I remember when I got really excited. On Sunset Boulevard, I looked up and saw a very dark man modeling Yves Saint Laurent. It was so inspiring.
What are you working on now?
Right now, I'm working on bright colors — oversized couture sunglasses for the summer. The products are unique. We [at Burkinabaé] do small runs of accessories, including earrings, head wraps, necklaces and headpieces and also produce custom items.
We offer pulls from our show collections for movie sets, music videos and events. We have worked with Beyoncé, Bad Bunny, Kelly Rowland, Tina Knowles, Drake, Janet Jackson, just to name a few.
---