Column: The Bird electric scooter conundrum: So fun, so exhilarating, so dangerous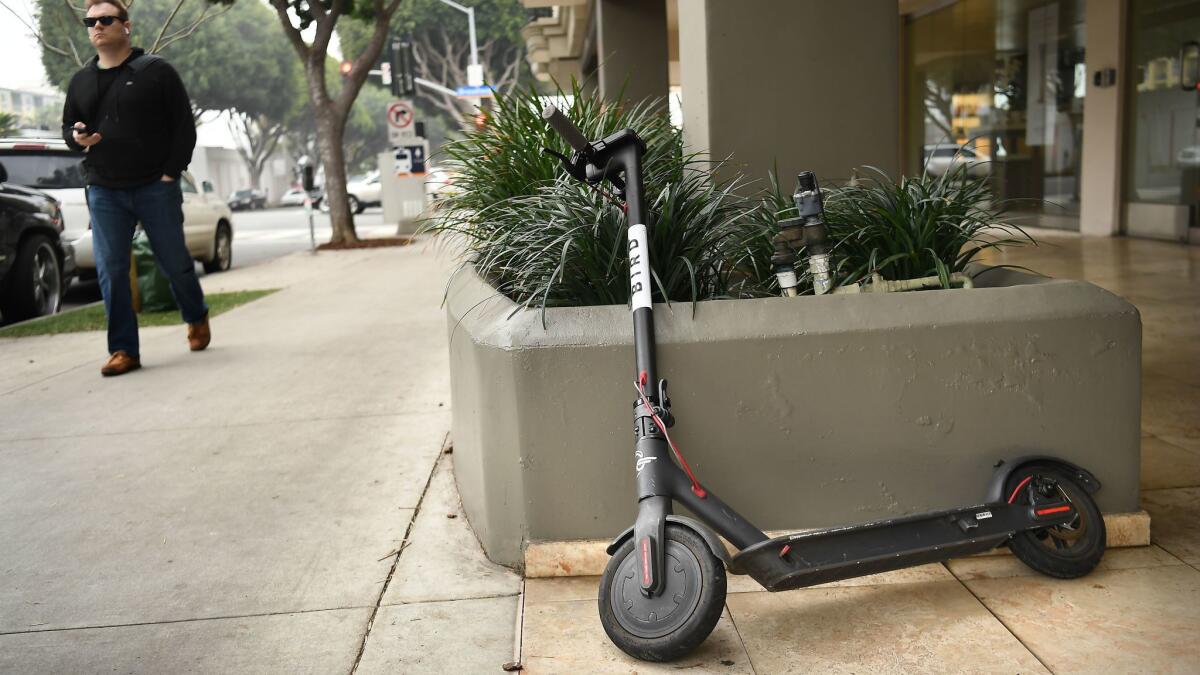 The Birds landed in September.
Since then, the lightweight matte black electric scooters have become as ubiquitous on the streets of Santa Monica and Venice as skateboards and bicycles.
Each morning, as if by magic, hundreds of them materialize between 5 and 6. I have seen Birds perched on sidewalks, in alleys, in front of restaurants, on the Venice canals, at the Santa Monica Pier. They have been spotted as far away as LAX and West Hollywood.
Each evening after dark, they are scooped up, taken away to be recharged.
Depending on your point of view, the Bird fleet is an environmentally sound, inexpensive way to go "the last mile" between public transit and your destination, an annoying impediment to pedestrians who have to dodge them on sidewalks, a safety nightmare, a tantalizing toy for teenagers too young to legally rent them, a crime against the people of the state of California as laid out in a criminal complaint by Santa Monica against Bird Rides Inc. …or just a hell of a lot of fun.
Last week, I opened the Bird app and located a scooter on 30th Place, an alley around the corner from my house in Venice. It was parked at someone's back gate.
While I unlocked the scooter, I spied a young woman walking toward me. As soon as she saw me with the scooter, she turned and walked away. Ha, I thought, beat ya to it!
I pushed off, thumbed down the throttle and whooshed away. After a few exhilarating minutes, I circled back, then left the Bird in front of my fence a block from where I'd picked it up. When I looked out my front window 10 minutes later, the Bird was gone, unlocked by a new unknown rider destined for who-knows-where.
The experience was delightfully transgressive — no reservations, no red tape, nobody telling me where I could leave the thing once I was done. All I had to do was agree to follow the rules (be over 18, have a driver's license, wear a helmet, stay off the sidewalk). And of course, have a valid credit card. For $1, plus 15 cents per minute, I could go as far as the electric charge would take me, up to 15 miles, at a top speed of 15 mph.
"I'd never ridden a scooter before this," said Isaac Galan, 20, a Santa Monica College student and avid skateboarder who works at the Cow's End coffee shop near the Venice Pier. "I'll go maybe a mile at a time, maybe once a week, if I don't feel like skating or walking."
Even though Birds are meant to be ridden in bike lanes on city streets, Galan said, he does not feel safe on one anywhere but the beach bike path. "I've seen a lot of people going 15 mph, and then hit something because they didn't realize how close they were. It's not a problem with the Bird scooter. It's more a problem with people's depth perception and misunderstanding their speed."
Santa Monica police have watched with some alarm, particularly after a helmet-less adult rider was seriously injured last month when she blew through a stop near Sixth and Idaho and crashed into a car.
"In the last couple of weeks, our motor officers have been issuing citations," said Santa Monica Police Department spokesman Lt. Saul Rodriguez. Sometimes, he said, officers will warn a rider to use a helmet or tell them to get off the sidewalk into the bike lane where they belong.
An even bigger problem, though, is the number of underaged riders. You can stand on the boardwalk between the Venice and Santa Monica piers any day of the week and watch kids who look way younger than 18 on the scooters. They don't wear helmets and they often ride double on the narrow plank meant for two feet, not four.
Santa Monica police sometimes issue citations. "Sometimes we call Mom and Dad," Rodriguez said.
A Bird spokesman said the company has changed its policy and will soon be requiring users to show their driver's license when they create accounts.
Travis VanderZanden, 38, a father of two young children who moved from the Bay Area to Santa Monica to start Bird Rides Inc., said he has confiscated scooters from underaged riders.
"We have disabled plenty of accounts," he said.
"Bird does not want underage riders," he said. "I have talked to parents who are letting kids ride, and I have personally disabled their accounts on the spot."
He also has the ability to identify individual scooters and disable them, too, if he sees they are being misused.
Bird, which rolled out in San Diego two weeks ago and has plans to go national and international, according to its jobs listings, has begun giving out free helmets to its users. They can be ordered from the "safety" tab in the app. So far, it has delivered 2,500 helmets. I ordered one Monday, although I am a rebel at heart and did not use one on my first two rides. (Don't disable me, bro!)
::
Santa Monica, which has embraced bike hubs and reducing dependence on single-occupancy cars, has welcomed Bird to town. Sort of.
"It's fun to be on a scooter and we completely understand the appeal," said Santa Monica public information officer Constance Farrell. "But we also understand they are dangerous, and not toys, and need to be operated safely."
Late last year, Santa Monica city officials grew so frustrated with Bird's refusal to work out some licensing issues that the city attorney filed an eight-count misdemeanor criminal complaint naming the company and VanderZanden as defendants. The complaint alleges that Bird violated requirements for business licenses and vendor permits and failed to pay administrative fines. Bird says vendor permits apply to food trucks, not scooters.
"Multiple attempts were made and they were unwilling to come to the table to work with us," Farrell said. "That's why the criminal complaint was filed."
That is a rather intense way to get a company's attention, I suggested. Farrell did not disagree. "Bird Rides Inc. has a business license to operate a brick-and-mortar administrative office," she said, "but they do not have the appropriate license to operate scooters in an ad hoc manner on the public right of way."
Santa Monica is eager to disrupt dependence on cars, Farrell said, but right now Bird is in the doghouse. "This is a rogue implementation model that does not have an eye toward safety." The city, somewhat mollified by Bird's free helmet program, is especially concerned about scooters being left on sidewalks, obstructing pedestrians and wheelchairs.
VanderZanden disputes her description: "It's not rogue. We are working closely with the city and feel we have had some productive conversations."
VanderZanden has experience with tech companies whose boundary pushing results in litigation. He is a former chief operating officer and early angel investor at Lyft whose defection to Uber in 2014 resulted in an ugly lawsuit that was settled confidentially in 2016.
On Feb. 1, a judge delayed a hearing in the criminal case to Feb. 24 to allow the parties time to negotiate.
I foresee an amicable resolution.
I also foresee more accidents.
And, of course, the inevitable lawsuit or two.
Twitter: @AbcarianLAT
Get our L.A. Goes Out newsletter, with the week's best events, to help you explore and experience our city.
You may occasionally receive promotional content from the Los Angeles Times.