Column: It's no contradiction: We can condemn blackface, Milo and hatred while defending the right to be offensive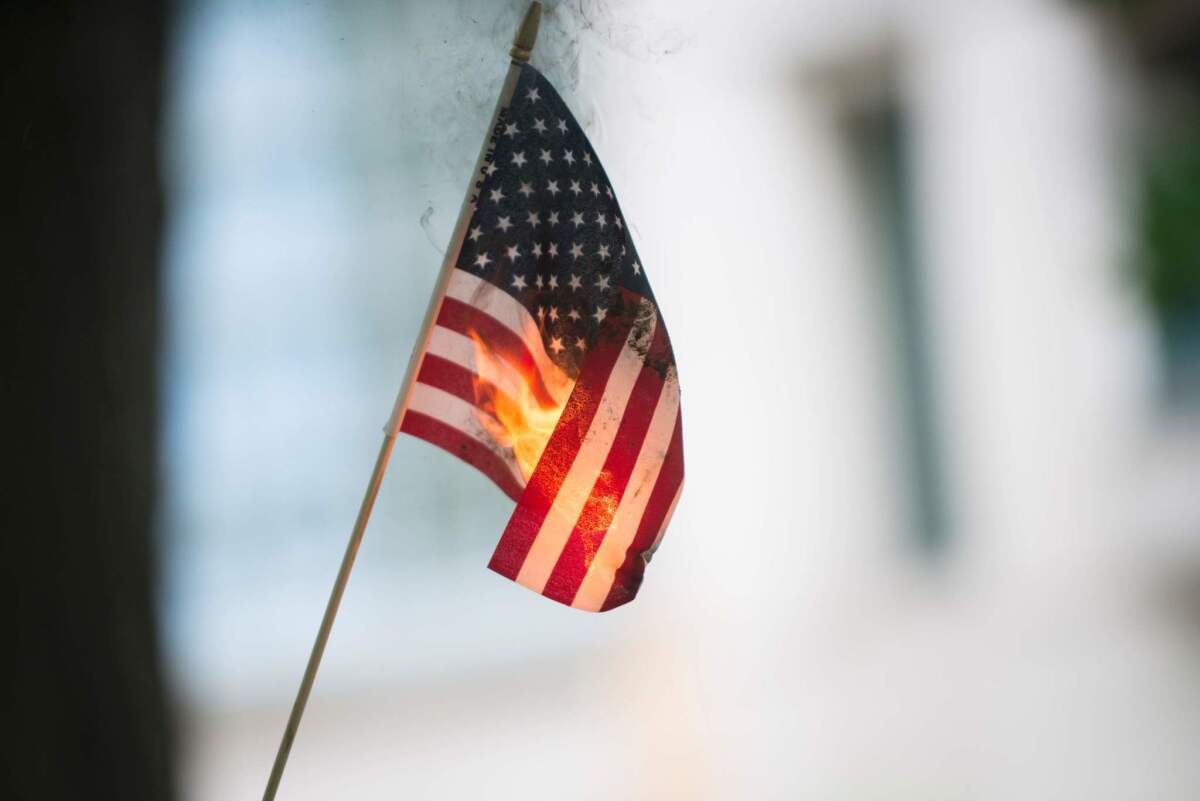 We seem to be having a hard time grasping that the right to free expression is meaningful only if we are willing to protect the most disgusting and offensive statements.
Even if you love the American flag, for example, you must understand that someone who does not cannot be arrested or prosecuted for burning it.
"The hard fact is that sometimes we must make decisions we do not like," wrote U.S. Supreme Justice Anthony Kennedy in 1989 when the court ruled 5 to 4 that flag burning is protected speech. "We make them because they are right."
And so, we need to remind ourselves, freedom of expression obtains whether we are talking about a racist display by a student at Cal Poly, a hateful tweet by a left-wing professor at Fresno State, a disgusting Instagram post by a provocative conservative blowhard, or a caustic set by a comedian who is skewering the president, his staff and the White House press corps.
::
Cal Poly San Luis Obispo, which has been engaged in a heated debate over objectionable speech and its consequences, seemed as good a place as any to have a conversation about what we're willing to tolerate.
I spent an afternoon on campus last week to chat with people about a couple of racist incidents that have convulsed the school and led to protests and a lot of soul searching about how to diversify a California public college campus that is overwhelmingly white, rural and probably a lot more conservative than the other Cal States.
You may have seen the news coverage: A white member of the Lambda Chi Alpha fraternity had blackened his face and arms as part of what he claimed was some sort of athletic contest where teams were identified by their color. His was the black team, he said. Someone took his picture and circulated it on social media, prompting him to publicly apologize.
There were other incidents on the campus too. A racist flier found in bathrooms showed members of a second frat posing as Mexican gang members.
But the blackface incident really set people off. Cal Poly's tiny population of black students was rightfully outraged. So were many others.
"I don't know what possessed someone to do something like that," said Sydney Gray, a 20-year-old sophomore who told me she voted for President Trump. "Why didn't his fraternity brothers say something?"
Sergio Dimas, a 21-year-old senior, echoed Gray's dismay: "All it would have taken is for one person to say, 'What are you doing? Go wash your face.' That would have started a conversation, wouldn't it?"
In an open letter to the campus community, Cal Poly President Jeffrey Armstrong expressed anguish over that incident and others.
He spelled out many steps the university has recently taken to increase the number of minority students and faculty at Cal Poly, which included hiring Jozi De Leon as the school's vice president for diversity and inclusion.
De Leon's No. 1 goal, she told me, is to increase the representation of minority students on campus, especially African Americans, who are woefully underrepresented and say they don't feel safe on campus.
Armstrong indefinitely suspended all of Cal Poly's fraternities and sororities until they conduct themselves "in a matter that is respectful of all students."
But, he said, he could mete out no punishment to the individuals whose racist behavior provoked this tense moment on the normally placid campus.
"While this may anger and frustrate many," Armstrong wrote, "the laws governing constitutional rights to free speech are unambiguous and unequivocal," even when that speech is "disgusting, racist, sexist, homophobic, or in any other way contradicts our values."
Painful as it may be to say, I agree with him.
Armstrong's decision landed around the same time that a Fresno State University professor found herself under harsh criticism for tweeting some hateful sentiments about former First Lady Barbara Bush, who had just died.
"Barbara Bush was a generous and smart and amazing racist who, along with her husband, raised a war criminal," wrote Randa Jarrar, a tenured Fresno State English professor. "I'm happy the witch is dead. Can't wait for the rest of her family to fall to their demise the way 1.5 million Iraqis have."
Initially, Fresno State President Joseph Castro said Jarrar had gone "beyond free speech," a patently ridiculous statement.
Later, after consulting with legal experts, he came to his senses. "Her comments," Castro said, "although disgraceful, are protected free speech under the 1st Amendment of the U.S. Constitution."
For a public university, which should be a bastion of free speech, this was the only proper response.
::
Which brings us to the odious Milo Yiannopoulos, the white nationalist-supporting, pedophile-excusing provocateur who returned to Cal Poly last week.
Before he arrived, he posted a typically obnoxious selfie on Instagram:
"In honor of Cal Poly's HORRIFIC recent blackface incident I am getting the darkest spray tan possibly before my talk tomorrow — it will make my new white linen suit really POP!"
And then, a beautiful thing happened. Anticipated protests failed to materialize. Milo generated no news.
The same cannot be said for Michelle Wolf, whose perfectly pointed comedy routine at Saturday's White House Correspondents' Assn. dinner was blasted, first by Republicans because she dared make fun of President Trump and his spokeswomen Sarah Huckabee Sanders and Kellyanne Conway, and then, shamefully, by the very journalists who had invited her to the roast.
"Last night's program was meant to offer a unifying message about our common commitment to a vigorous and free press while honoring civility, great reporting and scholarship winners, not to divide people," wrote the WHCA's president, Margaret Talev. "Unfortunately, the entertainer's monologue was not in the spirit of the mission."
What a mealy mouthed cave-in from a group whose members pride themselves on speaking truth to power. What a potent illustration of the way Trump's demonization of the media has put journalists on the defensive.
What should Talev have said?
How about this: We understand some people may have been offended, but we support Wolf's right to ply her craft. After all, if we don't stand for freedom of expression — even when it strains the bounds of taste — we stand for nothing at all.
Twitter: @AbcarianLAT
---