Column: The great California cannabis experiment lurches forward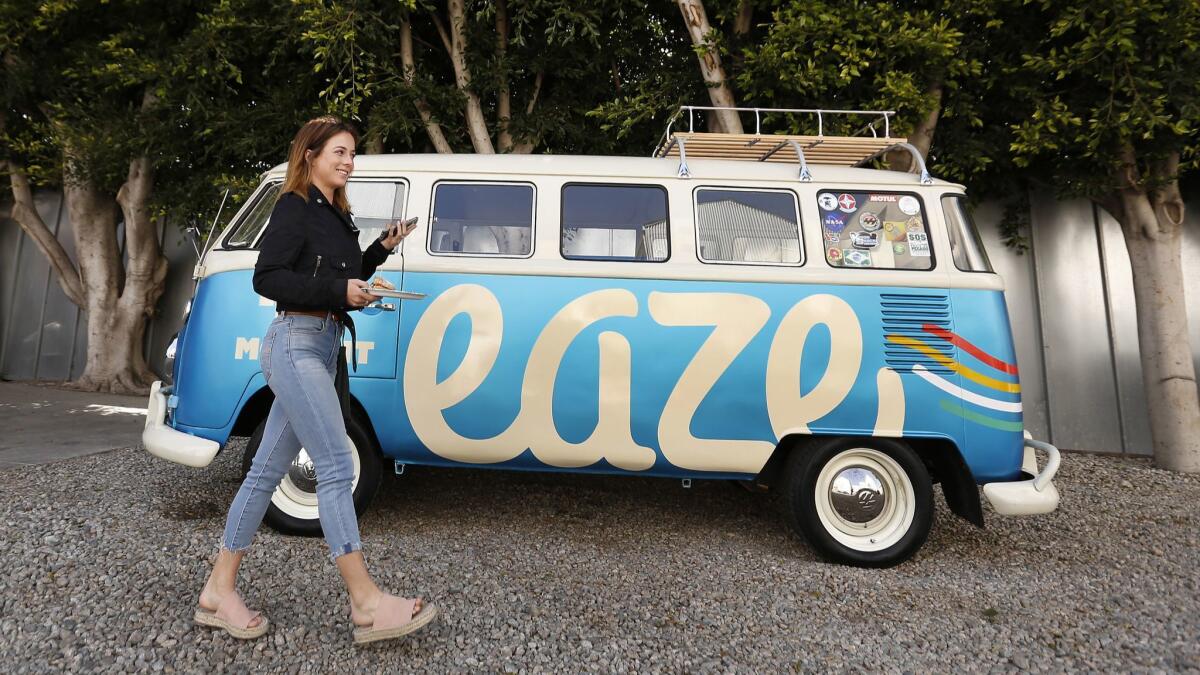 If you find yourself driving in Venice in the next little while, you may notice that the illuminated "Venice" sign at Pacific and Windward avenues that functions as a gateway to the famous boardwalk has sprouted neon cannabis leaves.
The sign, which changes seasonally (red and green bulbs at Christmas, a heart on Valentine's Day, flag-colored bulbs on the Fourth of July) will honor a relatively new holiday: 4/20, which evolved from a Bay Area high school ritual to the most important day of the year for cannabis lovers.
To coincide with this "holiday," a technology company with San Francisco roots held an open house this week at its new Venice office, just steps from the sign.
Eaze, a platform that connects consumers to dispensaries for home deliveries of cannabis, invited the city's cannabis czar, a dispensary owner and a delivery driver to talk about the newly legalized recreational market.
The company, which now occupies the building that was once home to the late sculptor Robert Graham and his wife, Anjelica Huston, also invited a group of social justice activists who are working to make sure that people in communities that have felt the brunt of the wrongheaded drug laws — Latinos and African Americans — are getting a chance to benefit from the brave new world of cannabis legalization.
I was not at all surprised to hear that Cat Packer, manager of the city's Department of Cannabis Regulation, had been inspired to become a drug reform activist after learning that half of all drug arrests have traditionally been for marijuana and that people of color have been hurt the most by such laws.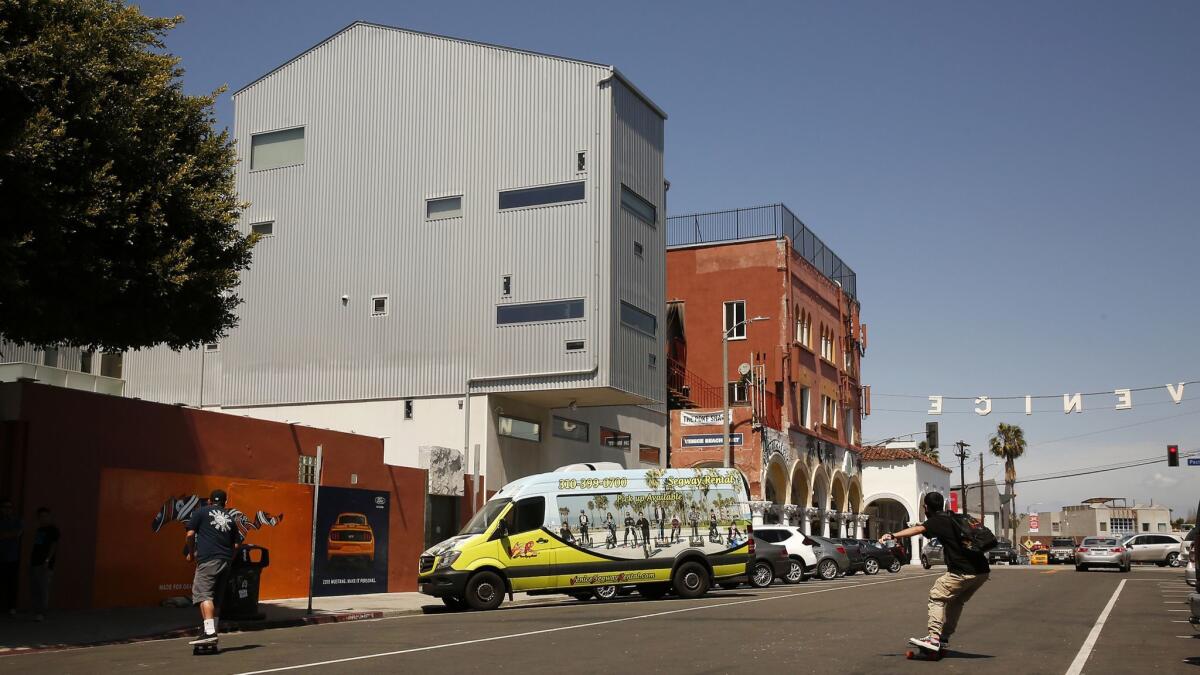 "Nothing has contributed more to the system of mass incarceration of people of color in the U.S. than the war on drugs," Packer said.
But I confess I was a little surprised to see in the audience, among the dispensary owners and local officials, "Freeway" Ricky Ross. Ross was a notorious Los Angeles cocaine kingpin in the 1980s who spent 20 years in federal prison after being convicted of buying 100 kilos of cocaine from a federal agent.
"I'm trying to get into the cannabis industry," said Ross, 58, who has been the subject of documentaries and now gives speeches to kids about staying out of trouble. "I want to grow, distribute and own a dispensary. I believe that we need somebody in the industry that's going to make sure that the little people have an opportunity."
He believes his name, which he has fought in court to protect, can be put to use as his brand. (He lost a lawsuit against the rapper Rick Ross, and was wearing a T-shirt that said "The real Rick Ross is not a rapper.")
After the event I chatted with Yvette McDowell, a retired Pasadena prosecutor who is thinking about practicing law again in order to help people with cannabis convictions expunge their records, as the new law allows.
McDowell seemed a bit skeptical about Ross.
"The only thing I would say is if he has turned his life around, fantastic," she told me. "If he is moving forward and helping others to try and do something positive, then that's a good thing. I know he should have a lot of lessons to teach."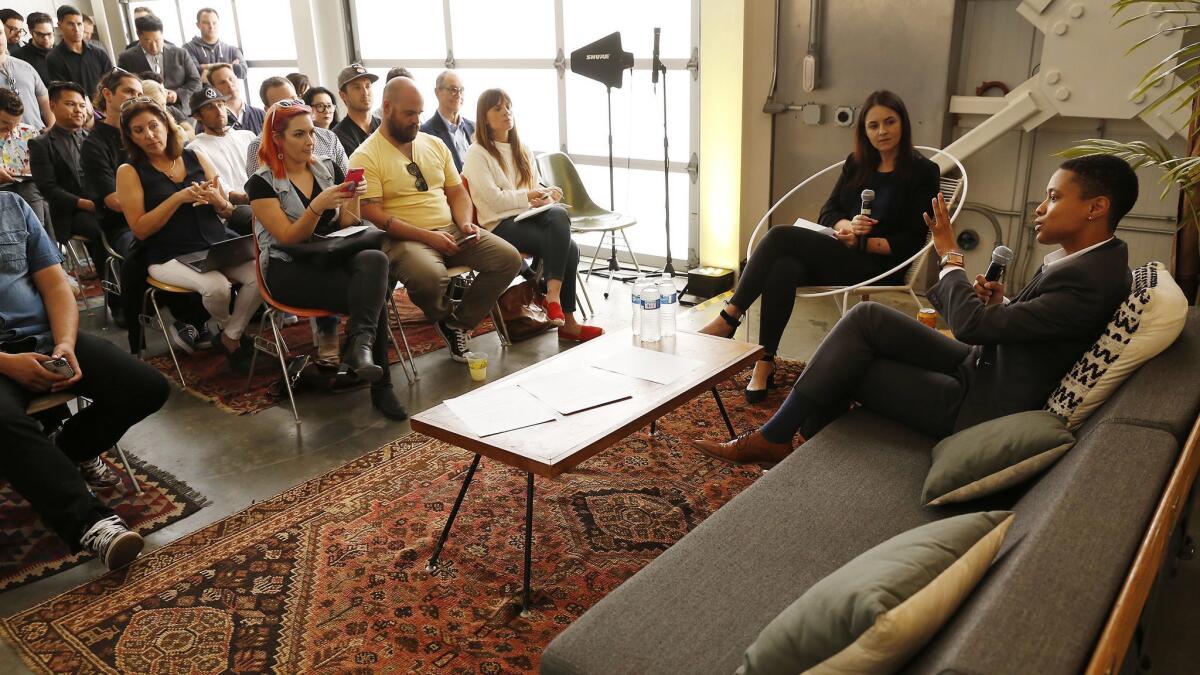 Legalization has brought with it many conundrums (including the idea that a convicted cocaine dealer could successfully brand himself as a legal cannabis entrepreneur).
It has driven up the price of manufactured cannabis products (because of all the new taxes), driving down the price of bulk cannabis (because of a glut of flowers) and making it difficult to figure out what is a legal business and what is not (because of the thicket of local and state laws governing licensing).
It has also led to a new crop of consumers — many of them approaching senior citizenship — who may have tried cannabis as teens or young adults and want to try it again. For many, this is where a platform like Eaze comes in.
Any adult who wants to try marijuana — or, in the case of so many baby boomers, try it again — should have no problem laying their hands on the stuff. If you don't feel comfortable walking into a dispensary, you don't have to.
Delivery services have sprouted up all over the place. Eaze, the biggest and most well known, is a tech platform that functions as a kind of middleman between consumers and dispensaries, which employ the drivers.
Craig Wald, 72, owns a dispensary in Studio City, and is one of two Los Angeles retailers who work with Eaze. The arrangement, he said, has been great for business.
"We probably have 125 drivers," said Wald, 72, who owns Perennial Holistic Wellness Center. "If you are driving home from work, and your back hurts, or you're not feeling well, you can say, 'Gosh, if I can order it on the phone right now before I get to the car, and it will be there when I get home,' why wouldn't I do that?"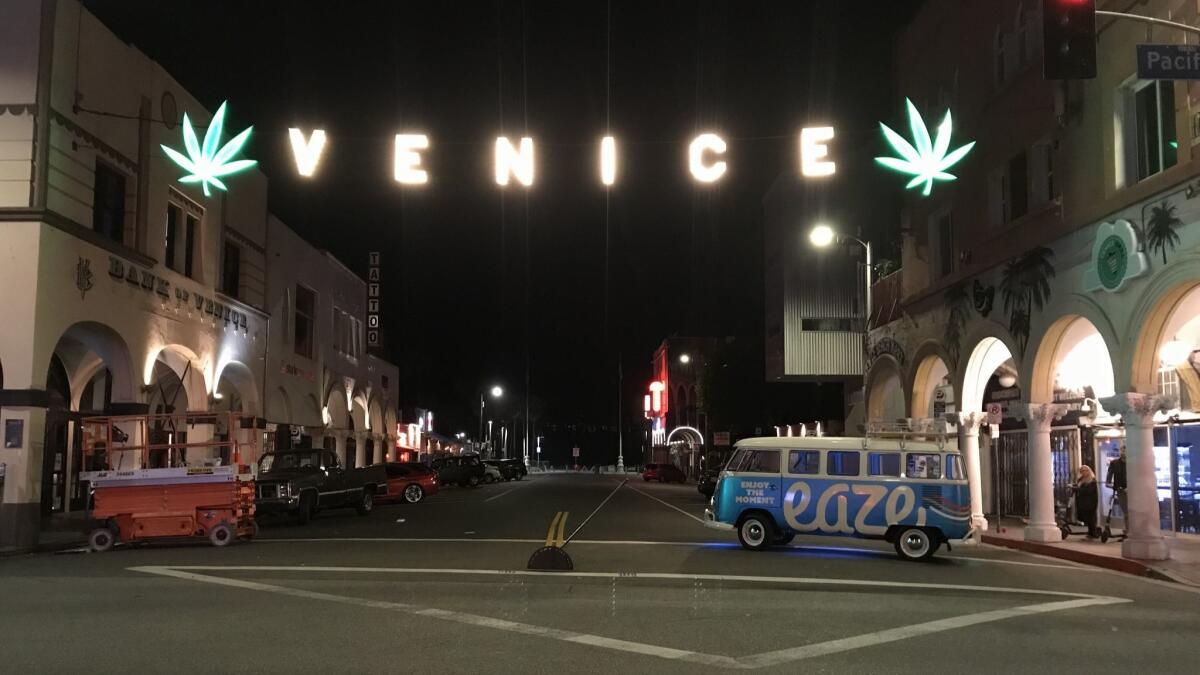 I've been intrigued by Eaze for several years, shortly after I started paying attention to the serious side of cannabis. After years of denial (mainly because I don't like the way cannabis makes me feel), I finally embraced the idea that pot is less dangerous than alcohol, beneficial for many medical conditions and ridiculously understudied because of half a century of federal prohibition.
Back in 2015, I heard about a well-funded company that used technology to get weed to its customers within 15 minutes. That's less time than it takes to get a pizza delivered.
I got in touch with Eaze, and that November, the company let me spend an afternoon roaming around San Francisco with a driver, watching him hand over paper bags of product to medical marijuana patients in exchange for wads of cash. (Remember, this was before recreational pot was legal, so all consumers were considered patients.)
Two and a half years later, the company is expanding around California. It has slightly altered the 15-minute promise. "Our target is always under an hour," Eaze communications executive David Mack told me Wednesday.
It also produced an annual report about the state of cannabis in 2017— which markets grew the fastest, who is consuming and when. More women are using cannabis, and fewer people are buying flower and are opting instead for manufactured products like vaporizers.
Will it come as any surprise that the top day of the year for imbibers is 4/20?
If it does, then you haven't been paying attention.
To read this article in Spanish, click here
Twitter: @AbcarianLAT