Oakland museum's marijuana exhibit: Scholarly, fun and a little dangerous. (Go ahead, touch that bud!)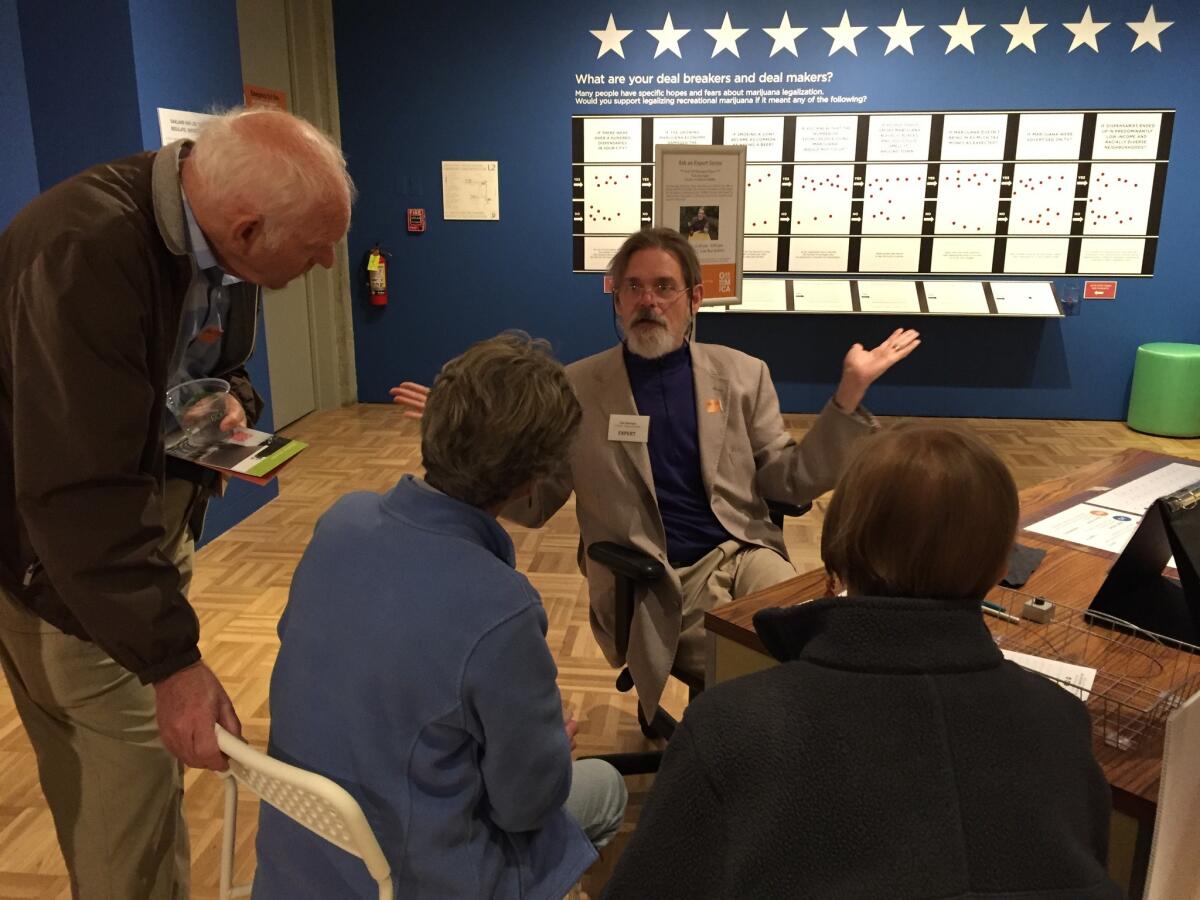 Reporting from Oakland —
The marijuana expert was in.
Dale Gieringer, 70, a coauthor of California's 20-year-old medical marijuana law, was taking questions at a metal desk plopped down in the middle of an unusual new museum exhibit, "Altered State: Marijuana in California."
A neatly dressed 77-year-old woman from Walnut Creek took a seat next to him. She seemed hesitant, but determined. Her husband hovered behind her.
"I've never smoked anything," the woman told Gieringer, one of several pot experts invited to answer questions on the occasional Friday evening. "And I've been using Blackberry Kush for sleeping. Will it hurt my lungs? That's what I'm worried about."
Behind her, as Gieringer explained that vaping was probably less harmful than smoking, the face of a well-known Mendocino grower, Swami Chaitanya, popped onto a video screen. Museum visitors watched as he discussed the spiritual aspects of ganja. Nearby, a bunch of young adults were sprawled on bean bags, watching a history of pot-related public service announcements, which have evolved from war-on-drugs-era scare tactics to Colorado's post-legalization pleas for sensible use.
In an area devoted to the medical uses of marijuana, visitors were invited to share their experiences on white clipboards, hung on the wall: "It helps with the back pain from serving in the Marine Corps." "Cures my anxiety." "Helps to control my tremor."
Behind plexiglass in the middle of the room, four beautiful pot plants glowed green under indoor lights.
"They're not ours," said the exhibit's curator, Sarah Seiter, with a giggle. "We're holding them for a friend."
::
This is an ambitious undertaking for the Oakland Museum of California, but it comes at the right time and in the right place. The museum's mission is to tackle timely and important topics. (I'm looking forward to "All Power to the People: Black Panthers at 50," scheduled for October.)
Already, a million or so Californians have medical cards, which let them buy pot legally at dispensaries. An initiative heading for the November ballot will ask voters if they are willing to legalize pot for all adults, making it as accessible as alcohol.
"Legalization will have a profound impact on our state," said museum director Lori Fogarty. "And yet marijuana is often misunderstood, or people have a very limited perspective based on what they think they know. We are going to put the debate out there."
Her staff spent two years developing the exhibit, which is intensely interactive. They invited the public, including young people, to brainstorming sessions. The museum board signed off on the project with little hesitation. Oakland police signed off as well. Fogarty checked in with U.S. Rep. Barbara Lee to explore whether mounting a marijuana exhibit would put the museum sideways with federal funding groups like the NEA.
In the end, no federal funds were used. Nor did any money come from the marijuana industry. The only group credited with funding the show is the Oakland Museum Women's Board. "They are primarily older white women. The average age is 75," Fogarty said. "They've come a long way, too."
Some staff members had to get medical marijuana cards in order to handle the plants in the exhibit, which also includes a bud-filled box with built-in gloves so visitors can reach in to feel buds and leaves without making skin-to-dope contact. (Judging by the level of pulverization, I'd have to guess this was a popular stop.)
Interest in the exhibit, which closes at the end of September, has been high, Fogarty said. It is bringing thousands of new visitors to the museum, many of whom appear to be in the all-cash cannabis business. Behind the counter in the gift shop, where you can pick up a vintage copy of High Times, Eve Kramer told me she'd never seen so many people pay with big wads of dollar bills.
::
Renee Landingham, a 40-something Berkeley cultivator, was strolling through the area devoted to marijuana science. "I'm impressed with the level of detail they've been able to capture," she said. "It's more in-depth than I thought it would be."
A display card asked, "Does marijuana cause schizophrenia?" Answer: "Fourteen studies have shown that smoking marijuana can trigger schizophrenia or cause symptoms to start at a younger age for people genetically predisposed to the disease. Four studies found that some schizophrenic patients actually improved when they used marijuana, but we don't know yet what makes patients respond positively or negatively to the drug."
In another area, visitors were asked to vote with magnets on certain legalization questions: Would they favor an end to prohibition if it meant there would be over 100 dispensaries in their cities? (As of Friday, the yeses were winning.) How about if the marijuana economy damaged the environment? (A resounding no.)
Karl Batten-Bowman, 39, a Google project engineer from Berkeley, was with his wife and two young daughters, who squealed as they stuck their gloved hands in the "bud box."
"I think it's really well done," he said. "If anything, it's late. The pot industry is huge here in Oakland."
I heard him laugh out loud as he read some unsigned cards that had been tacked to a wall next to the "Confessional," a curtained booth where visitors are invited to anonymously share their true feelings about pot.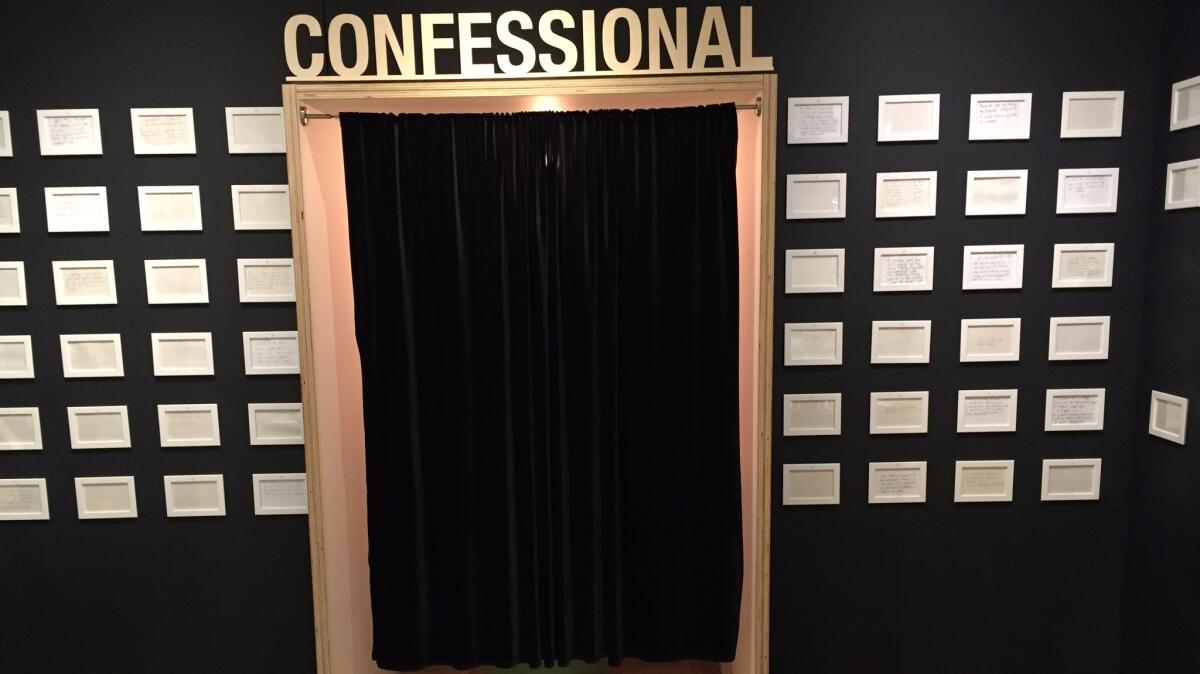 "Weed has gotten too strong," one said. "It was way more fun when 1 puff didn't render me stoopid."
"Marijuana makes me desire my husband," said another. "Without it I would pursue my love of women."
The single letter of complaint she's received, said Fogarty, came from the notoriously cranky Catholic League, which took exception to the confessional booth.
Fogarty responded that it looks more like a voting booth, and that the confessions are not just serious, but profound.
Indeed. If a hit of pot can save a marriage, maybe marijuana — or at least this exhibit — is something the Catholic League might want to get behind.
Get our L.A. Goes Out newsletter, with the week's best events, to help you explore and experience our city.
You may occasionally receive promotional content from the Los Angeles Times.