Column: After a brush with fame, Dexter, the pet peacock who was refused a seat on United, has moved on
When the artist Ventiko and I walked downstairs in the spacious Venice home she was visiting, Dexter was perched on a wraparound sofa that had been covered with pee pads. His long tail feathers cascaded gracefully to the floor.
Dexter's claws were painted a vibrant — you might say peacock — shade of blue. Ventiko's toenails, as it happened, were the same color. "Matchy, matchy," she said with a smile.
She stood in front of the bird, cooing. He raised his face to her. She gently cupped her hands around his face and began rubbing them together, the way you do when you're trying to get warm.
"He loves when I do this," said Ventiko, a single-monikered conceptual artist and photographer whose thwarted flight from Newark to Los Angeles last month made headlines after United Airlines refused to let her bring Dexter aboard as a support animal, even after she purchased him a seat.
Their story set off a debate about emotional support animals: Where is the line? Who gets to draw it?
I believe all pets provide emotional comfort and support, be they feathered or four-footed. I can understand an airline not wanting a passenger to bring aboard a 15-pound peacock with a yard-long feather train. And I can understand not wanting to check a beloved pet like a piece of luggage.
But when I heard that Ventiko and Dexter had pulled up in Venice, the one question I wanted to answer was how a woman could develop such a deep emotional bond with a peacock.
Like so many unconventional relationships, it started with an ad on Craigslist.
::
In 2014, Ventiko was preparing an installation to coincide with Art Basel Miami Beach, an annual international art fair.
Inspired by Umberto Eco's book "On Beauty," she created a lush, living outdoor tableau with flora, fauna, three naked models — including herself — and a sex doll (because one of her sponsors, Real Doll, makes them). As she thought about the art crowds that flock to Miami every year, she decided to garnish her piece with birds.
Canaries, she discovered, were expensive — $40 each. Perusing Craigslist, she discovered an ad for Dexter, and a peahen named Etta. Two peafowl for $200.
"I was like, 'Whaaaat?' That just seemed like a better deal."
The seller was an attorney in Jupiter, Fla., who was tired of people coming onto his lawn to look at the birds. "He was paranoid it was a lawsuit waiting to happen," Ventiko said. She crated the pair and hauled them to her installation. When she opened the crate, they promptly took wing.
"My friend went after Etta, and I went after Dexter, who was flying into glass. I scooped him up, and was like, 'Oh my peacock, oh my darling,' and he just, like, immediately wrapped around my neck and that was it."
They were inseparable. "He would perch on my arm, and he just really became the true embodiment of the stereotype of peacocks — representing beauty and just loving attention."
When the installation came down, Ventiko, who lives in a loft in the Bushwick section of Brooklyn, arranged to have the birds move in with an artist in North Port, Fla., a man with a yard and a good heart.
Dexter and Etta mated, had four peachicks, then tragedy struck: Etta and the babies were eaten by a predator, and Dexter, in his grief, began to bite. The kind-hearted artist was going to leave him on the side of the road, near some other peacocks.
Ventiko intervened. "I felt a huge commitment to this animal, and I really wanted to do right by him."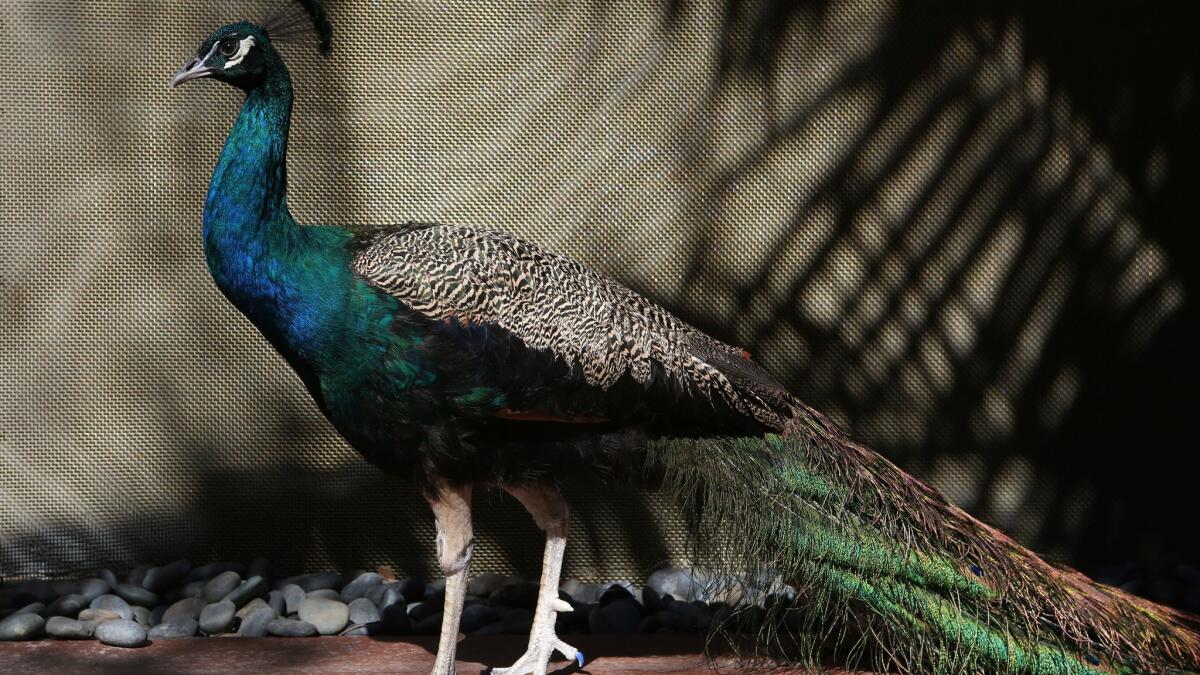 She flew Dexter to Brooklyn, via Delta, in a dog kennel. She thought about buying some land for him in the Dominican Republic. Maybe she could create an artists' residency and a community farm. Dexter would live out his life in tropical splendor, and Ventiko could come down and surf. But the Dominican Republican prohibits the importation of birds.
A farming family in rural Long Island offered to take Dexter. He lasted a week and a half. He was calm only around Ventiko. No other human would do.
"I ask him all the time, 'Why are you in my life?' I feel chosen. I am much calmer. I am much more responsible. I am much more thoughtful, and I really think I am a better person."
When Dexter was refused a seat on the plane, Ventiko loaded him into a car with a friend and drove across the country to Venice Beach. Mostly, he sat on her lap.
During the trip, she photographed and filmed scenes for her current project, featuring two artists friends, both pregnant, in an exploration of patriarchy, future and past. Will Dexter be involved?
"Naturally," she replied. "Peacocks represent infinity, and immortality, and all-knowingness. They are connected to god and holiness. There are lots of medieval paintings of peacocks on the roof of the manger. And they are the national bird of India."
::
Ventiko and Dexter are back in Brooklyn, where they share a 950-square-foot loft with two rescue cats. She hopes to find a place with a yard soon. At the recommendation of the vet who cares for a famous trio of peacocks at the Cathedral of St. John the Divine, Ventiko puts a harness on Dexter and walks him every day.
Even in New York, a lady walking a peacock can cause a stir.
"When I take him out, people say, 'Oh my God, a peacock!' And I say, 'No, it is not. You have got to stop with the acid! It is clearly a blue cat.'"
Twitter: @AbcarianLAT