California Journal: An aggravating anniversary for Simi Valley, where a not-guilty verdict sparked the '92 L.A. riots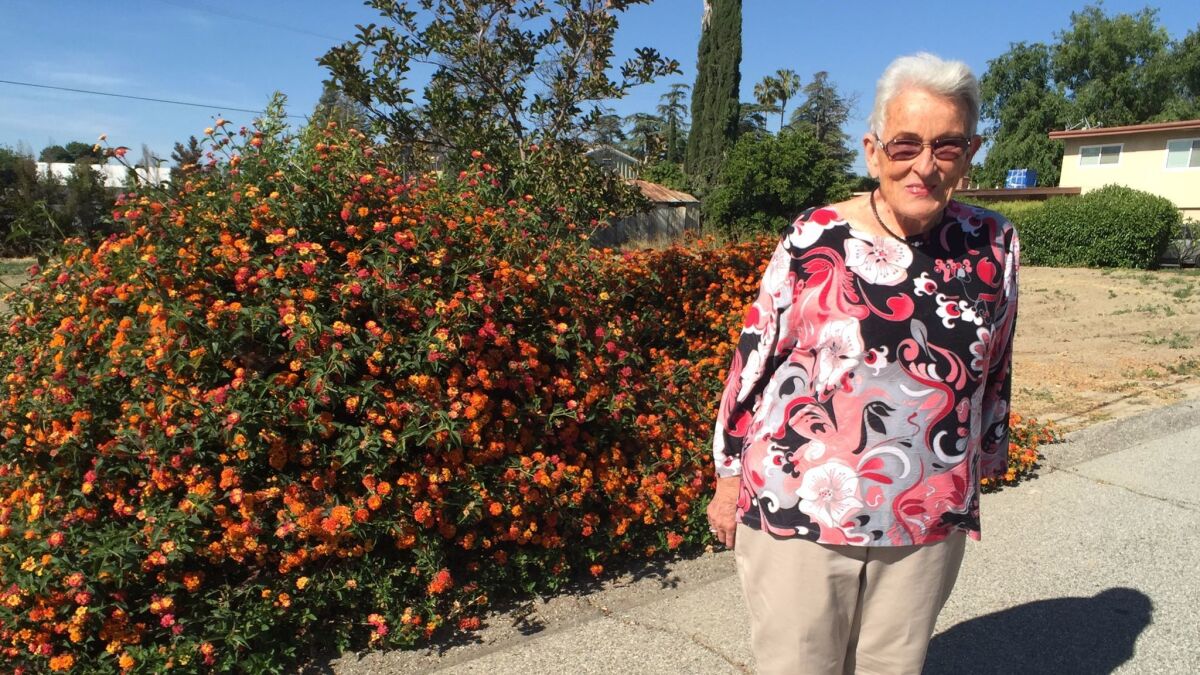 Reporting from Simi Valley —
Pat Havens has lived in Simi Valley since she moved from Arkansas with her family in 1943. She's 87 now, long retired from her career as an elementary school teacher, and Simi Valley's official historian.
With a nostalgia that can only be described as infectious, Havens can tell you about the walnut groves and barley fields that once covered the valley floor.
She can talk with humor about the literal-minded city planners who built Simi's first elementary school on School Street. And put the Methodist church on Church Street.
She recalls the sense of rural serenity that drew so many people over the Santa Susana Pass from the San Fernando Valley, new California arrivals, many of them, looking for reasonably priced homes and the slightly slower pace that has always been a fact of life in this bedroom community of 126,000.
"When we came here," Havens said, "it was really idyllic for everybody." The population was growing so fast back then, she said, that the school district was opening three elementary schools a year, many of which are now closed.
Until the Ronald Reagan Presidential Library opened in 1991, which gave the place some cachet, Simi was always a slightly boring but safe suburb where a lot of police officers lived.
And then, due to happenstance more than anything else, a high-profile Los Angeles criminal trial was assigned to an empty courtroom in Simi Valley in 1992.
An appeals court had ruled that officers could not get a fair hearing in Los Angeles because of "excessive publicity and a highly charged political climate," according to The Times, and so the trial was moved. Simi Valley was more convenient geographically than Alameda County, a venue the prosecution preferred.
Four white Los Angeles police officers faced a jury here and were found not guilty of beating a defenseless black motorist with batons.
In the aftermath of the trial, and the explosive violence that destroyed white Los Angeles' idealized version of itself as a place of racial harmony, Simi Valley became synonymous with racial injustice.
It was, after all, and still is, home to only a minuscule black population. No African Americans served on the jury; the only minorities were a Filipina and a Latino man.
Havens was horrified by the verdict, and by the riots.
But she, and many others in Simi Valley, was also horrified by the instant tarnishing of their hometown as a racist place, callous to an obvious, racially charged injustice.
"It's just too aggravating to think that all this time, we have been blamed for that trial, which was only here because we had a new courthouse and an empty courtroom," Havens told me the other day as we sat at her small kitchen table, leafing through two Simi Valley histories she has authored.
Some months after the trial, Havens' husband, Neil, was on a Rotary Club trip in the wilds of Brazil. At one stop, she said, her husband was introduced to a group of Brazilians. No one spoke much English, but the moment they heard he was from Simi Valley, Havens said, a little Brazilian kid piped up: "Rodney King!"
"They were aware of Simi Valley and it was the only thing they knew about it," Havens said. "It was just awful to get labeled. This is such a wonderful, top-notch community."
On the other hand, she added, "If I were rebelling, I think I would have been out here doing something to that courthouse."
::
Last week, when The Times was in the throes of 25th anniversary stories about the '92 riots, I wrote that a "Simi Valley jury" had exonerated the officers who beat King.
The next day, I received an email from Darren Mora, 51, who moved to Simi Valley from Monterey Park in 1970.
"Please let me set this fact straight," he wrote. "It was not a Simi Valley jury that acquitted the four white officers. It was a Ventura County jury in a Ventura County Courthouse that happens to be located in Simi Valley. Simi Valley has had to endure a stigma because of the trial and the media (like yourself) reporting this inaccuracy. This does get tiresome after 25 years."
I can imagine. Perhaps that's why Simi Valley's mayor did not respond to an email asking about the stain on his city's reputation.
"I mean, before the riots, we had the stigma of 'Slimy Valley,'" said Mora, who is head sound engineer at Glendale's Alex Theatre. "I remember going to Westwood with friends when I was 18 in the early '80s. We would meet girls and they would go, 'Ewww, Simi Valley,' and walk away."
(I don't know quite how to break this to Mora, but when I ask Siri for an address in Simi Valley, she always writes: "Sorry, I don't know where seamy valley is.")
Mora was one of the few civilians to see Los Angeles from the air the night the riots began. His girlfriend's friend was dating a guy who owned a plane, and the foursome flew to Santa Barbara for dinner. When they returned to Whiteman Airport in Pacoima, they could see fires raging all over the city.
"Later, when I was working in a recording studio near Griffith Park with some R&B and rap musicians," Mora said, "I had to be careful about saying where I was from. One guy said, 'Oh that's where the John Birch Society was founded.' I didn't even know what that was."
(It's an ultra-right wing political group that was not founded in Simi Valley, but had at one time, a large following in Southern California.)
::
As we looked at her 1997 book, "Simi Valley: A Journey Through Time," Haven told me about how Simi Valley, first settled by the Chumash, was originally part of one of the great late 18th century Mexican land grants.
Santiago Pico, a Spanish soldier, was given 114,000 acres in 1795. His early 19th century adobe house is a centerpiece of Strathearn Historical Park, which Havens had a major role in creating.
I wondered whether the descendants of Pico's family were active in the Historical Society, given their prominence in Simi Valley's story. Havens was forthright.
"We have not been able to appeal to our Mexican heritage families," she said. "The reason was hard feelings. After Simi Valley Elementary School was opened in 1926, they deliberately built two bungalows so they could segregate the Mexican kids. Any time you are told you are second class, you will have all those feelings. I am afraid our society is as racist today as we were then."
I cannot disagree. Simi Valley should never have been singled out for blame during that awful time 25 years ago. The fault, really, was in all of us.
Twitter: @AbcarianLAT
ALSO
As gentrification pushed blacks out of a seaside enclave, some used the Rodney King verdicts as an excuse to push back
Trolled by a plane trailing the Turkish flag, families of Armenian Genocide survivors insist that Turkey admit its guilt
The stories shaping California
Get up to speed with our Essential California newsletter, sent six days a week.
You may occasionally receive promotional content from the Los Angeles Times.