Column: A lesson in passion and compassion from teachers on a Venice picket line
L.A. teacher Jessica Dunn keeps spirits high on the picket line.
On Wednesday — the third day of the strike, when you might expect some of the adrenaline to be dissipating and tempers to be fraying — the striking teachers at my neighborhood elementary school, Westminster, taught me a lesson in enthusiasm and compassion.
Westminster is a so-called Title I school, where most children come from families poor enough to qualify for free breakfast and lunch. Paradoxically, it's on the northern edge of one the most expensive and trendiest neighborhoods on the Westside.
The school sits on Abbot Kinney Boulevard, across from the uber-hip Blue Bottle Coffee, and a block away from Blue Star Donuts, where a single buttermilk old-fashioned sets you back about $5.
It is also a couple of blocks west of Oakwood, one of the Westside's few historically black neighborhoods, now in a state of extreme transition because of skyrocketing property values. Westminster's mix of students reflects all of that.
Shortly after 7 a.m., in a drizzle, Jessica Dunn, a 35-year-old kindergarten teacher, saw me walking toward the school with my notebook in hand. She pranced up to me. I don't mean that in a patronizing way; I just don't know how else to describe the magical spring in her step.
"I think she's part unicorn," Westminster parent Lynn Hutchinson told me later. "The children love her."
Dunn loves them — and her job at Westminster. Like every other teacher with whom I spoke, Dunn loves the principal, Barry Cohen, a patient and soft-spoken former math coach. The burden of ensuring the safety of the students who have been coming to school during the strike has fallen to him. About a third of the school's 500 students are spending their days in the auditorium, where, teachers told me, Cohen is trying to impart some math instruction and showing movies.
Dunn said the strike will not alter the excellent relationship Cohen has with his staff.
"We are a strong, close-knit community," she said.
Kindergarten teacher Sarah Nodelman said that when she was hired this year (there were 100 applicants for the job), Cohen forwarded her a note from Dunn: "Tell our new BFF we can't wait to teach with her!"
Nodelman, who has taught for 15 years, said she'd never felt so welcome anywhere.
"I felt like I was with family here on Day One," she said.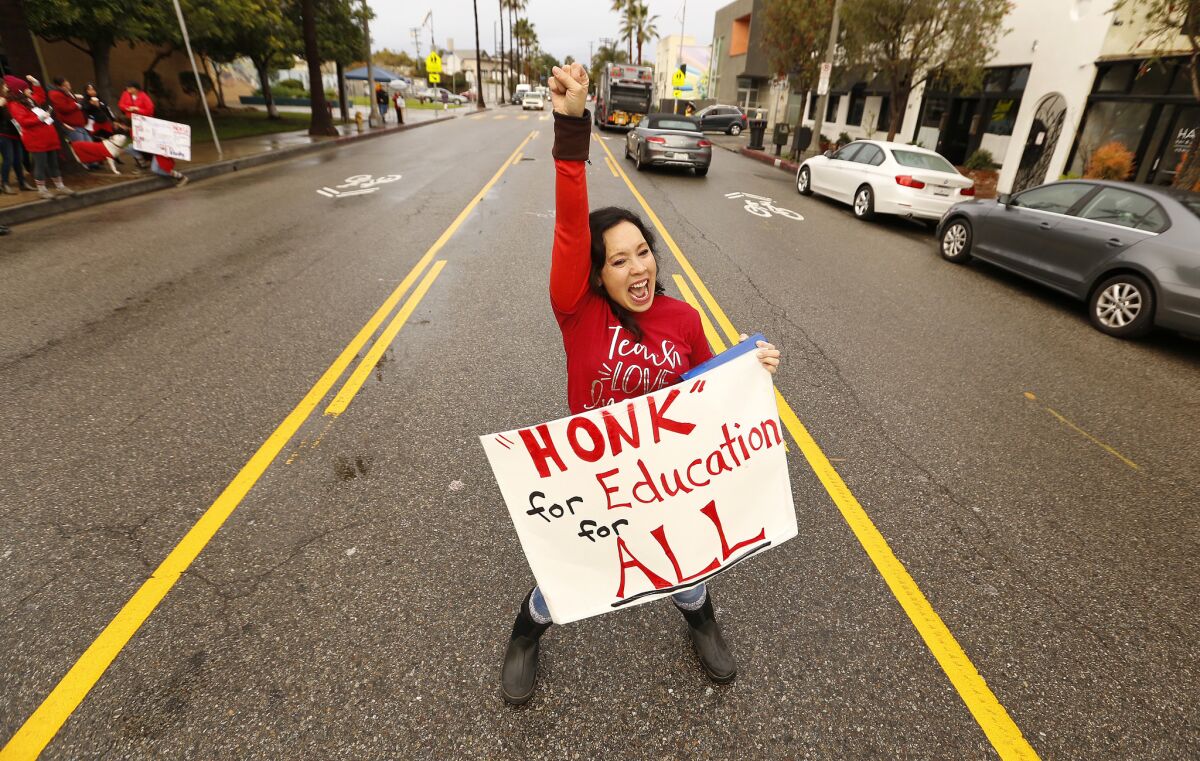 For a couple of hours Wednesday morning, Dunn and her colleague Beth Clark, 49, a transitional kindergarten teacher, led other teachers, parents and a handful of kids in chants, the most pointed of which was a stab at the district's new superintendent — "Hey hey, ho ho, Austin Beutner has got to go!" They danced back and forth in front of the school, urging passing cars to honk, and executed high kicks worthy of a chorus line.
At 7:40 a.m., a mom walked her daughter toward the school entrance. "I'm so sorry," she told Dunn, tears in her eyes. "I have to. I am so sorry."
"Come on in for a hug," Dunn replied, sweeping the woman into her arms. "It's OK. We got your back." She also hugged the woman's child.
"This is not a fight between us and the children and parents," Dunn said. "We support the people who have had to cross the picket line."
I've always been proud that my parents were public school educators and that I graduated from Los Angeles public schools in their heyday.
My mother was a special education teacher who taught deaf and hard-of-hearing students at various Los Angeles schools. She was active in the United Teachers Los Angeles union until she retired. My father was a professor at Cal State Northridge who fought for the rights of professors to bargain collectively when Ronald Reagan was governor of California.
I went to Northridge Elementary School, which was torn down decades ago, then Calahan. I went to Northridge Junior High before the advent of "middle schools" and Cleveland High in Reseda, long before it was a magnet — well, long before magnets even existed.
We had nurses, counselors, librarians, textbooks, field trips, school cafeterias, orchestras, choruses — and the district funded it all.
It was just an accident of history that I came of age in California's golden age of public education, that I finished high school a few years before Proposition 13 gutted the funding that once made our schools so great. The deterioration of public education in this state is a crime against our kids.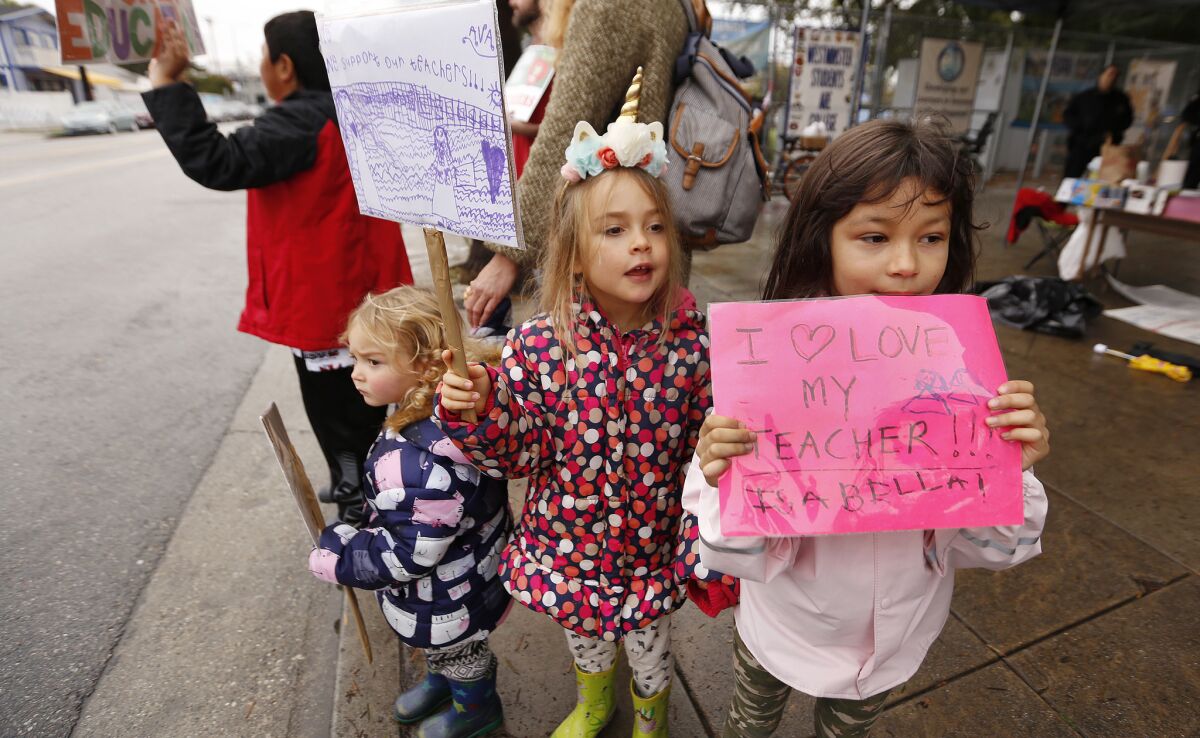 At Westminster, like most L.A. public schools, a nurse stops by only once a week. A psychologist comes every two weeks. Gary Robbins, 77, is retired but loves his counseling work so much that he comes back to Westminster two and a half days a week. He could be at home painting, which is his passion. But he said with a shrug: "Kids need a friendly haven, someone to talk to. A grandparent has died, a dad lost his job, there's a divorce. This is what I do."
His salary is paid by money the school raises, not by the district. "We have to raise our own money for everything," said fifth-grade teacher Ann Steinberg, who has been at Westminster for 19 years. "We are lucky that our community can do it, but most can't."
Dig a little deeper into district pockets, Mr. Beutner. A good public education should not depend on luck, timing or bake sales.
Twitter: @AbcarianLAT
---
The stories shaping California
Get up to speed with our Essential California newsletter, sent six days a week.
You may occasionally receive promotional content from the Los Angeles Times.