On MLK Day, tone-deaf Sarah Palin says Obama plays the race card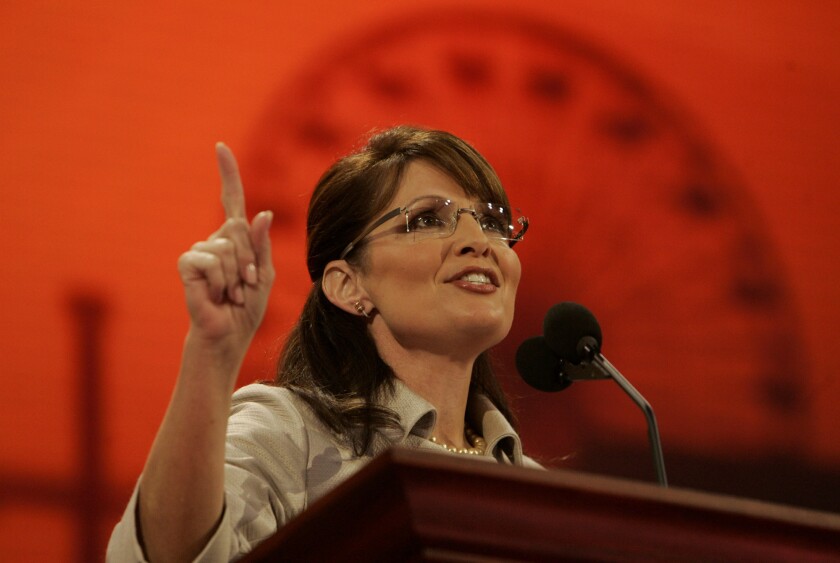 Sarah Palin, you have got to be joking.
Showing pure contempt for the ideals that the Rev. Martin Luther King Jr. embraced, and on the day we have chosen as a nation to celebrate his life, the former Alaska governor chose to make a spectacle of herself on Facebook.
This is the entirety of her post:
"Happy MLK, Jr. Day!
"'I have a dream that my four little children will one day live in a nation where they will not be judged by the color of their skin, but by the content of their character.' – Martin Luther King, Jr.
"Mr. President, in honor of Martin Luther King, Jr. and all who commit to ending any racial divide, no more playing the race card."
Usually the comments under Palin's Facebook statements are positive and encouraging. Today, however, there was a deluge of criticism:
"You just managed to singlehandedly embarrass the entire caucasian race....is there some way that we can like, excommunicate you from being a white person, because the rest of us are mortified and want nothing to do with you now," said one.
" I can't believe this is real," wrote another. "How horrible of Sarah Palin, though I guess I shouldn't be surprised. Beyond being horrific, this just seems like a PR nightmare for her and her team."
There was some speculation that her comments were an oblique response to this passage in a long, typically thoughtful New Yorker profile of President Obama by David Remnick:
"Obama's election was one of the great markers in the black freedom struggle. In the electoral realm, ironically, the country may be more racially divided than it has been in a generation. Obama lost among white voters in 2012 by a margin greater than any victor in American history. The popular opposition to the Administration comes largely from older whites who feel threatened, underemployed, overlooked, and disdained in a globalized economy and in an increasingly diverse country. Obama's drop in the polls in 2013 was especially grave among white voters. 'There's no doubt that there's some folks who just really dislike me because they don't like the idea of a black President,' Obama said. 'Now, the flip side of it is there are some black folks and maybe some white folks who really like me and give me the benefit of the doubt precisely because I'm a black President.' The latter group has been less in evidence of late."
You may hate everything that Obama stands for politically. But what he told Remnick is not "playing the race card." That is a factual, informed observation.
I have no idea what Palin was trying to do here.
By smearing the president on MLK Day, she proves once again she's fit for stirring the pot and not much else.
Palin on Syria: "Let Allah sort it out."

Palin is annoying, but enough with abuse
Twitter: @robinabcarian
---