Air quality rules tightened after cancer risk found to be 3 times higher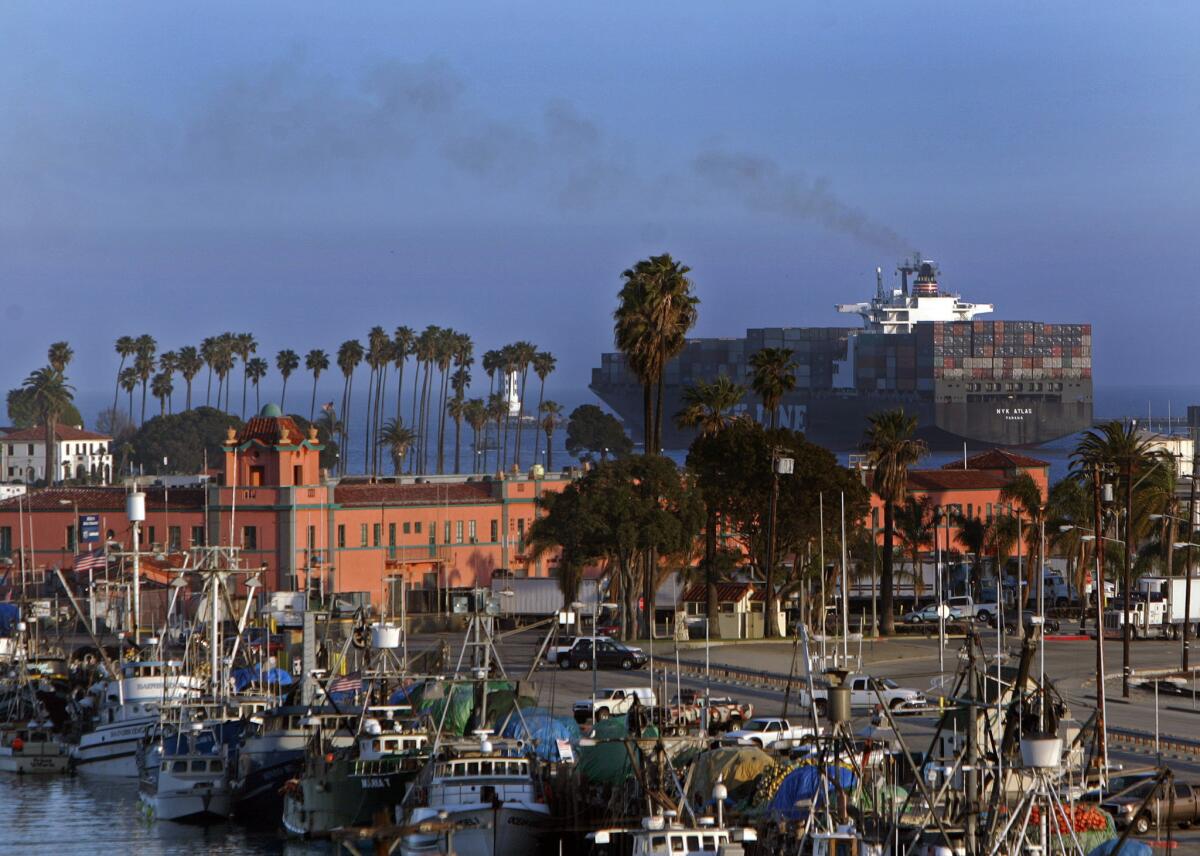 Dozens of Southern California facilities, including oil refineries, aerospace plants and metal factories, will face new requirements to reduce toxic emissions or notify their neighbors of the health risks from their operations under rules approved Friday by air quality officials.
The move by the South Coast Air Quality Management District governing board follows new guidelines from state environmental officials that estimate the cancer risk from toxic air contaminants is nearly three times what experts previously thought.
While air pollution has declined sharply in California in recent decades, new research shows that breathing toxic compounds poses greater health risks to young children than scientists had estimated.
Southern California business groups had objected to the more stringent rules, which would affect as many as 90 facilities across the region. The changes will cost businesses about $1.9 million a year in new health studies, notification requirements and pollution controls, according to the South Coast air district.
Environmentalists supported the measures.
"We need the government to update their regulations to better protect our communities, families and children," said Adrian Martinez, a lawyer for the environmental law nonprofit Earthjustice.
The air district's current rules govern about 400 facilities across Los Angeles, Orange, Riverside and San Bernardino counties that emit pollutants such as arsenic, benzene and toxic metals that put surrounding residents at increased risk of cancer and other health problems. For 25 years, those facilities have been studied and monitored under the state's Air Toxics Hot Spots program.
When cancer risk at one of those facilities exceeds 10 in 1 million, the operator is required to notify neighbors and hold public meetings. If the risk reaches 25 in 1 million, the facility must take steps to reduce emissions. A level of 25 in 1 million means that air pollution from the facility could result in 25 cancer cases per 1 million people over a 30-year period.
Under the new rules, about 87 of those 400 facilities will have to complete additional health-risk assessments, 42 will have to issue public notifications and 22 may have to reduce cancer risk by cutting their emissions, according to air district estimates.
Earlier this year, many Southland business groups urged the air district to relax its requirements and reduce the burden on companies. The rules, they said, will force businesses to notify surrounding communities that health risks from their operations are on the rise even if their facility's emissions have stayed the same or decreased.
In a February letter, the Los Angeles County Business Federation urged the air district to "avoid unnecessarily alarming the public while harming local businesses and our economy." At the air district's public hearing Friday, only a few business groups criticized the proposal.
The state's revised air toxics guidelines resulted from scientific studies over the last decade that show young children and infants are more sensitive to toxic air pollutants than previously thought. Past estimates were based on adults and did not account for how breathing the same pollutants early in childhood might raise the risk of developing cancer later in life.
More than 30 other pollution-control districts in California are making similar changes to air toxics rules to implement the new health-risk guidelines. Several hundred facilities across the state could face additional pollution-control and notification requirements, according to the state Air Resources Board.
The new rules come amid a decades-long decline in air pollution in California as a result of years of emissions-cutting regulations. A report last fall by the South Coast air district found cancer risk from air pollution in Southern California has dropped 65% since 2005, largely because of plummeting emissions from diesel trucks, ships and other soot-belching vehicles.
Despite that progress, Southern Californians still contend with the highest cancer risk from air pollution in the state, with the worst levels in communities near industrial zones, ports, rail yards, freeways and other freight corridors.
The rules approved Friday also extend to businesses seeking new permits from the South Coast air district. About 28 of those facilities each year, most of them metal-cutting operations, will have to cut emissions, air district officials said.
The rules exempt gas stations and spray booths, which are used at auto body shops and other small businesses. For now, the air district will allow those facilities to operate under existing guidelines, giving them more time to install new pollution controls.
Twitter: @tonybarboza
Sign up for Essential California for news, features and recommendations from the L.A. Times and beyond in your inbox six days a week.
You may occasionally receive promotional content from the Los Angeles Times.