At the border, mothers prepare to make an agonizing choice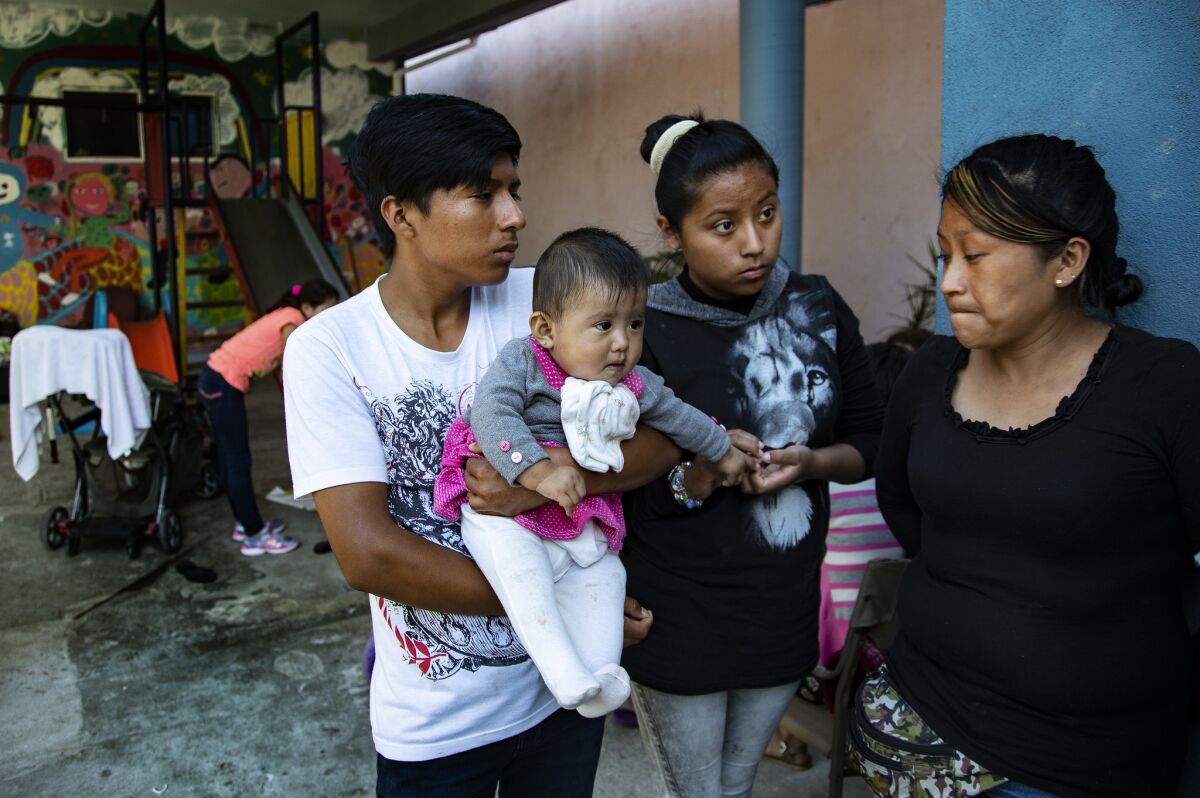 Reporting from Tijuana —
Two weeks ago, Dalila Pojoy stopped breastfeeding her baby girl.
The 33-year-old Guatemalan immigrant decided it was the sensible thing to do in case the U.S. government took custody of her 6-month-old. Little Bernardethe wailed for three days and clawed at her mother's breast.
Days later, an immigration attorney delivered bad news to Pojoy, who was waiting for a chance to plead for asylum at a U.S.-Mexico port of entry in Tijuana with her baby and two teen children. Atty. Gen. Jeff Sessions had just issued a ruling that would seem to kill any hope of her getting refuge in the U.S.
No longer would the U.S. grant asylum to most victims of gang violence or the domestic violence that Pojoy was fleeing.
"It's almost certain they will deport you," an immigration attorney told her. "You have to really think about this before turning yourself in."
"I can't stay here; I can't return," she responded. "I've come so far. I'm going to chance it."
At dozens of temporary shelters lining the U.S.-Mexico border in Tijuana, hundreds of asylum seekers fleeing violence of all sorts are making calculations before turning themselves in at the San Ysidro Port of Entry.
Across the Southwest border, they have had to weigh the risks of a "zero tolerance" policy for illegally crossing into the U.S., the threat of being separated from their children and a ruling that shuts out many asylum seekers knocking on America's door.
For many, the terrors back in their homelands — in Guatemala, Honduras and El Salvador — supersede the tribulations especially engineered for them by the U.S. government.
Most believe this is their last chance as the Trump administration methodically rolls back nearly every avenue of immigration relief.
"If we return, I'll be killed for sure," said a Salvadoran immigrant named Carmen, who was fleeing the 18th Street gang in her neighborhood.
She escaped that country with her husband Josue, 10-month-old daughter Amber, son Erick, 10, and 6-year-old daughter Nicole. The family was still in Oaxaca, in southern Mexico, when they heard the news that the Trump administration was separating children from parents. Her older children were playing in a park when Carmen called them over.
"Listen closely. The day we get to the border, we are going to ask for asylum in the United States," she said she told them. "That's when an official might come get you. If that official takes you by your hand and you notice I'm not walking behind you, don't worry. They are going to take you to a place where there are other children."
"Where will you be, Mommy?" her son asked.
"I don't know, but you have to be patient because we will see each other again," she assured him. "We will be together again. They will take good care of you there. It won't be forever."
Under intense pressure and criticism, Trump signed an executive order Wednesday to end the 6-week-old practice of separating children from parents who illegally crossed into the U.S. In rarer instances for various reasons, some children were also separated if immigrants turned themselves in at a legal port of entry.
On Friday, an angry Trump redoubled efforts to cast illegal immigration in terms of crimes as he hosted an event with a group he calls Angel Families. It is made up of people who have lost loved ones in homicides and drunk-driving accidents that allegedly involved immigrants in the country illegally.
"These are American citizens permanently separated from their loved ones," Trump said, while blasting media coverage.
In a tweet Sunday, the president said: "We cannot allow all of these people to invade our Country. When somebody comes in, we must immediately, with no Judges or Court Cases, bring them back from where they came. Our system is a mockery to good immigration policy and Law and Order. Most children come without parents…"
But the last few weeks have underscored the seeming futility of trying to rout the determination of many seeking refuge in the U.S.
When word got out that U.S. officials were taking away children from asylum-seeking parents, almost half the immigrants at the Centro Madre Assunta in Tijuana left, said Adelia Contini a nun who runs the shelter.
Most of them were immigrants with young children who planned to ask for asylum at the port of entry, as international law allows.
But where they went was unclear, Contini said. Did they return to their homeland or did they decide to risk crossing illegally into the U.S.?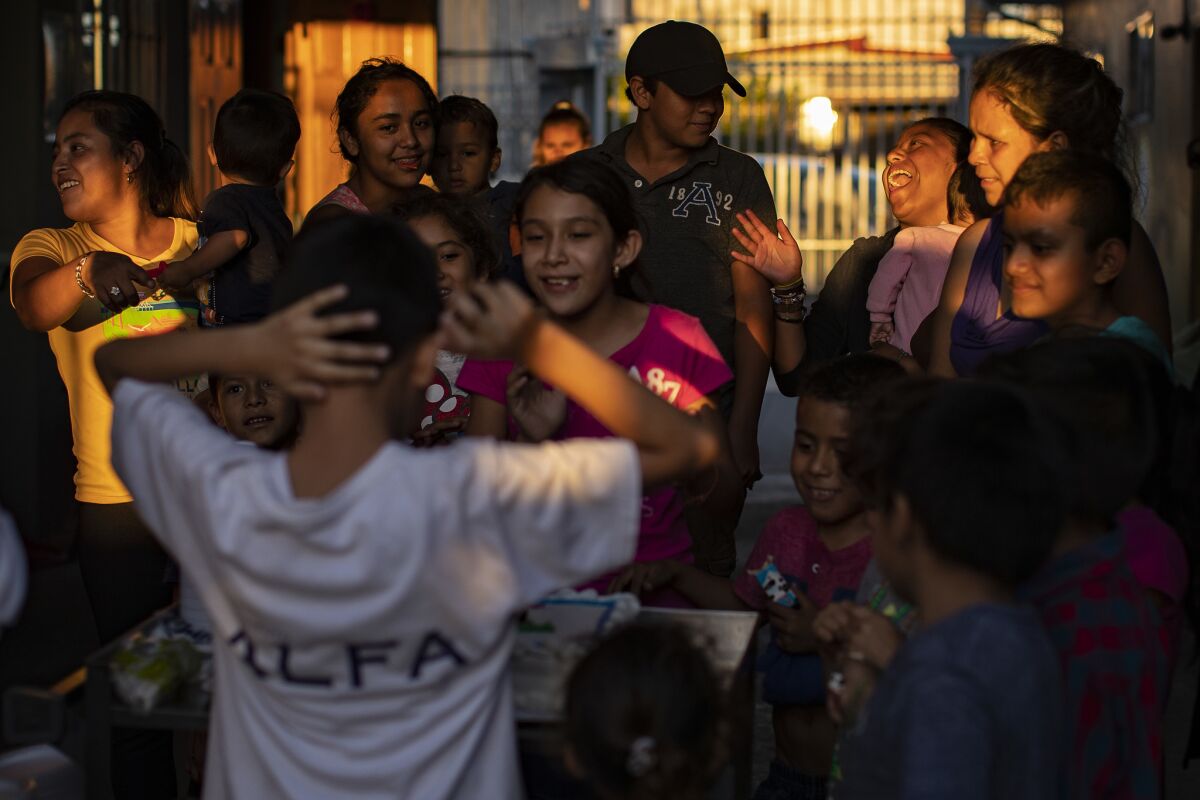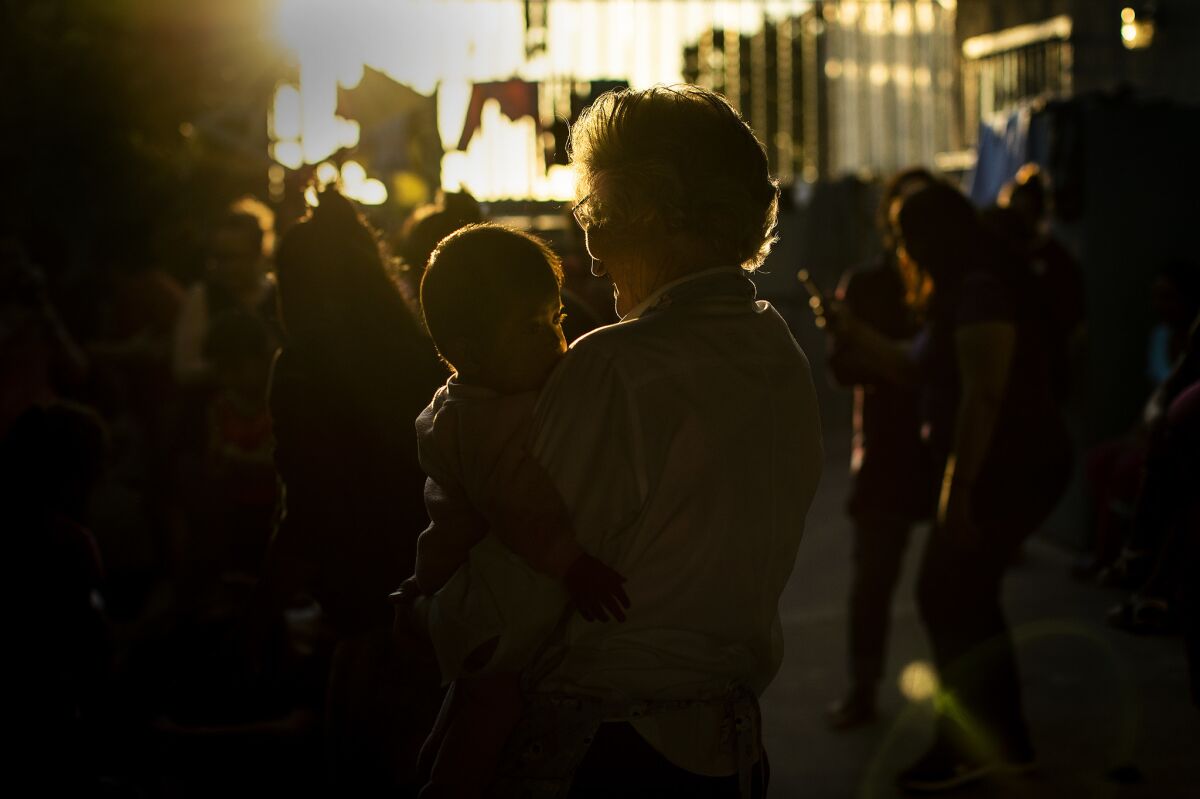 At a temporary shelter less than a mile from the border, Carmen, the Salvadoran immigrant, breastfed her baby daughter in what resembled an empty warehouse. Half the shelter was full with more than 50 brightly colored tents serving as makeshift bedrooms for families. Children and parents sat in a row of plastic chairs, mesmerized by episodes of "SpongeBob SquarePants."
Carmen said the family has no choice but to try to get into the U.S. For months, she said she rejected a gang member's sexual advances under threat of death. In March, she fled El Salvador.
On June 14, Pojoy hugged and said goodbye to her friends in the Tijuana shelter. She exchanged phone numbers with a few other mothers before leaving for the U.S. port of entry.
She loaded her belongings into three backpacks. She squeezed in a can of formula inside Bernardethe's pack, between a few bibs, three onesies and Elmo-decorated diapers.
Her two older children — Davis, 15, and Diana, 14 — entertained the baby with a game of peek-a-boo as their mother hurriedly changed into pants and a black sweatshirt emblazoned with "I love my boyfriend." Pojoy cringed when she realized what the sweatshirt said, given that it was the brutality of her ex-boyfriend that drove her to escape.
At the border, they joined at least 100 asylum seekers amassed near the San Ysidro Port of Entry. A man selling gum and cigarettes milled about as honking taxi drivers zoomed past.
A group of beleaguered mothers from Honduras had just arrived with tattered luggage and toddlers in tow. Immigrants who had been there longer pointed them to a man in an orange sweatshirt — a representative of Grupos Beta, the humanitarian arm of Mexican immigration services.
The women clamored toward the man, begging him for information on how to ask for asylum in the U.S. The man, who gave his name only as Sergio, told them they'd have to wait their turn. He pointed them to a woman who kept a notebook with the names of hundreds who were already waiting to get in. It could take weeks, he said.
Just a few minutes before 10 a.m., Sergio escorted Pojoy, her children and 27 others onto a pedestrian bridge toward the U.S. Occasionally, Sergio stopped to keep the group together as they walked deeper into the port of entry, where U.S. Customs and Border Protection officials awaited.
Pojoy adjusted the straps on Bernardethe's baby carrier. Diana tightly held on to a pink envelope carrying birth certificates and police reports documenting Pojoy's alleged abuse. Davis lugged bottled water for the baby's formula, his backpack already ripping at the seams. Bernardethe sucked on her bottle.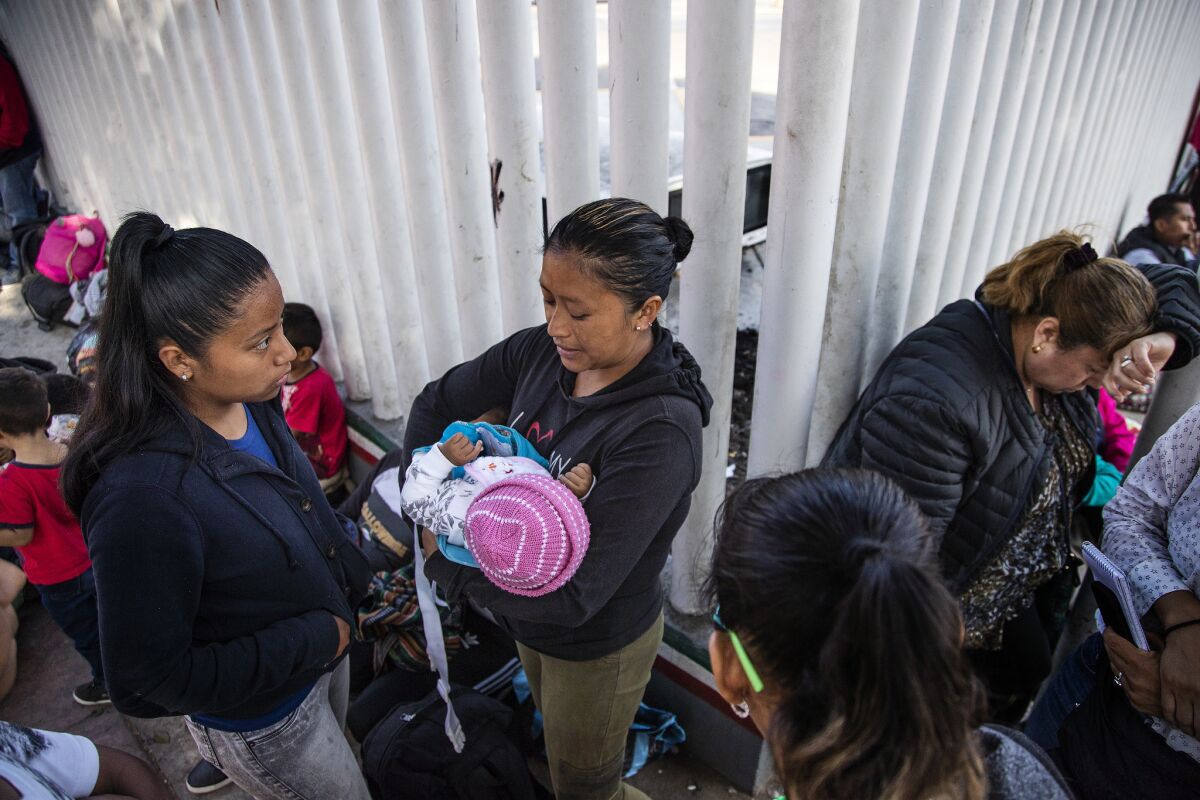 Whenever Pojoy fell behind, the teens retreated to join her. They stuck by her side. Pojoy made them memorize her sister's phone number in L.A. But Diana and Davis refused to believe they could be split from their mother.
Despite Trump's executive order ending most child separation, the policy hasn't changed for asylum seekers who give themselves up at U.S. ports of entry.
These particular families are kept together the vast majority of time unless there are extenuating circumstances, a U.S. Customs and Border Protection spokesperson said. For instance, parents who face criminal prosecution — including reentry charges after deportation — may have their children stripped away. Also, separation happens when CBP officers believe that the adult is not actually a parent to that child.
Though immigration officials have said instances are rare, several immigration attorneys and immigrant rights advocacy organizations have reported scores of children separated from asylum-seeking parents who have surrendered at U.S. ports of entry.
A day after giving herself up to border officials, an agent took Pojoy into a room at the port of entry. She laid out her story.
She was 13 when her mother died. Her father left with another woman, abandoning Pojoy and her five younger siblings. Pojoy took charge and that's when the older children hatched a plan. Pojoy would leave Guatemala, go to the U.S. and send money home to help support them all.
She crossed illegally and undetected near the Rio Bravo in Texas, before making it to her uncle's home in Houston. Six months later she moved to L.A., where she worked long hours in a garment factory, making enough to send money home to her brothers and sisters.
Soon after, she met a Guatemalan man at work. He fathered Davis and Diana, who were both born in the U.S. Her boyfriend was physically abusive, Pojoy said. One day, he beat her after she asked for money to buy diapers and milk for the children. Pojoy called police. They arrested him and took him to jail, she said.
"I'll kill you when I get out," she said he told her as police took him away.
Pojoy made the fateful decision to flee back to Guatemala before he got out from behind bars. But he was deported to Guatemala a few months later, Pojoy said. After he found her, she fled north with her children into Mexico. She had planned to keep moving north but fell in love with a man in Mexico City. They had twin children, a boy and a girl.
Eventually, he began to drink heavily and beat her, Pojoy said. He knocked out one of her teeth after she stood up for herself, she said. When he lost his job, she went to work as a seamstress, becoming the sole breadwinner.
In 2014, the man kicked Pojoy out of the house after a heated argument. He wouldn't let her take the twins, threatening to have her deported from Mexico if she tried to get custody of them. Pojoy and her older children, Davis and Diana, left.
A couple of years later, she met the man who fathered Bernardethe. When he discovered she was pregnant, her ex-boyfriend resumed his threats. One day, she found the father of her youngest child beaten and bloodied in a hospital.
He told her that the attacker delivered a message from Pojoy's former boyfriend that she was next. Her boyfriend urged her to escape.
At the end of the interview, the border official asked Pojoy if she was lying to him.
"If you lie, I'll deport you right now and we'll take away your children," Pojoy said the agent told her.
She told the border agent that every word she uttered was true. And that she was not safe in Mexico.
On a Sunday evening, Pojoy and her three children were released into the U.S. with an order to appear in immigration court in Los Angeles on July 2.
The attorney who urged her not to cross was pleased by the news.
"She got lucky, for sure," said Erika Pinheiro, policy and litigation director at Al Otro Lado, a binational organization that offers legal services to deportees and migrants in Tijuana.
Asylum seekers are paroled into the country all the time, she said. But Pojoy's chances were particularly grim after Sessions placed restrictions on who should be granted asylum.
Pinheiro said under the circumstances, it was a mystery to her why Pojoy was let in when many others detained under similar circumstances would surely be rejected.
For now, Pojoy is living with her sister in East L.A. She's already landed a job in the garment sector.
She knows a judge will ultimately decide her fate — and that the odds are stacked against her. But she has been told that before.
Follow Cindy Carcamo on Twitter @thecindycarcamo
The stories shaping California
Get up to speed with our Essential California newsletter, sent six days a week.
You may occasionally receive promotional content from the Los Angeles Times.