First & Spring: Campaign ads shine spotlight on L.A.'s struggle to enforce sign laws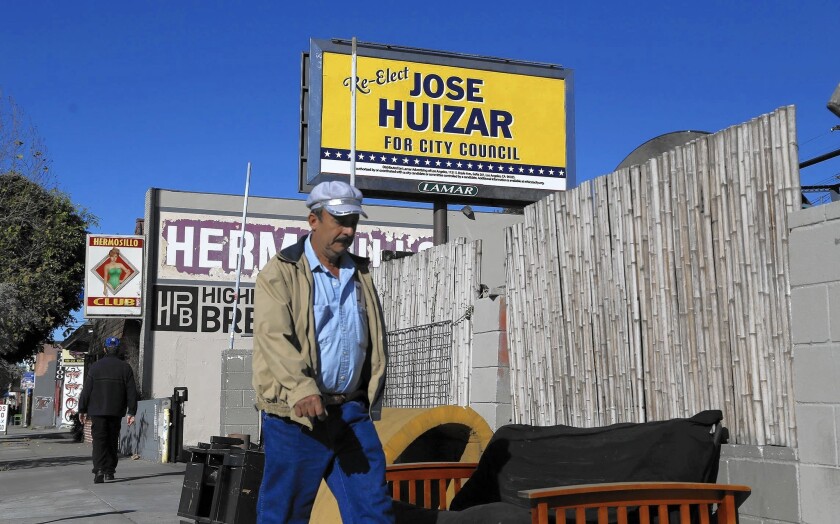 Outdoor advertising company Lamar went big last week in its bid to drum up publicity for Los Angeles City Councilman Jose Huizar, putting up 100 free billboards supporting his March 3 reelection campaign.
The billboard blitz — carried out in Boyle Heights, Glassell Park, Highland Park and elsewhere — put Huizar's name in front of thousands of motorists. But it also turned a less welcome spotlight on City Hall's ongoing struggle to enforce its own sign laws.
Huizar heads the council committee that is weighing whether to legalize as many as 951 billboards — many with more than one sign face — that are missing some form of city permit. The initiative, described by some as an amnesty program, could seriously benefit Lamar, which has 479 billboard structures with either no permit on file at City Hall or no evidence that the city signed off on changes to its signs.
As it turns out, at least a dozen of Lamar's pro-Huizar billboards have outstanding permit issues. Some have two signs on a pole when city records state that only one is allowed, according to a survey by the Department of Building and Safety. Others have no permit on record at all.
A Lamar executive did not respond Friday to a request for the addresses of its campaign billboards, which also promote Council President Herb Wesson and four other candidates. Former L.A. County Supervisor Gloria Molina, who is challenging Huizar, said council members should deny any request to legalize those signs.
"No company should be contributing illegal signs to council members at the same time it is asking them to give up the city's rights and allow those same signs to become legal," she said in a statement.
Huizar did not address questions from The Times about Lamar's campaign signs. In an email, he said he does not support amnesty for billboards. Huizar also indicated that his Planning and Land Use Management Committee is working on a proposal that would result in the removal of many of the billboards that have unresolved permitting issues.
Under the committee's proposal, sign companies could receive permission to put up one new billboard in exchange for the removal of two that lack the proper paperwork, he said. "We need solid, good policy that protects communities and that's what I'm focused on," he said in the email.
Huizar's committee has spent years looking at strategies for overhauling the city's sign rules, including new regulations for digital billboards. As part of those deliberations, he and his colleagues have been trying to determine what should be done about the hundreds of billboards with no permits recorded with the city.
Under state law, a billboard is presumed to be legal if it has stood for five years and was not the subject of an enforcement action during that time period. That language, placed in the Business and Professions Code in 1983, shifts the burden of proof away from the outdoor advertising industry and onto city inspectors, said Building and Safety spokesman Luke Zamperini. Put another way, it requires the city to prove a negative.
"Unless the government can prove there's no permit, you have to assume that there was," Zamperini said.
Some state lawmakers have tried to rescind the provision over the last decade, only to see the billboard industry succeed in killing those efforts. Zamperini said he knows of no other industry that has the ability to avoid enforcement by building inspectors because a five-year period has passed.
City officials say the state billboard law was written because Los Angeles and other cities failed to maintain complete and accurate records. The city's Board of Public Works once issued billboard permits, but those records were discarded, Zamperini said. Since then, outdoor advertising companies have argued city officials can't assume a sign with no permit on file is violating the law.
"A missing permit doesn't mean there never was a permit. It's missing," said Fiona Hutton, spokeswoman for Clear Channel Outdoor, which has 116 billboard structures that lack permits and another 185 that lack permits for an alteration, according to the city survey.
Lamar officials made a similar argument. "Even the city admits they didn't have the best system of record keeping," said Ray Baker, the company's vice president and general manager.
Faced with state restrictions on enforcement, planning officials last year recommended the City Council formally legalize billboards that lack an original permit. But they also concluded that the city could still pursue enforcement against large numbers of altered billboards where permits for the changes have not been found. In many cases, those billboards have two sign faces on a pole, when their city permits allow only one, officials say.
"We believe that for the signs where there is a discrepancy between the building permit and what's on the ground, it's a straight-up violation," said Alan Bell, a deputy planning director who worked for years on the proposed sign ordinance revisions before retiring Friday.
But when Huizar's committee met last month to discuss the proposed changes to billboard regulation, Councilman Mitch Englander suggested having the city provide relief for both categories of signs: those with no permits on file and those lacking documentation for alterations.
"The problem is, the city has failed for decades to maintain the proper paperwork," he said Friday.
Dennis Hathaway, president of the Coalition to Ban Billboard Blight, called that approach too lenient. Any company that went to the city to get a billboard permit, he argued, should have known they needed to reapply for approval to, say, double the size of the advertising space.
"If you have a permit to build a house, and then you add on to it without a permit, is it the city's burden to prove there was no permit for that addition?" he asked. "That doesn't make any sense."
Boyle Heights resident Mario Chavez, another Huizar challenger in this year's election, said the city should have worked harder to put billboard companies on the same regulatory footing as other businesses and residents. And Huizar, who has been in office for a decade, should have pressed the state Legislature to repeal the law limiting enforcement on Lamar and other sign companies, Chavez said.
"He should have pursued it. But then why would he? He gets free advertising from the company," he added.
Huizar said he has been focused on rewriting the city's sign ordinance. If the changes are approved this year, the number of places eligible for new billboard districts in Los Angeles will decrease 90%, he said.
"Since I've been the chair of [the planning committee], we've done quite a bit," he said.
Times staff writer Ryan Menezes contributed to this report.
---
For reporting and exclusive analysis from bureau chief John Myers, get our California Politics newsletter.
You may occasionally receive promotional content from the Los Angeles Times.