Metro's Blue Line is a microcosm of the community it serves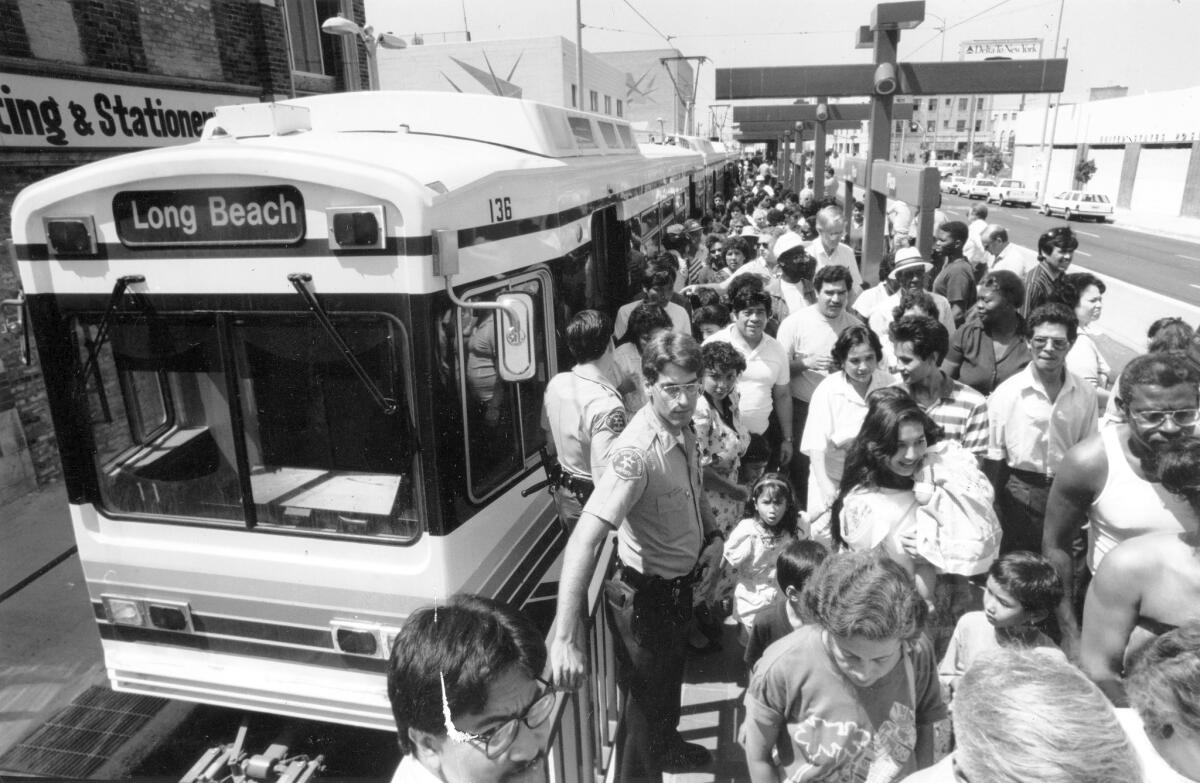 The Blue Line, which runs from downtown L.A. to Long Beach, was Los Angeles' first modern rail. It has since become a microcosm of the community it serves as well as of the challenges and successes of mass transit in a metropolis where the car is king.
Long popular, it serves a working-class area that depends on mass transit to get around.
Here is a timeline of the line's highs and lows, as told through the pages of The Times:
1989: Vandals before riders
The concrete structures are hardly dry at the new stations along the $752-million Long Beach Light Rail Line and the trains won't start running until next summer. But already graffiti, vandalism and theft are major headaches.
Stations all along the 22-mile line from the Long Beach Harbor through South-Central Los Angeles into downtown are being defaced by gang graffiti and a newer, more individualized kind of spray-paint vandalism called "tagging."
In addition, Los Angeles County Transportation Commission officials say, thieves are stealing whatever they can from the construction zones.
"They're so aggressive they've even run off armed security guards at construction sites," said John Stacy, commission security coordinator. "They'll steal anything — lumber, signal boxes . . . especially anything with copper or aluminum on it."
1990: Many riders, many problems
Los Angeles' new light-rail line exceeded ridership projections on its first day of commuter operations, but thousands of passengers had to endure travel times as long as two hours and the evening commute was marred by a train breakdown near a crowded downtown station.
By early afternoon 10,000 riders had used the 19-mile Los Angeles-Long Beach Light Rail Line, and transit officials predicted that a total of 15,000 passengers would ride by the end of the day — about three times the expected number.
A train broke down a block from the Pico Station in downtown Los Angeles, tying up traffic on the northern end of the line for 35 minutes and delaying at least 250 commuters on their trips home, officials said.
"I'm going to jump a bus and go home," said Beatrice Hobbs, a computer operator from Long Beach.
1999: Danger on the rails
Deaths to motorists and pedestrians along the Blue Line are the highest among California's light-rail systems.
Trains can reach speeds of up to 55 mph while buses are stalled in traffic. After the trains reach top speed, it takes them more than the length of a football field to stop. And, in the 54-minute, 22-mile run from downtown Los Angeles to Long Beach, the trains will go past 101 streets, breezing past senior citizen centers, shopping malls, low-income housing projects, parks, swap meets and industrial strips.
Virtually all of the deaths are the result of miscalculations or carelessness by pedestrians or motorists, transit police investigators say. Critics call the setup a formula for disaster, and the line's track record bears them out.
Since the Blue Line began operating in 1990, 47 pedestrians or motorists have lost their lives after being hit by the light-rail train, the result of more than 400 accidents, according to state and local records kept for light-rail systems.
2009: Best show in town
They are strangers on a train. Text-messaging businessmen and hawkers selling pirated DVDs, cotton candy and drugs. Teenage mothers pushing strollers and weary scavengers with strollers heaped with cans and bottles. Students quietly reading textbooks and proselytizers shouting passages from the Bible.
There is the blind man who takes out his glass eyes for money and the tightly coiled gangbangers with whom direct eye contact is not advised. Commuters lost in their iPods next to full-throated yakkers broadcasting personal confessions.
The Metro Blue Line cuts up the middle of Los Angeles County, from Long Beach to downtown, like a surgical incision, exposing an element of the metropolis many never see.
In a place dominated by freeways and the automobile's numbing isolation, the 22-mile light-rail line — the oldest in the county, marking 20 years of service this summer — is a rolling improvisational theater where a cast of thousands acts out a daily drama that is by turns poignant, sad, hysterical and inexplicable.
Whoa! Did a guy just get up from his seat and urinate before stumbling off the train?
Yes, folks, he did.
Five bucks gets you a day pass to one of the most unpredictable shows in town.
Sign up for Essential California for news, features and recommendations from the L.A. Times and beyond in your inbox six days a week.
You may occasionally receive promotional content from the Los Angeles Times.