In college scandal, rowing was the ideal sport for stowaways, cheating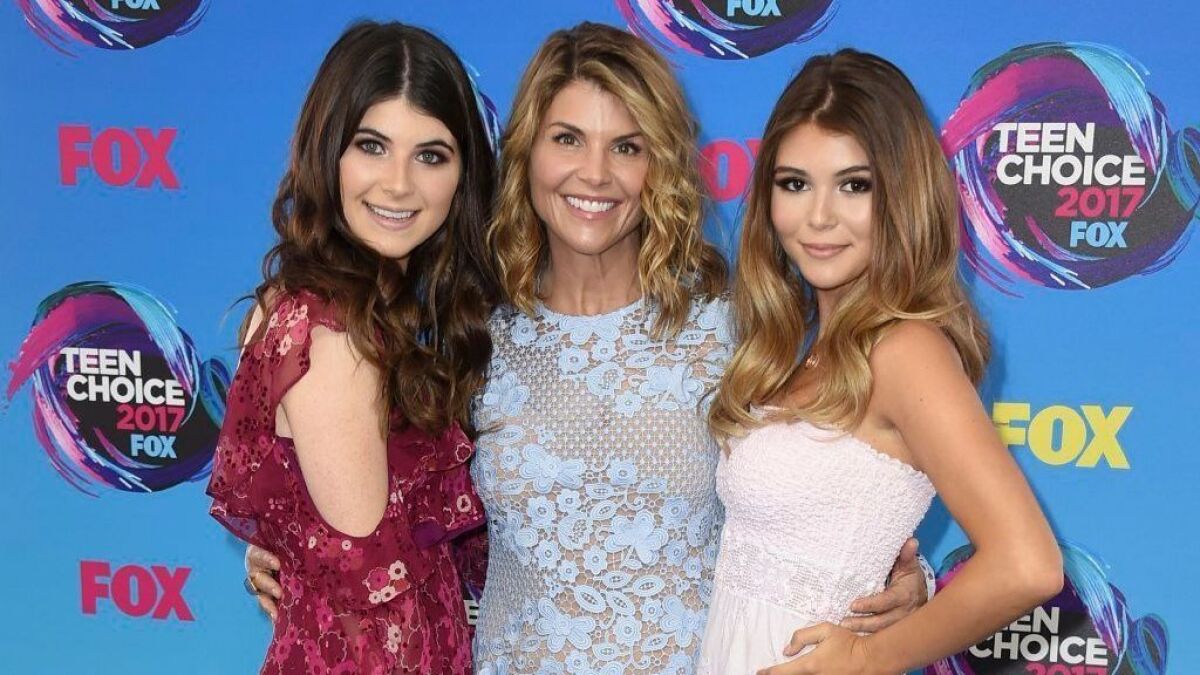 Designer J. Mossimo Giannulli and actress Lori Loughlin wanted their daughters to attend USC — so much so, prosecutors say, that they turned to a college admissions consultant known as a miracle worker in rarefied circles of Hollywood, Silicon Valley and the Newport Coast.
William "Rick" Singer had a trusted scam, one he described in federal court last month: He bribed college coaches and administrators to recruit his clients' children as student athletes. He drew on a number of sports. His clients' children played water polo, tennis, volleyball, football, basketball, soccer; they sailed, ran track, competed in the pole vault — at least on paper.
But one pastime was particularly suited to Singer's scheme. According to court documents, when it came to helping Giannulli and Loughlin, he turned to a sport with large rosters, little fan or media scrutiny, and wide latitude in recruiting female athletes — as well as one position that requires little physicality.
He told USC that Giannulli and Loughlin's daughters rowed crew. They had never rowed competitively, prosecutors say.
Singer also used crew as a way to get the daughters of other clients — a Miami financial executive and a Bay Area couple — recruited to USC, according to court documents, despite the girls not having rowed competitively either.
Crew was a particularly soft target for Singer's recruiting scam. Schools with high-profile football programs use the sport as a Title IX counterweight, allotting women's rowing programs as many as 20 scholarships, said Linda Muri, who coached crew at Cornell, Dartmouth and Harvard for two decades.
As a result, some crew programs have rosters of 40 or 50 rowers — enough, perhaps, to stow away one or two in the recruiting process who didn't belong, Muri said.
Still, Muri said, she was shocked that none of the college coaches checked the profiles of Singer's recruits. The club and high school rowing community is small, she said. A call or email to a purported coach — even a Google search — would have exposed their recruiting profiles as bogus.
"We would always call or email, and look for results at a race or an official event," she said, explaining she didn't want to be "surprised" when a recruit showed up and rowed much slower than on paper. "It's hard to believe the coaches had no idea this was happening."
Apart from a senior administrator in USC's athletics department and water polo coach Jovan Vavic, no current USC coaches or officials have been charged in the scandal.
But in June 2018, when Singer was discussing the scam with a father, Singer mentions talking with an unnamed "crew coach" at USC, according to a transcript of the call, which was recorded by the FBI and cited in court records.
"Crew coach got on the phone with me, said, 'Okay, I will take her. You guys help us, we'll help you,'" Singer told the father, according to the transcript.
A USC spokesman said in a statement that the university is conducting an investigation, "including a thorough review of the student-athlete admissions process." The statement did not address whether crew coaches at the university may have been involved in the scheme.
Emails cited in a 204-page FBI affidavit show Giannulli wanted his daughters to attend USC, a school he briefly went to before dropping out to start a T-shirt company.
Singer told the couple that their older daughter's academic qualifications were at or below the "low end" of the school's standards, according to the affidavit. And so, prosecutors say, Giannulli and Loughlin agreed in 2016 to pay $200,000 to open Singer's "side door."
Attorneys for the couple didn't respond to requests for comment. Giannulli and Loughlin appeared briefly before a federal judge in Boston last week, but have not yet entered pleas.
The couple's older daughter didn't row competitively, prosecutors allege in court documents, but Donna Heinel — a senior athletics official at USC whom Singer allegedly paid to shepherd his clients through the admissions process — presented her to the university as a recruited coxswain, accompanied by a picture Giannulli took of her on a rowing machine.
Coxswains do not row. They are both coach and quarterback in the boat, charged with steering and communicating a game plan to rowers, said Muri, the former coach.
Giannulli and Loughlin's daughter was approved by USC's subcommittee for athletic admissions that same day. The couple then wired $200,000 to Singer's sham charity, prosecutors allege.
Heinel was indicted on a racketeering charge and has pleaded not guilty. Her attorney says the allegations came as a shock and that the longtime USC administrator intends to clear her name in court.
In 2017, Giannulli and Loughlin allegedly paid Singer another $200,000 to execute a near-identical scheme for their younger daughter, who was presented to USC as a coxswain with a picture of her on a rowing machine, prosecutors say. Her athletic profile said she competed with the L.A. Marina Club, which does not exist.
With Heinel's alleged help, the younger daughter was admitted to USC as a student athlete, prosecutors say.
Muri now has a company that advises high school rowers on the recruitment process. As a coach, she said, she always recruited experienced coxswains because the skills required of them — the ability to navigate, a familiarity with the rules of the sport, a steady presence on the water — are more difficult to pick up than rowing itself, which natural athletes can excel at without much experience.
"I always wanted to meet that person, to check their academics and their attitude," she said of a potential coxswain recruit. "You want someone organized."
Unlike rowing recruits, Muri said, for coxswains "there isn't a physical attribute you're looking for — other than being small and light."
The purported crew bona fides of Giannulli and Loughlin's daughters apparently drew scrutiny from at least one person. A guidance counselor at Marymount High School, a private all-girls school in West Los Angeles, "did not believe" that either daughter rowed crew and told their parents that much in late 2017, according to an FBI affidavit.
Giannulli then met with the counselor at Marymount. According to a voicemail in which Heinel recounted the episode for Singer, that meeting did not end amicably.
"I don't want the — the parents getting angry and creating any type of disturbance at the school," the USC administrator said, according to a transcript of the message in the FBI affidavit. If another parent stormed onto their child's campus "yelling at counselors," she warned, "that'll shut everything — that'll shut everything down."
In an email he sent to Giannulli after their meeting, the counselor assured the designer that USC had "no intention" of rescinding his younger daughter's admission and that Heinel had confirmed she was, in fact, "truly a coxswain."
Singer's subversion of crew as a conduit of fraud reinforces the sport's reputation as one that smacks of wealth and elitism, said Liz Greenberger, president of RowLA, a nonprofit that teaches rowing and other life skills to girls from low-income communities of Los Angeles.
Steeped in a tradition of regattas, of races between Oxford and Cambridge and Ivy League rivals that double as riverside pageants, rowing has been traditionally off-limits to the non-wealthy, Greenberger said.
The families of some of Greenberger's rowers are on food stamps. For them and the RowLA staff, Greenberger said, their sport's role in the scandal has been "tremendously frustrating."
Last week, Greenberger said, she was driving home one of her athletes, a coxswain. Like many of the girls in RowLA, she is hoping to be recruited by a collegiate rowing program.
"She asked me, 'Does this mean I could be competing against those girls for a spot, and not get the spot because their parents have a lot of money?'
"And I said: 'Yes. That's exactly what it means.' She got it."
Giannulli and Loughlin's daughters were not the only ones fraudulently recruited to USC as rowers, prosecutors allege.
After Robert Zangrillo's daughter was rejected by USC in 2017, the Miami financial executive and investor paid Singer $200,000 to have her admitted as a rowing recruit the following year, prosecutors say.
Through his attorney, Zangrillo disputed that account.
"Bob Zangrillo strongly denies the allegations," said his attorney, Martin Weinberg. "He fully intends to vigorously contest the charges, both legally and factually. We look forward to presenting a compelling and successful defense in court."
On a call recorded by the FBI, Singer allegedly told Zangrillo that he'd raised the possibility of passing off his daughter as a rowing recruit with a USC crew coach, who then told told him, "You guys help us, we'll help you."
Josh Adam, the head coach of USC's women's rowing program, did not respond to requests from The Times for comment.
Bruce and Davina Isackson also paid Singer roughly $250,000 to have their younger daughter admitted to USC as a rowing recruit, prosecutors allege.
---
The stories shaping California
Get up to speed with our Essential California newsletter, sent six days a week.
You may occasionally receive promotional content from the Los Angeles Times.