Love those heehaws and snorts, but Death Valley aims to become a 'no-burro zone'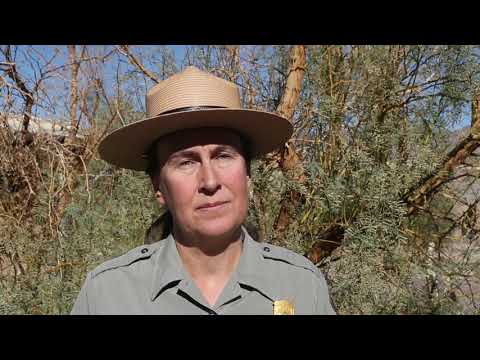 Officials have green-lighted a plan aiming to safely remove the nonnative species from Death Valley's remote desert ecosystems.
Reporting from Death Valley National Park —
As the sun set on a landscape of scruffy mountains and sweeping plains, 20 wild burros watched Mark Meyers with ears erect.
They had reason to be quizzical: Meyers and his hired hands were building traps around their muddy watering hole.
Amid the clatter of hammers and occasional heehaws and snorts in a remote corner of Death Valley National Park, Meyers called out to the descendants of pack animals used by miners and prospectors more than a century ago.
"Don't worry. You'll be all right."
Federal officials have charged Meyers with safely capturing the roughly 2,500 to 4,000 wild burros said to be roaming the 3.4-million-acre park as quickly as possible for transport to adoptive homes and sanctuaries across the nation.
As of Oct. 22 — six days into the campaign — the team had snared 28.
The image of the burro as the grizzled sourdough's faithful beast of burden contrasts, officials say, with the reality that they breed prolifically and out-compete native vegetarians — stately bighorn sheep, tiny kangaroo rats and bulky chuckwalla lizards — by devouring and trampling available greenery.
"Burros are not part of the natural California desert ecosystem," said Mike Reynolds, superintendent of Death Valley National Park.
Burro roundups are nothing new in Death Valley, where the hardy and remarkably adaptive animals have come to dominate contoured badlands and carpet life-giving seeps and springs with their droppings. The most recent was in 2005.
But officials hope a five-year agreement signed by the National Park Service and Meyers' nonprofit Peaceful Valley Donkey Rescue may amount to the last large-scale roundup conducted in the park, where 20-mule teams once pulled wagons loaded with borax.
With the agency facing a nearly $12-billion maintenance backlog, the effort to transform Death Valley into a "no-burro zone" is being subsidized by Meyers' organization, not public funds, federal officials said. Reynolds cast it as a win-win-win for burros, the park and taxpayers.
"The National Park Service wants to get rid of them — and it has the authority to shoot them, if necessary, to restore Death Valley to its natural state," Meyers said.
"So, if they must be removed," he said, "we aim to make sure that it is done safely with as little stress possible."
When it comes to burros, Meyers, 54, is no rookie. The nonprofit he founded with his wife, Amy, 44, has rescued 10,000 neglected and abused burros over the past 18 years.
This is animal relocation on a Herculean scale. But it is only part of Peaceful Valley's larger Wild Burros Project: removal of burros from nearby Mojave National Preserve; the Army's Ft. Irwin National Training Center northeast of Barstow, where the animals have been known to relax in the shade of tank targets; the NASA Goldstone Deep Space Communications Complex near Barstow, and the Naval Air Weapons Station China Lake near Ridgecrest.
"Overall, it's a 10-year project for us — at least," said Meyers, who admits to preferring donkeys to most people he's met. "We figure it'll cost us about $1,800 per wild burro captured."
That money will come from donors, who pay not just for the removal but also food and lodging for burros until they are adopted by new owners across the nation.
The fate of burros roaming the Western deserts has been the subject of court battles and legislative fights since the 1920s when they were turned loose, replaced by Model-A Fords and later four-wheel-drive vehicles.
Burros, natives of North African deserts, were once among the West's most precious resources: sure-footed in rugged terrain and capable of carrying heavy loads long distances in extreme temperatures. But with wild populations that doubled every five years, they were damaging habitat sought after for cattle grazing, mining, development and off-road vehicles.
By the 1950s, wanton slaughter of wild burros in California's deserts and mountains prompted the Society for the Prevention of Cruelty to Animals to press for laws protecting them from trigger-happy hunters. Officials with the American Society for the Prevention of Cruelty to Animals in 1953 reported a shocking scene near Trona, about 240 miles northeast of Los Angeles: Over an area of 50 acres, they found 50 burro carcasses. Few had bullet holes in their heads, indicating that many had been wounded and left to die.
The Wild Horse and Burro Act of 1971 limited the killing of wild burros and horses on public lands administered by the U.S. Bureau of Land Management and the U.S. Forest Service. The law does not apply, however, to National Park Service lands.
Since then, the wild horse and burro population has ballooned to more than 86,000 on 27 million acres of BLM lands in 10 Western states — more than three times the agency's appropriate management level. The BLM retains the ability to round up animals on the range. But if they are not adopted or sold, it is required to care for them the remainder of their lives.
In 2017, the BLM spent nearly 60% of its annual $81-million "wild horse and burro management program" budget on the care of its captured animals, according to a report to Congress. The cost of maintaining those 46,000 horses and burros will top $1 billion over their lifetimes.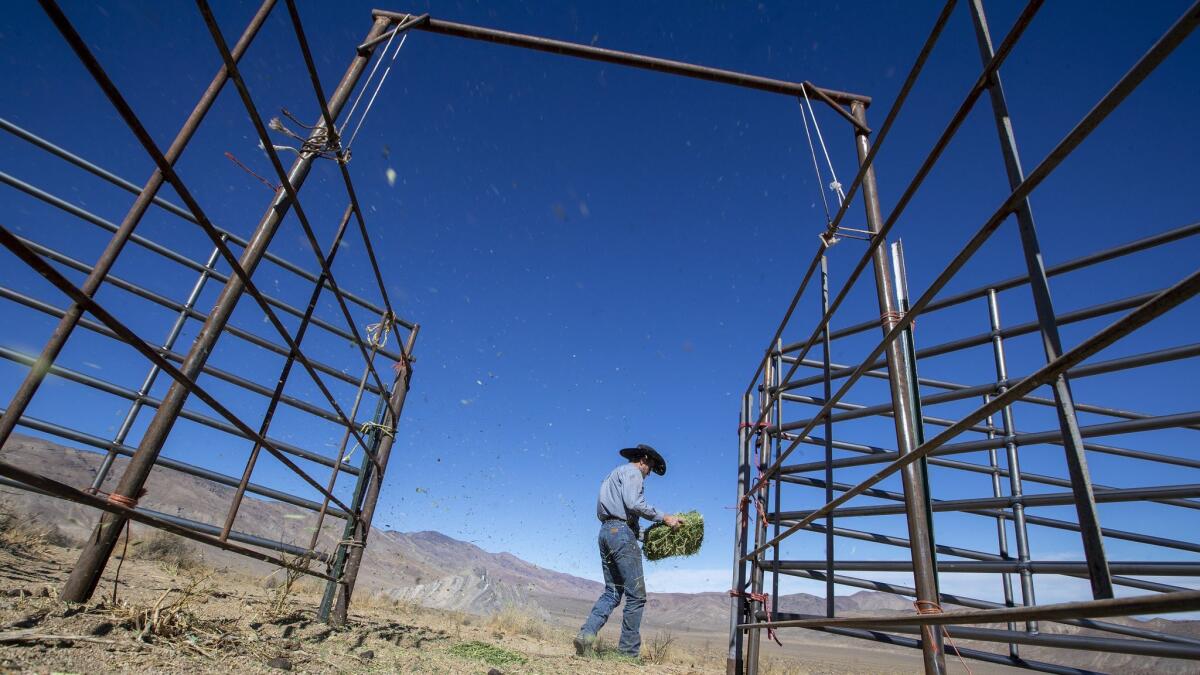 In the meantime, authorities continue to investigate reports of wild burros illegally killed in sparsely populated desert regions, including the shooting of 13 earlier this year on BLM land near Beatty, Nev.
"The federal government has to change the way it manages these animals," said Gillian Lyons, senior wildlife fertility control policy manager for the Humane Society of the United States. "What they're doing right now isn't working."
Federal officials have been trying to reduce Death Valley's burro herds with periodic roundups, and occasional selective shootings, since 1939, said Abby Wines, a spokeswoman for the park. But they remain a well-known specimen of regional wildlife: For $15, park visitors can purchase a cuddly doll in their likeness (whether the plush toy depicts a burro or a mule remains unclear).
Not everyone wants burros out of Death Valley. Suzanne Roy, executive director of the nonprofit American Wild Horse Campaign, said, "We'd prefer that these living symbols of the West stay where they are. But they are not protected on National Park land and Peaceful Valley is in charge of their relocation, which we're OK with."
Other equine roundups have proven more controversial. Sen. Dianne Feinstein (D-Calif.) this month called on the U.S. Forest Service to halt the capture and sale of about 1,000 wild horses roaming the Modoc National Forest in Northern California until concerns over their potential sale to slaughterhouses are addressed.
The wild burros of Death Valley stand about 4 feet at the shoulders and weigh about 450 pounds. Despite their pot bellies, they are fast runners. They mature at about 4 years and have a life expectancy of more than 25 years.
They run in bands of up to 20 with a male in charge. In battles over females, males bite each other on the ears and necks, then whirl their adversaries in a circle.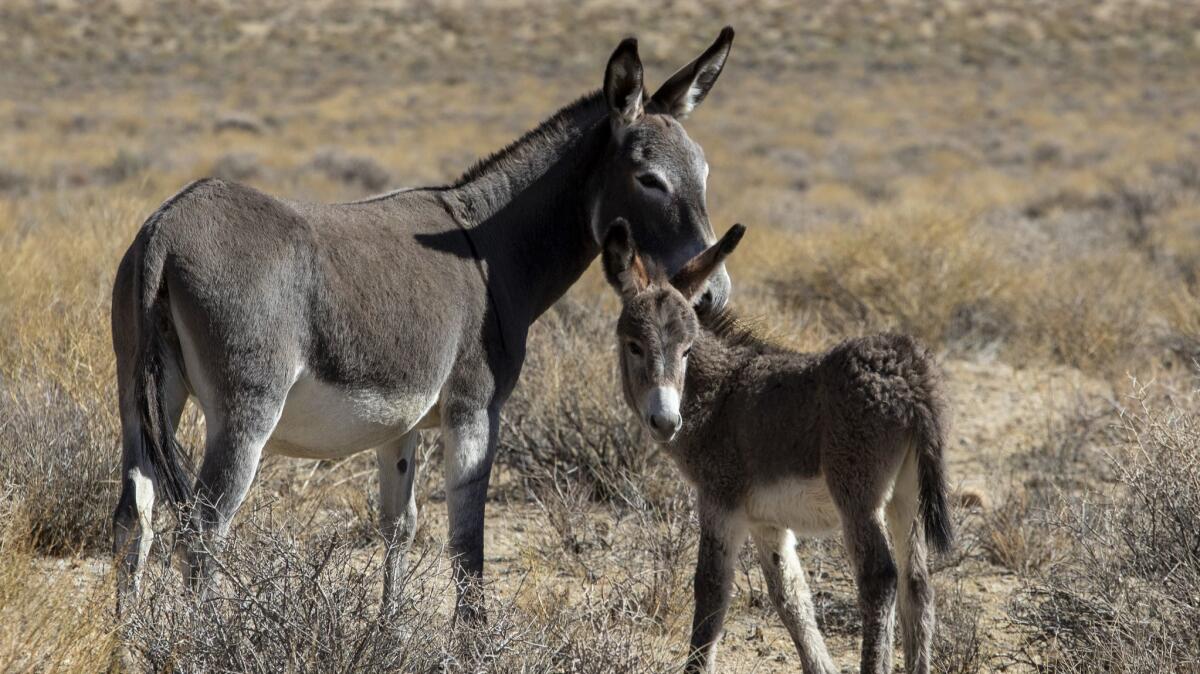 The largest concentrations are in Butte Valley, where the roundup began and an estimated 150 reside; Wildrose Canyon, about 30 miles to the north; and Saline Valley in the northwestern section of the park.
The first burros caught by Meyers sauntered into the traps to munch on bales of alfalfa. Later, the team will use helicopters and wranglers on horseback to round up burros that "are too old and too wise to fall for the baited-trap trick," Meyers said.
Captured burros were taken to a holding facility near the park's headquarters before transport to centers across the nation where they would be tested for disease, neutered, trained to be comfortable around humans and adopted out.
Once adopted, they remain property of Peaceful Valley and cannot be sold or transferred to another location. As an added assurance, each burro is branded "PV," for Peaceful Valley. It's a symbol tattooed on Meyers family members and Peaceful Valley employees as a sign of dedication to their cause.
The Meyers found their calling in 1999 at their former modest ranch in the hills of Acton, Calif., when Amy bought her first burro, Izzy, as a companion to an aging gelding. "Izzy was like a big puppy," she recalled.
They launched their nonprofit organization a year later, and Mark scaled back his work as an electrical contractor in Los Angeles to devote more time as a public advocate for the animals.
Initially, they bought burros at swap meets and auctions, or picked them up from locations where they had suffered at the hands of humans. Some were malnourished, or had broken teeth and broken noses. A few were untameable and potentially dangerous.
"I've been kicked in every inch of my body, and even knocked unconscious," Meyers said. "I've had a burro stand on my chest with both front hooves as she tried to bite my face and neck."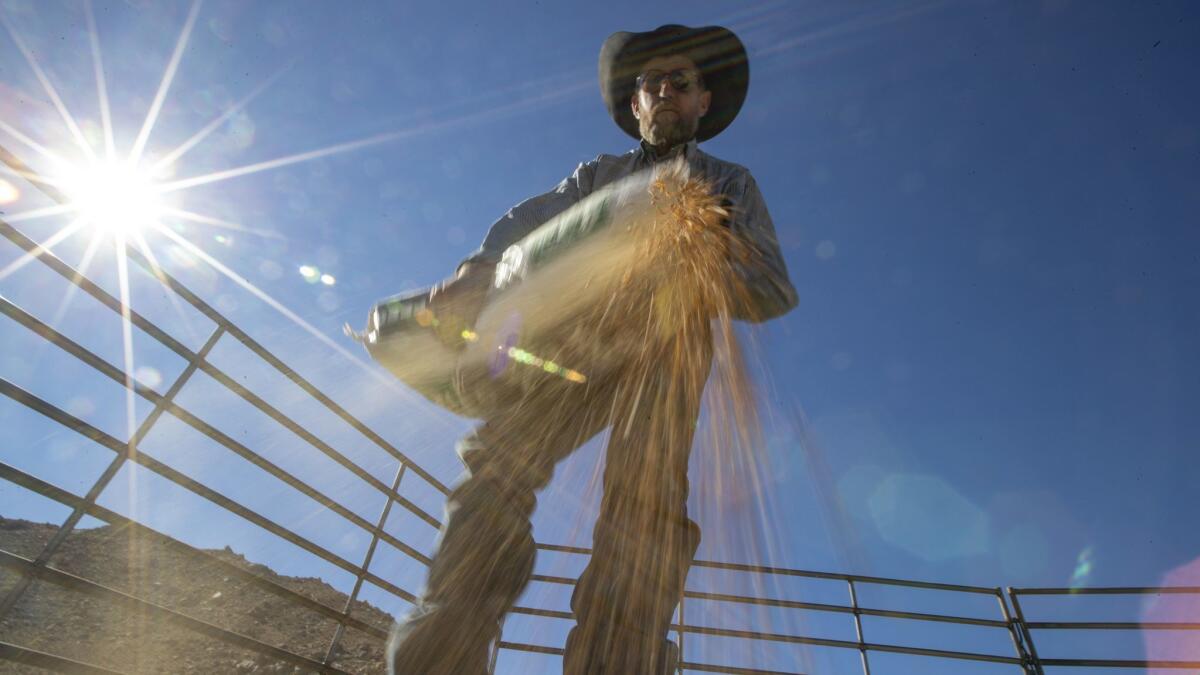 In 2010, they moved to a spread in rural San Angelo, Texas, where donors have been relatively hard to come by. "In Texas, they shy away from us," Meyers said, "because they don't want the stigma of having anything to do with a jackass — symbol of the Democratic Party."
But Meyers' breath still catches in his throat when he sees one.
"They're the ultimate underdogs," he said. "Donkeys helped build this nation's farmlands, mines and railroads. Now, they're the most maligned animals in the United States. The words 'donkey' and 'jackass' are used as insults. In western movies, John Wayne never rode a donkey."
"We're on a mission to turn all that around," he added with a smile. "Donkeys deserve better from us."
Sign up for Essential California for news, features and recommendations from the L.A. Times and beyond in your inbox six days a week.
You may occasionally receive promotional content from the Los Angeles Times.