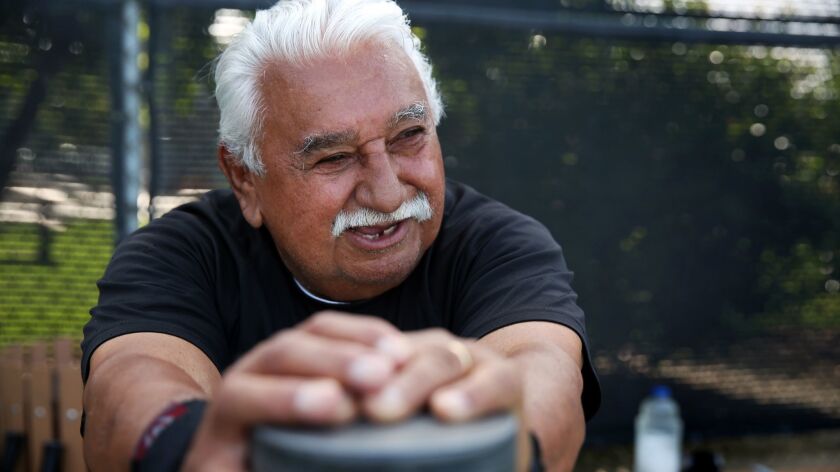 He defends his side of the court fiercely, the stocky man with slicked-back snow-white hair and a milky mustache. Tennis racket in hand, he shuffles as fast as his legs allow him to the corner, extending his arm like Zeus calling on lightning toward the fluorescent ball.
The ball clearly lands in, but Rocky Garcia unabashedly yells "out" as he swings in vain and then lets out a belly laugh.
In Downey's Independence Park tennis courts, Garcia, 65, is known as "El Jefe." At 5-foot-6-inches, "the Boss" calls himself "the president over here of the Downey Club." Others call him the jokester.
The Downey Club is an unofficial group of mostly retired seniors who play every Tuesday and Thursday at this park in Southeast Los Angeles County.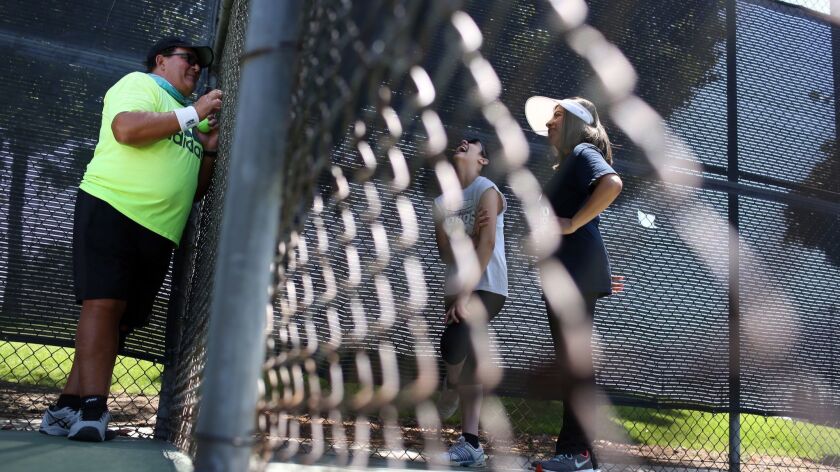 Members of the club hail from Mexico, Colombia, Peru, South Korea, the Philippines, Thailand and Cuba, among other places. Few have any relationship outside of the green tennis court. Inside, however, the bond is strong.
"We just come here to have fun and socialize and exercise. You know, us old timers have to keep exercising," said Garcia, who grew up in East L.A. and talks in a Chicano English twang. He's a retired Teamsters union representative who first picked up a tennis racket 30 years ago at a friend's encouragement.
"After I play, I take it easy and relax," he said with a chuckle. "I'm an old man. I'm enjoying life right now. Life is too short."
In this suburban ecology, Garcia, a Long Beach resident, is the proverbial guy who "tells it like it is" and cracks a lot of jokes. He teases his opponents with playful, sometimes brusque humor. Not everyone likes it.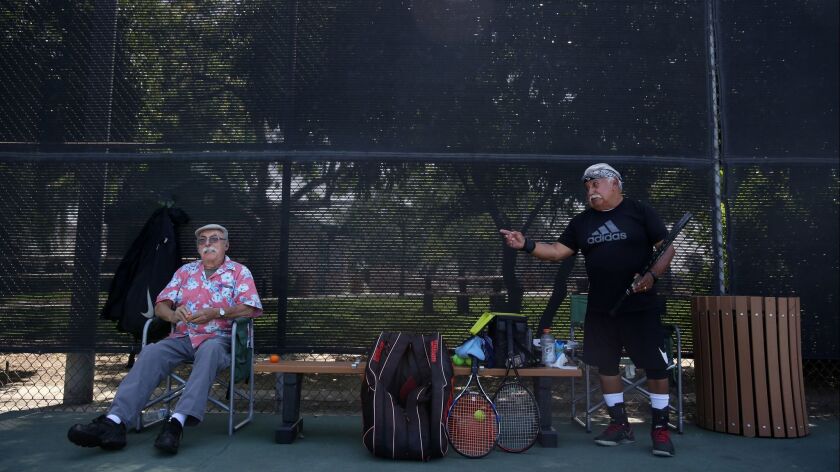 "Hey man, long time no see!" he yelled to a late arriving player on a recent a morning. "I heard you got deported!"
He loudly compared a red-faced, sweaty player to a cooked shrimp: "You look like a camarón!"
The other players are used to it. Some laugh and playfully retort. Others ignore his comments and remarks. Others just stay away from "El Jefe" and his endless serves of ribbing.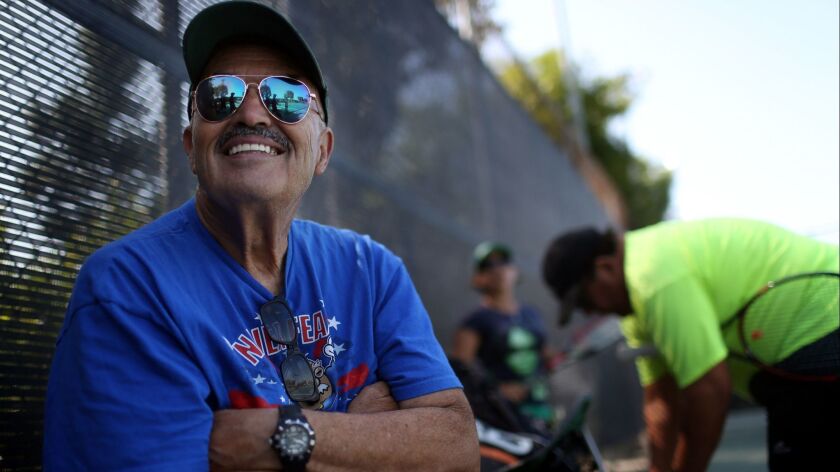 For some of the players, tennis is a refuge. It serves as therapy and keeps them healthy. It gets their endorphins pumping during lunch hours.
"Just being on the court, I feel good and nothing else matters," said Alejandro Mendizabal.
The 58-year-old is a self-described "tennis junkie" whose father taught him to play as a teenager in Mexicali, just south of the U.S.-Mexico border. He got so good he won third place in a tournament once.
"Since then, I've been hooked," Mendizabal said.
Life hasn't been easy for him. For the last seven years, Mendizabal has lived in his van. Most nights he parks it in Norwalk. He used to live in that city before he lost his home along with his job. His 20-year-old daughter lives nearby.
There have been rough times since losing his home and job. "All I did was get high and play tennis," he said.
But tennis, Mendizabal said, has kept him from spiraling into a cycle of harder drugs and heavier drinking.
He said he's played courts in Huntington Park and South Gate, but he likes Downey because it's close to an L.A. Fitness, where he can shower every day.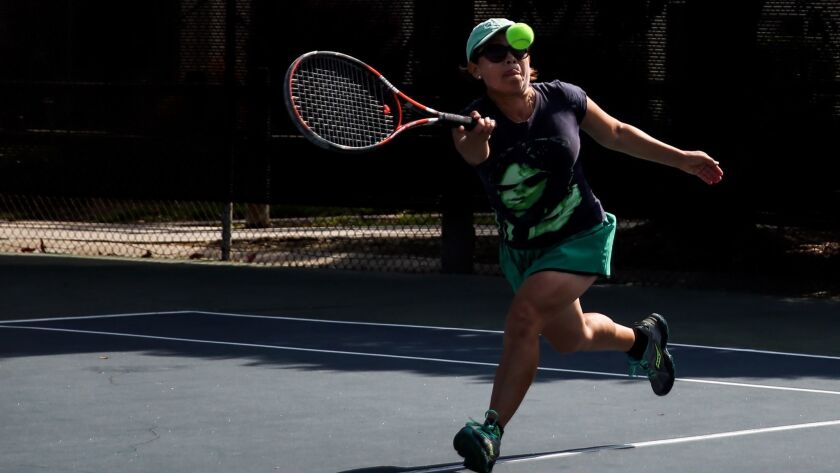 For Kajonsak "John" Srichandra, tennis is a healthy way to vent his frustrations with life. With a racket and a ball, running every which way across the court, he forgets about the things he wanted but never got.
At 19, Srichandra moved to the United States from Thailand to pursue his dream of being a police officer. He attended Cal State L.A. and studied hard to realize his goal.
Then the gut punch: At 5 feet 3¾ inches, Srichandra was too short to meet the LAPD's minimum height requirement of 5 feet 7.
"I wasted eight years of my life trying to be a cop," the now 69-year-old said. After graduating and joining the Marine Corps to train as a military officer, he applied to at least 35 jobs in several police departments. They all said no.
So he became a security guard for the Los Angeles Times in 1977 before transferring to its computer room. He went back to school to become a computer maintenance technician and hopped around to a few more jobs before landing one as a software engineer with Northrop Grumman. He worked there for 28 years before retiring three years ago.
"I'm a bitter man," Srichandra said. "I couldn't even be a lousy cop."
Tennis has been part of his life since he was 14, and the Downey courts for at least 30 years. There's no feeling like making a good shot, Srichandra said. But now he plays mostly doubles because he cramps more easily when he plays single, with all the extra running.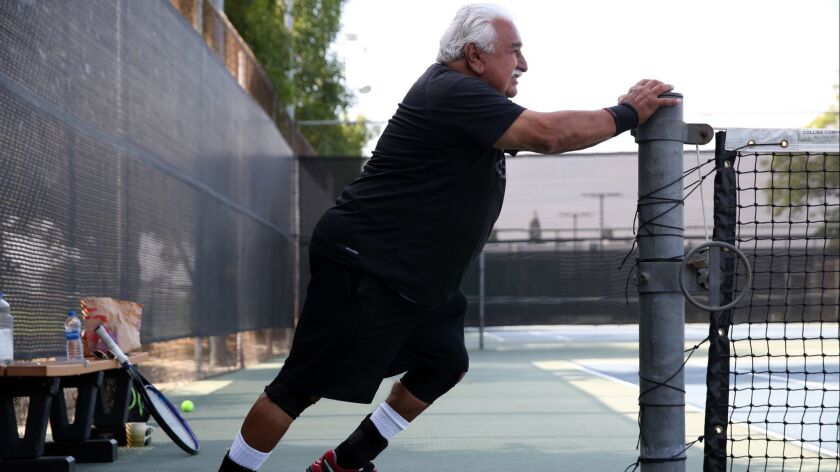 As with most sports, there will be arguing. Sometimes this happens "over the stupidest little things like line calls," said Mark Kniep, 58, of Downey.
It's not the only thing that people get heated over. That's why talking about politics is discouraged.
"It's not worth losing friendships over," Kniep said.
Most of the members of the Downey Club are men.
Then there's Patricia Rodriguez.
One recent day, she showed up wearing a Jim Morrison T-shirt and a face smeared with a thick layer of sunscreen. Rodriguez has played here for years now, but it took a while for her to be accepted.
"In the beginning, the guys wouldn't let me play. They were really macho," Rodriguez, 50, said.
Now, being the only woman makes her feel powerful, she said laughing. Still, she wants to start a group of women players.
Born and raised in Peru, Rodriguez, whom Garcia calls "Chaparrita de oro" (the gold shortie) moved to the U.S. at 14. Watching her play, one would think she's played tennis for many years. But Rodriguez started playing only five years ago.
And she likes taking the air out of the sails of the guys. It took her a while, but now they respect her.
"I had to put up with all the bad talking, the male talking," Rodriguez said. "There's a lot of testosterone around…. Now they see me differently."
Twitter: DoranyPineda90
---