For many immigrants fleeing wildfires and smoke-choked air, shelter is the beach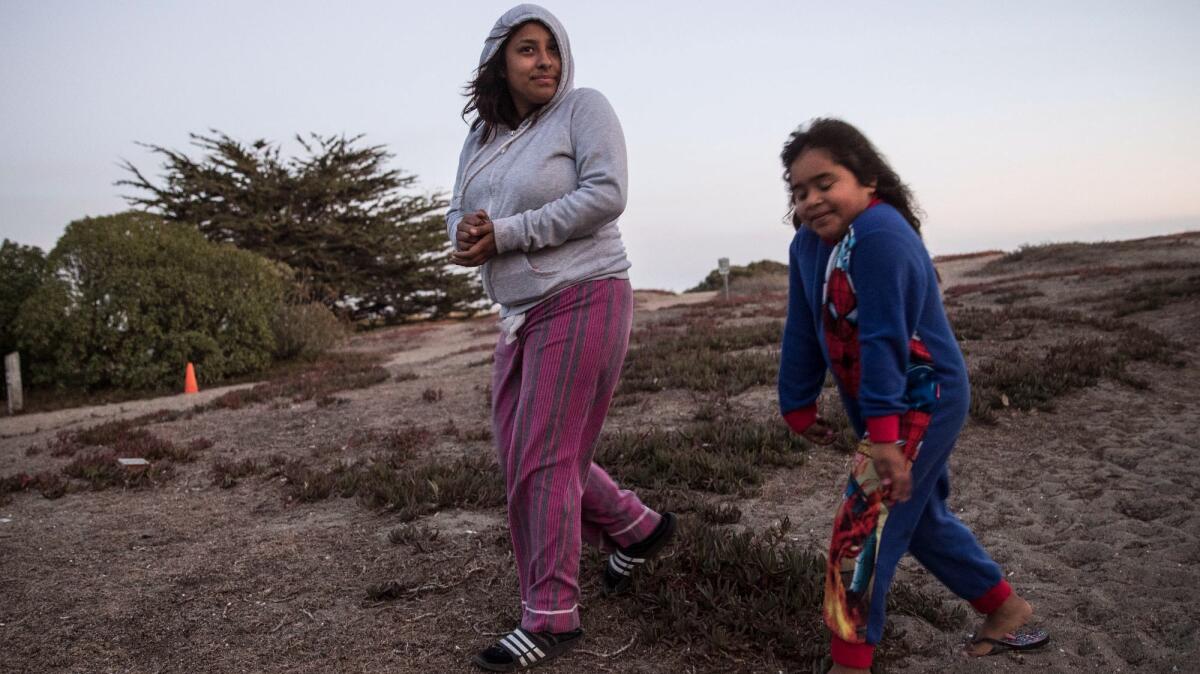 Reporting from Bodega Bay, Calif. —
Patty Ginochio saw the long line of headlights arriving in the early-morning gloom.
When day broke, four hours later, the beaches of this coastal town straddling Highway 1 teemed with refugees fleeing the wildfires that had destroyed thousands of homes and killed dozens of people.
Many of the arrivals were immigrants, who huddled together and spoke their worries in Spanish.
Some parked into turnouts and slept in their vehicles. Others hunkered down on the cold asphalt, bundled up in blankets. Ginochio opened up her restaurant, Ginochio's Kitchen, and served free meals to an estimated 300 people.
"Nobody thought this situation would occur in Bodega Bay," she said.
On Thursday evening, she directed a team of volunteers at the Bodega Bay Grange community hall. Some packed up medical supplies in large plastic tubes. Others heated up food. A few sorted out clothing and blankets.
They recruited Spanish-speaking volunteers and received donations, though Ginochio said the town was not equipped with the resources of government-run shelters in places such as Santa Rosa. The operation in Bodega Bay had the feel of improvisation.
"This is not a shelter," Ginochio said. "This is a Band-Aid."
She said the volunteers were mindful not to scare away people who might worry because they are not in the country legally. They asked only for first names, the sizes of families and whether anyone needed medical attention. Volunteers handed out fliers in English and Spanish encouraging people to seek help at government-run shelters.
Ginochio said some immigrants told her they worried about being around any government or law enforcement presence, despite assurances from officials that they would not be targeted because of their legal status.
But some people interviewed by the Los Angeles Times said they came to the coastal town to not only get away from the fires, but the poor air that contaminated places farther inland because of them.
Kelly Ramirez, 17, said that is why her family evacuated Windsor and headed to Bodega Bay. Ramirez, a U.S. citizen whose parents are in the country without legal status, said their home survived the fire. But they did not want to go to one of the shelters in Santa Rosa because of the lingering smoke.
She said her family had read rumors on Facebook about people being hauled away by immigration officials. But her parents did not believe it, she said.
"We just needed fresh air to breathe," the teenager said.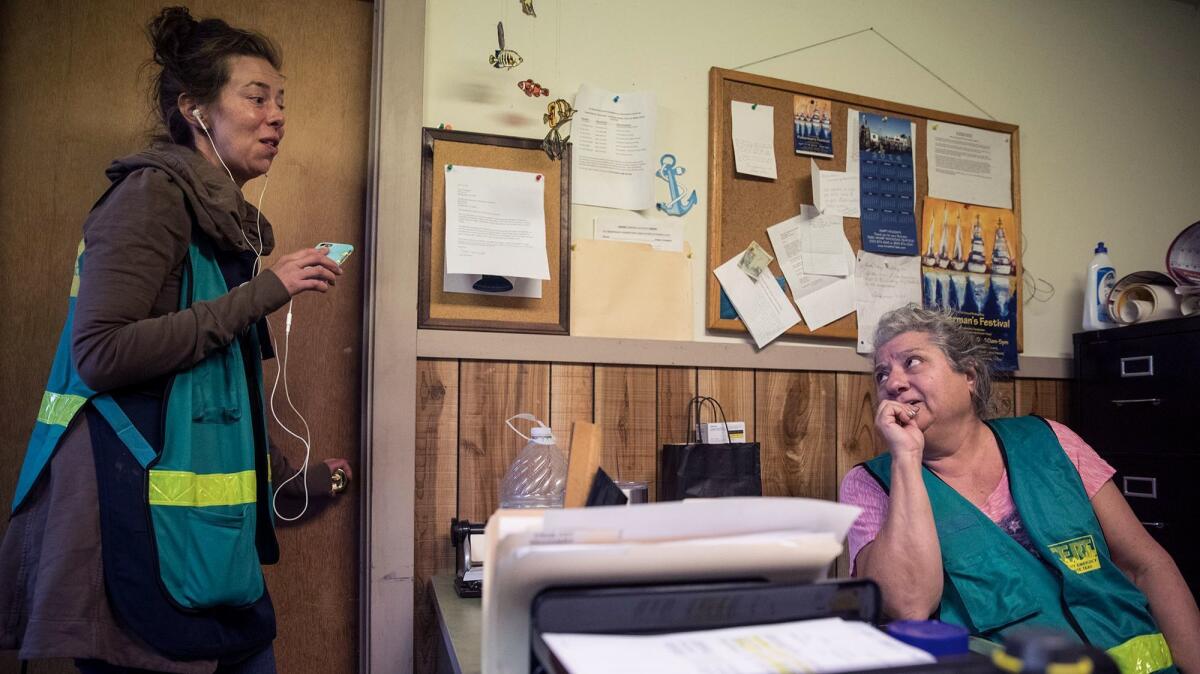 On Thursday evening, her family and neighbors camped out in tents at a beach campground at Doran Regional Park.
Maria Zurita, 32, has immigration relief through Deferred Action for Childhood Arrivals — better known as DACA, an executive action that provides a work permit and deportation reprieve to people who were brought to the U.S. as children and stayed illegally.
Zurita and her family, which included two sisters and their families, live in Santa Rosa. They evacuated early Monday when they started hearing explosions — probably from propane tanks set off by the intense heat of the fires.
"We got scared," she said. "We were scared that the flames would burn down our homes."
They did not think of going to a shelter in Santa Rosa because they imagined it would be full. They also worried about the smoke-choked air.
"We just wanted to get as far away as possible, and we thought we'd be safer near the ocean because of the water," Zurita said. "Surely, the fire wouldn't get to the water."
But the beach was cold, so they took shelter at a local church. The family ate meals at the Bodega Bay Grange community hall, where children played with toys and tapped away at a piano.
As the week trudged forward, many families moved on to stay with relatives throughout Northern California.
Zurita said her family will probably stay away from Santa Rosa for a while — at least until the air improves enough for her three children to return to school.
Twitter: @thecindycarcamo
Sign up for Essential California for news, features and recommendations from the L.A. Times and beyond in your inbox six days a week.
You may occasionally receive promotional content from the Los Angeles Times.