A 23-year-old 'Dreamer' sues the Trump administration over his deportation to Mexico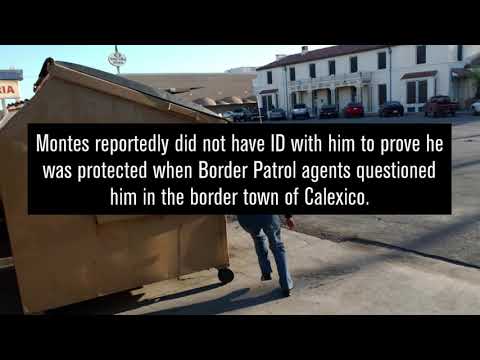 Juan Manuel Montes, 23, is suing to find out why he was deported. (Sign up for our free video newsletter here http://bit.ly/2n6VKPR)
A 23-year-old man has sued the Trump administration over his deportation to Mexico in February, saying he has permission to live and work in the United States under an Obama-era immigration program that protects young people who were brought into the country illegally as children.
If his claim is correct, it is believed he would be the first person with protected status under President Obama's Deferred Action for Childhood Arrivals program, known as DACA, to be deported under President Trump.
Juan Manuel Montes, a Mexican national who has lived in the U.S. since he was 9, filed a lawsuit Tuesday demanding that federal officials release information about why he was deported.
Montes, who has learning disabilities after suffering a traumatic brain injury when he was young, worked in California's agricultural fields to help support his family and studied welding at a community college before he was deported to Mexico on Feb. 17 without explanation, his lawsuit alleges.
"I was forced out because I was nervous and didn't know what to do or say, but my home is there," Montes said in a statement.
Montes says he was approved for DACA in 2014, received a renewal in 2016, and that his DACA status and work permit were valid.
Montes was walking to a taxi station in the border town of Calexico after visiting with a friend when a Border Patrol official on a bicycle stopped him and asked for identification, according to a statement from the National Immigration Law Center, an immigrant rights organization that is part of a group representing Montes in his lawsuit. Montes did not have ID with him, having left it in his friend's car, the statement said.
Montes was taken to a Border Patrol station where, he alleges, he was made to sign documents and not allowed to see an immigration judge or attorney. He was also not given copies of the documents he signed, the lawsuit states. In the middle of the night, he was taken to Mexicali, Mexico.
"Juan Manuel was funneled across the border without so much as a piece of paper to explain why or how," Nora A. Preciado, a staff attorney at the immigration law center, said in a statement. "The government shouldn't treat anyone this way — much less someone who has DACA. No one should have to file a lawsuit to find out what happened to them."
In March, Montes and his attorneys filed a Freedom of Information Act request with Customs and Border Protection, asking for all records of his interaction with the agency, but they have not received any additional information, the complaint states. Montes also unsuccessfully sought information from Citizenship and Immigration Services and from the Calexico Port of Entry.
In a statement late Tuesday, a spokesman for U.S. Customs and Border Protection said Montes was arrested after "illegally entering the U.S. by climbing over the fence in downtown Calexico."
Montes "admitted under oath during the arrest interview that he had entered illegally," Ralph DeSio, the agency spokesman, said in the statement.
However, the lawsuit contends that the fence-climbing incident happened separately — days after Montes was initially deported by Border Patrol agents.
DeSio also said Montes' DACA status expired in August 2015, and that he had been convicted of theft, for which he received probation.
Montes attorney Karen Tumlin said the border protection agency is incorrect and that federal documents show Montes' DACA was due to expire in 2018. The lawsuit states that Montes has a single misdemeanor offense but that it doesn't disqualify him from DACA.
News of Montes' deportation spread fast, prompting immigration rights organizations to launch a petition demanding that Homeland Security Secretary John F. Kelly allow Montes to return to the U.S.
Montes' deportation is a departure from Trump's promise to protect from deportation people who were brought to the U.S. as children.
An estimated 742,000 so-called Dreamers — those given protection under the program — live in the U.S. Roughly one out of three lives in California.
Greisa Martinez, advocacy director with United We Dream and a beneficiary of the DACA program, called the deportation an "attack."
"An attack on one of us is an attack on all of us and we've got Juan's back," she said.
Twitter: @thecindycarcamo
ALSO
Real estate investor fined $17,000 over excess L.A. City Council campaign donations
Suspect in Fresno shooting rampage spoke about racial conflict and black nationalism
Man charged with stealing FBI agent's gun and other gear from car trunk
Sign up for Essential California for news, features and recommendations from the L.A. Times and beyond in your inbox six days a week.
You may occasionally receive promotional content from the Los Angeles Times.