Real estate investor fined $17,000 over excess L.A. City Council campaign donations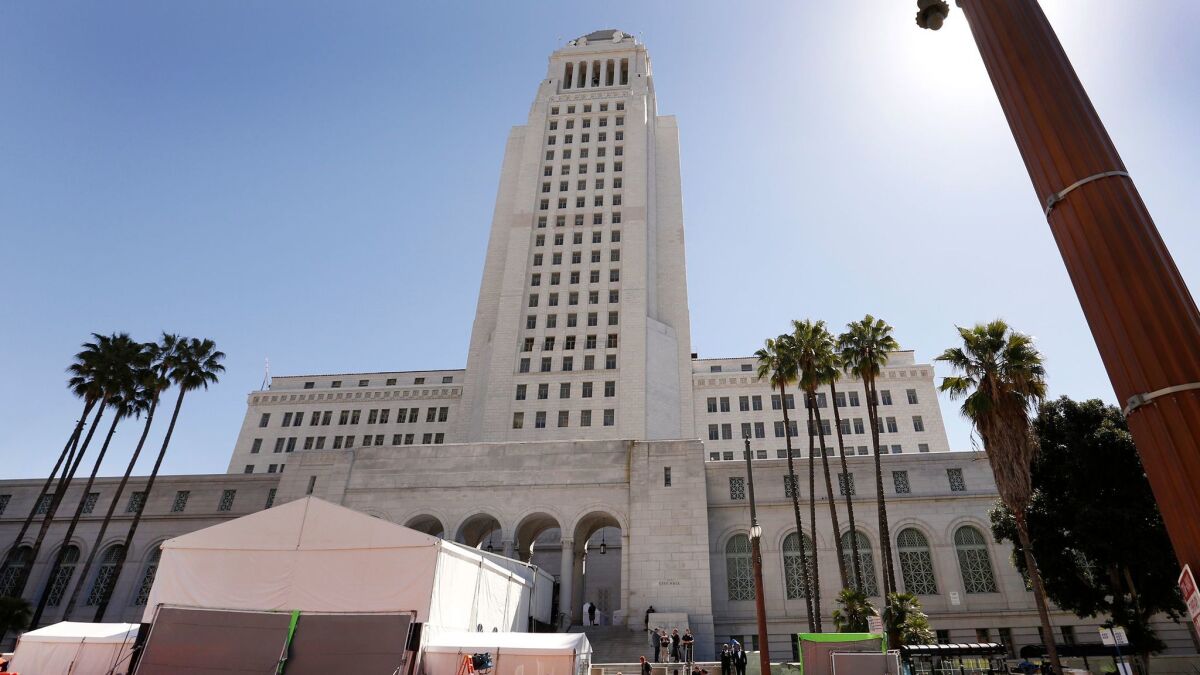 The Los Angeles City Ethics Commission imposed a $17,000 fine Tuesday on a real estate investor who wrote checks through more than a dozen different companies to help elect Councilman Mitch O'Farrell.
The checks, signed four years ago by investor Leeor Maciborski, came from limited liability companies tied to apartment buildings in East Hollywood and Los Feliz, a number of which shared the same majority members.
City investigators found that the donations ran afoul of campaign finance restrictions that limit how much each contributor can give to each candidate, exceeding city restrictions by a total of $3,000.
The Times had previously highlighted the donations as an example of how hard it is to tell who is behind campaign contributions from business entities.
At the Tuesday meeting, city investigators said it had taken "a good amount of investigative effort" to uncover who was behind the limited liability companies. Many business entities — particularly small, privately held LLCs — don't have to publicly report who owns them, making it harder to tell who is giving donations and whether rules are followed.
"I'm troubled by the use of LLCs as, essentially, illegal pass-throughs," said commission President Jessica Levinson, adding that she feared donations from such entities could threaten the fairness of campaigns.
Levinson voted against the fine because she was concerned about whether $17,000 was appropriate for $3,000 in excess donations, but the proposed penalty passed 4 to 1.
O'Farrell spokesman Tony Arranaga said the councilman was not aware that any of those donations might have come from the same sources before the Ethics Commission examined them, adding that campaign staff had handled the fundraising and donor documentation four years ago.
Neither Maciborski nor Jane Leiderman, who served as treasurer for O'Farrell during that campaign, responded to requests for comment.
The Ethics Commission also fined lobbyist and former City Hall aide Jimmy Blackman $22,500 for breaking "revolving door" rules that restrict how and when former city officials can try to sway city decisions.
Blackman had been paid to advocate for the firefighters union and had repeatedly reached out to city officials to tell them where the union stood on budget issues, according to city investigators. That violated city rules because it happened within one year of Blackman leaving his city position.
"After more than two years of dealing with overzealous Ethics Commission staff regarding five emails that I sent advocating for firefighter and community safety, I am grateful to put this matter behind me," Blackman said in an email.
The commission also fined Dr. Feliciano Serrano, owner of the Serrano Kidney and Vascular Access Center in Huntington Park, $15,000 for failing to maintain proper records, include legally required disclaimers and file mandatory documents for political ads backing then-mayoral candidate Wendy Greuel four years ago.
Twitter: @LATimesEmily
---
The stories shaping California
Get up to speed with our Essential California newsletter, sent six days a week.
You may occasionally receive promotional content from the Los Angeles Times.