Must Reads: An immigrant mother finds she's too poor to leave U.S.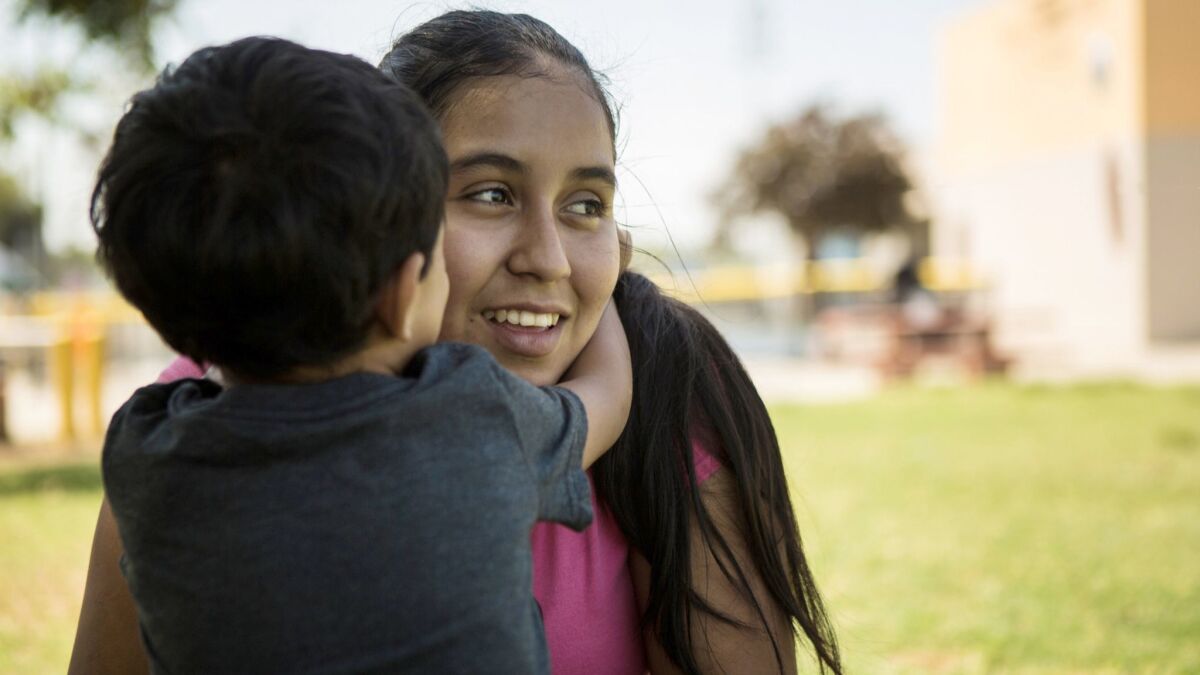 At a time when many immigrants and refugees are trying to get into the United States, Claudia Calderon is too poor to leave.
Earlier this year, she and her husband left their native Guatemala separately and crossed the border, each with one of their sons.
Their journeys to America ended differently, but in many ways, both proved disastrous.
Traveling with her 2-month-old and no money, Calderon turned herself in to border authorities in Texas in March and made a claim for asylum. She was briefly detained, then went to live at her in-laws' cramped Los Angeles apartment.
When she got there, she learned that her husband, Kristian Francisco Ovalle Hernandez, who was with their 3-year-old son, was arrested for trying to illegally cross the border in El Paso. The boy watched his father's arrest and was separated from him and placed in foster care in California. Ovalle Hernandez was deported. Now back with his mother, the boy still suffers nightmares from the trauma.
Many parents who were separated from their children at the border under the Trump administration's "zero tolerance" policy — the majority of whom, like Calderon, are from Central America — hope to make their case in court for why they should be allowed to stay in the U.S.
Calderon has found herself pleading with lawyers to help her leave.
The 21-year-old mother wants to renounce her asylum case and scrape together enough money to buy plane tickets, even as she acknowledges her sons would have more opportunities if they stayed here.
"They'd have a better future," Calderon said. But without their father, "they'd never have the happiness they had over there."
Even as more Mexican immigrants have returned to Mexico than have migrated to the U.S., the number of immigrants from Central American countries has risen sharply.
About 115,000 new immigrants arrived from El Salvador, Guatemala and Honduras in 2014 — double the amount who entered the U.S. three years earlier, according to U.S. Census Bureau data analyzed by Pew Research Center, for reasons that include gang activity and widespread violence.
Though there has been a large flow of migrants into the country, it is unclear how many have left or are trying to leave voluntarily.
"There have been families, young people, wives … who are fed up and want to go back, but can't because of money, fear of what awaits them back home, or because they have children and can't seem to decide what to do, take them or leave them here," said Jorge-Mario Cabrera, spokesman for the Coalition for Humane Immigrant Rights L.A.
Calderon never wanted the American dream. She and Ovalle Hernandez were content in Guatemala, where she stayed at home to care for Andriy and Adrian, and Ovalle Hernandez worked whatever odd jobs he could find.
Andriy and his father were especially close. When Ovalle Hernandez got home, the boy squealed with joy as he ran to greet him. They would play together until Andriy fell asleep in his father's arms.
But their lives were upended after someone tried to break into their home twice. Masked men with guns showed up at the tobacco fields where Ovalle Hernandez worked.
Ovalle Hernandez decided to sell their house and leave Guatemala first with Andriy. He hadn't seen his mother since she left for the U.S. as a teenager, but he knew she would take them in.
Calderon didn't hear from her husband for weeks after he left. Terrified for their well-being, she and her infant son headed to Texas in early March. As they traveled to California, she assumed Ovalle Hernandez and Andriy would be waiting for them.
When she learned what had happened to them, she said, it felt as if her heart had been ripped out of her chest.
"I almost fainted," Calderon said.
Andriy spent more than a month with a foster family before she was able to get him back.
Now, Calderon has settled into an uneasy wait.
She spends nearly every day inside her mother-in-law's one-bedroom apartment. She is not allowed to work as her case winds its way through the court, leaving her to financially rely on her husband's family for every necessity. When she tried to visit a San Fernando attorney, she left after learning the office charged just for a consult.
In Guatemala, Ovalle Hernandez is living with an aunt and found a job building houses. He makes about $200 every two weeks, but the work is sporadic. And it dries up when it rains.
Calderon is resolved to leave, but for now the travel expenses make it difficult. She's afraid to take a bus with the two young boys for the more than 2,000-mile trip home. A recent advisory issued by the U.S. State Department instructed travelers to "exercise increased caution in Mexico due to crime."
"Violent crime, such as homicide, kidnapping, carjacking and robbery, is widespread."
It's too expensive for Ovalle Hernandez to transfer money from Guatemala.
Because he was caught crossing illegally, Ovalle Hernandez was deported at no cost to himself. Calderon crossed legally, and that has made all the difference.
At her in-laws' apartment, Calderon sleeps on a bottom bunk bed in the living room with her sons, just a few feet from the kitchen. On a recent night, as she lay with Andriy on the bed, Calderon recorded a conversation with the boy to send to his father.
"No quieres estar aquí," she said, asking if he wanted to live there. He told her no.
"Donde quieres estar," she said, asking where he wanted to be.
"Con mi papá," he said, through tears. Calderon cried too.
The only privacy Calderon has is when she walks with her children to a park a few blocks from the apartment. She went there on a recent morning and kicked a ball around with Andriy, her waist-length black hair swinging in a ponytail behind her back.
She misses her husband, but also her mother — who also urges her to come home.
Everyone here, it seems, tells her to stay.
Her husband's family tells her that the children will have a brighter future in the U.S. Think of them first, they say. Her son's lawyer worried about what renouncing the case could mean for their chances to come back someday.
The times Ovalle Hernandez can connect to the internet and Calderon is able to speak with him, she begins sobbing. He is suffering, he tells her, and so is she.
"Mejor véngase," he tells her. Come back.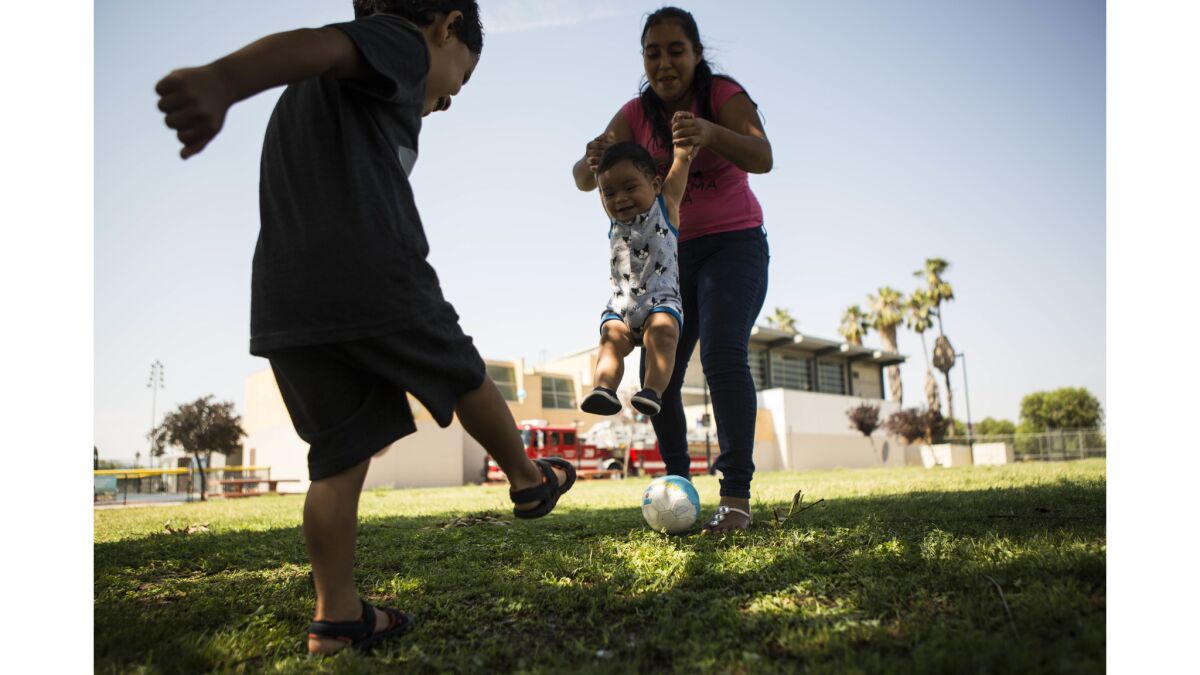 During a recent visit with her son Andriy's attorney, Calderon broke down as she cradled Adrian in her lap and talked of going home.
The attorney listened quietly, searching for the words to comfort her. She could only urge patience.
Later that afternoon, when Calderon went for her check-in with her case manager as part of a monitoring program, he told her that if she wanted to leave, there was no reason to stay. He could help her with the order to leave.
After all, he joked, President Trump, of all people, would want people like her to leave.
On a recent Tuesday morning, with her sons still rubbing sleep from their eyes, Calderon stood outside the Guatemalan Consulate in L.A.
She explained to a man seated outside that she needed passports to go home. He told her she would need to buy plane tickets first.
When he learned of her situation, he referred her to an immigration attorney visiting that morning.
As she sat outside waiting, Andriy — sick from spending nearly an hour in traffic — threw up on the concrete. He never experienced car sickness in Guatemala, able to ride in the bed of his father's truck in the open air, she said.
The young mother breast-fed Adrian as she tried to comfort Andriy, exhaustion etched into her face.
Her sons need their father.
"I want to leave voluntarily. I just don't have the means to go," she told the attorney when he finally called her in. "Maybe there's some way someone can help me go back."
She had heard that if she left, she probably wouldn't be able to return for 10 years because of the mark on her record.
"But I don't want to come back," Calderon said. "I just want to be in Guatemala. The United States is nothing like they said."
For more California news, follow @brittny_mejia
---
Life is stressful. Our weekly mental wellness newsletter can help.
You may occasionally receive promotional content from the Los Angeles Times.