L.A. consular officials receive training on hate crimes from Anti-Defamation League
The picture flashed before two dozen people gathered at Los Angeles' Mexican Consulate.
It showed a 25-year-old man, an immigrant from Mexico, lying on a hospital bed after being beaten about a decade ago in a Pennsylvania town.
Luis Ramirez died from his injuries.
"Tell your Mexican friends to get the …. out of Shenandoah!" his assailants shouted during the attack.
"What is a hate crime? That's the question of the day," Ariella Schusterman asked her audience, which included officials from other Latin American consulates.
The workshop, Responding to Hate Crimes and Anti-Immigrant Extremism, held Wednesday morning was the first one at the Los Angeles consulate as part of a two-year partnership formed last September by the Mexican government and the Anti-Defamation League. The ADL is deploying experts on hate crimes, hate groups and discrimination to the 50 Mexican consulates across the U.S.
There were more than 6,100 known hate crimes in the U.S. in 2016, a 5% increase over the previous year, according to the most recent FBI report. The numbers included a nearly 20% increase in anti-Muslim crimes, a 17% increase in anti-white crimes, a 15% increase in anti-Latino incidents and a 3% increase in anti-Semitic crimes. The number of crimes against African Americans, who accounted for 50% of victims, remained about the same.
"The hate spike in the country has been growing," said Amanda Susskind, the ADL's Pacific Southwest regional director. "The Anti-Defamation League has witnessed ... a specific problem of hate crimes and hate speech against people who are Latino, people who are perceived to be Latino and people who are immigrants…. There's an additional hatred of Mexican nationals and Mexican immigrants that has been fostered by white supremacist movements and politicians, all the way to the top of our administration."
Susskind said the ADL has a long history of fighting anti-Semitism and bigotry and wants to bring that expertise to these consulates.
For many in the organization, there's also a personal dimension.
"I am the child and grandchild of Holocaust survivors, and I will say that as a Jew and as a person representing the Jewish community, we have a specific sensitivity to the use of language to dehumanize people. Because guess who that happened to in Nazi Germany?" Susskind said.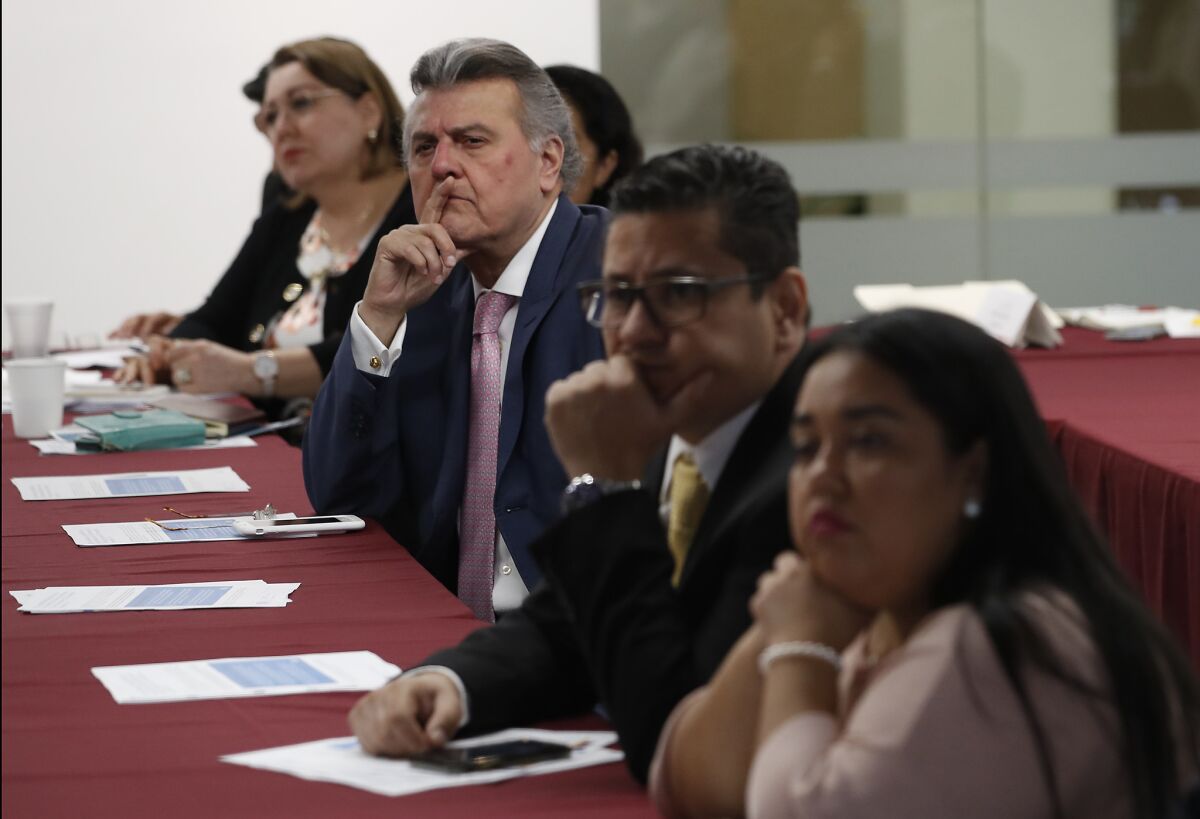 During the workshop, Monica Bauer, the director of Hispanic affairs with the ADL, and Schusterman, senior associate regional director with the ADL, covered the definition of a hate crime, reviewed laws related to the crimes, differentiated between crimes and incidents and spoke about strategies for responding to both.
One of the tools reviewed with attendees was the so-called Pyramid of Hate, which showed how biases, represented as the base of the pyramid, can escalate into hate crimes, including acts of violence.
"People think that hate crime is a separate category of crime, but it is not. It is a criminal act that is perpetrated based on a certain level of bias," Schusterman said. "You need that act or attempted act in order to have a hate crime."
In the case of Ramirez, the man fatally beaten in Shenandoah, Pa., his assailants had shouted racial epithets and told him to go back to Mexico during the assault. Two men were later convicted of a hate crime and sentenced to nine years in prison.
The ADL believes the FBI-reported number of hate crimes is "a gross underrepresentation of the actual amount of hate crimes that happen," Schusterman said.
"Law enforcement needs to be trained same as everybody else in how to deal with hate-crimes laws and incidents, as well as victims," she said.
A California state auditor's report released Thursday appeared to support her assessment, detailing failures by some law enforcement agencies in properly identifying and responding to some hate crimes and the need for better policies and training so officers can recognize the characteristics of those offenses.
Properly identifying incidents as hate crimes is important not only because it lets the public know of the seriousness of the problem, but because it can result in additional fines and longer sentences for offenders, according to the audit.
Law enforcement agencies are also underreporting hate crimes to the California Department of Justice, and auditors found 97 cases in which hate crimes were not reported by the four agencies examined, including the Los Angeles Police Department.
The lack of reporting by some victims also impacts the numbers. In the Latino community, some of the reasons for not reporting can include limited English proficiency among some victims, distrust of government and police, a perception that some of these incidents may not be considered crimes and a belief that the government is anti-immigrant and might retaliate against them, Bauer said.
Bauer encouraged workshop attendees to teach the community not only to report, but also to preserve evidence if something happens.
"Let's educate the community that this is an important issue, that they should come and report and bring the evidence they have," Bauer said. "Either to law enforcement or ADL, or first thing to the consulate."
Community leaders and consular officials from Brazil, Paraguay, Guatemala, Mexico and other consulates took notes as Bauer and Schusterman spoke, occasionally chiming in to ask questions or to answer quiz questions on the material.
"I'm eager to share this with my staff and leaders in the Brazilian community so they can spread the word," said Márcia Loureiro, consul general of the Brazilian Consulate in Los Angeles, as the workshop came to a close.
Along with workshops, there are plans to gather data and information on cases where Mexican nationals are facing unjust treatment and to partner to establish a campaign demonstrating how to get help.
"Today, every day, there are many people from different parts of the world coming to the U.S. looking for better opportunities," said Carlos García de Alba, Mexico's consul general in L.A. "It's not tolerable, it's not understandable, it's not acceptable that these people have to face hate more and more often."
Twitter: @brittny_mejia
The stories shaping California
Get up to speed with our Essential California newsletter, sent six days a week.
You may occasionally receive promotional content from the Los Angeles Times.