Amid deportations, those in U.S. without authorization shy away from medical care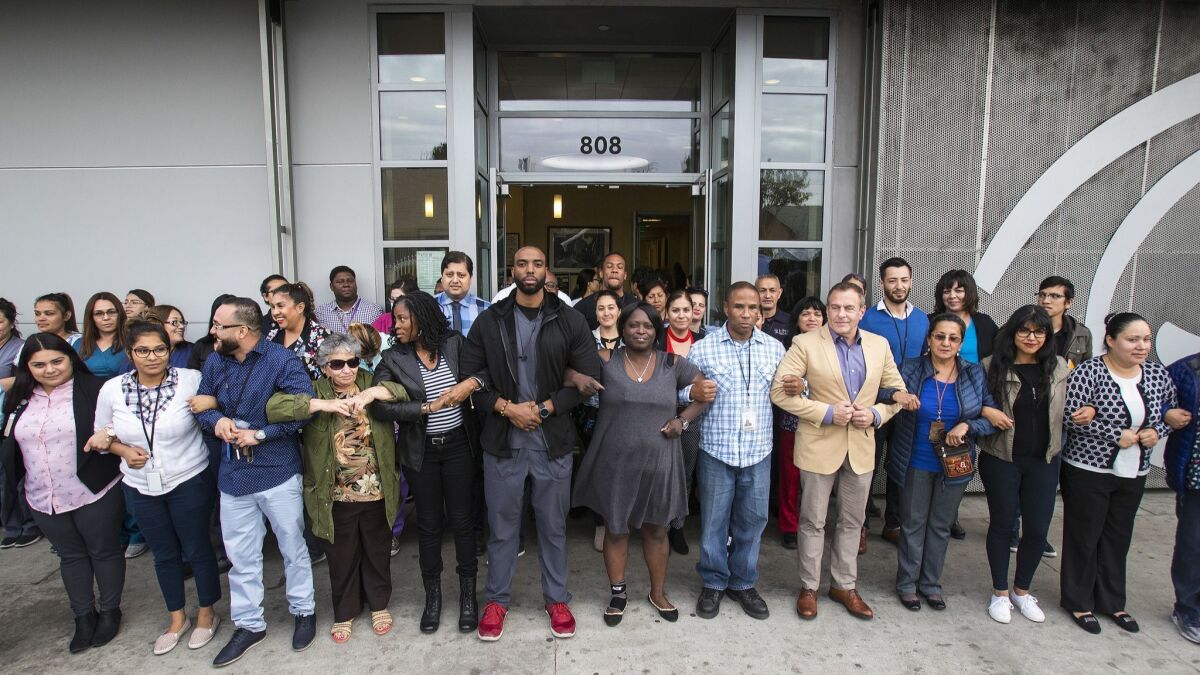 They need to prepare, they say, in case they never come back.
Patients at the St. John's Well Child & Family Center in South Los Angeles have recently started asking for copies of their medical records. Some request extra medicine from their doctors, taking home as much as they'll supply.
"They want to have a stockpile," clinic Chief Executive Jim Mangia said. "There's this tremendous fear that on their way to take their kids to school, or on their way to the clinic, or on their way into the store, they're going to get picked up and deported."
Healthcare providers say President Trump's aggressive moves against illegal immigration are posing risks to the health of many Californians, as patients cancel medical appointments or wait until the last minute to seek treatment.
Others are asking to leave public programs because they're worried their personal information will end up with the federal government. Even more seem to be feeling anxious or depressed because of possible raids, prompting some providers to offer special training to deal with such mental health issues among immigrants.
And the recent anxiety has extended beyond those in the country without legal authorization, health advocates say.
St. John's, which treats more immigrants who lack legal status than any clinic in the state, often hears from patients who are afraid they'll run into federal authorities on their way to the clinic, employees said. In the last several months, staff members have practiced forming a human chain around the facility, in case immigration agents do show up one day.
Health advocates say immigrants' reluctance to seek medical care is a step backward for a state that spent years encouraging people to sign up for health insurance and make regular doctor visits under the Affordable Care Act.
Mayra Alvarez, head of the L.A. -based advocacy group the Children's Partnership, recalled a story of a Mexican American boy who asked his mother if he was going to be deported, though he was born in the United States.
"It's sort of this blurred line between undocumented and documented," Alvarez said. "All you need is one story in our community, one example of a pickup, a deportation, and it spreads like wildfire."
---
Rumors of raids and canceled appointments
The patient calls started shortly after Trump took office, said Dulce Valenzuela, who works the front desk at St. John's.
"Their No. 1 concern was, 'If I go in, is my information going to be given to him?'" she said.
Though Valenzuela reassures patients they'll be safe, St. John's has experienced an 8% drop in visits among patients lacking legal status across the clinic's 14 Southern California sites, Mangia said.
Immigration agents are prohibited under federal law from entering healthcare facilities. Still, staff members were recently trained in how to read an Immigration and Customs Enforcement warrant and also taught to link arms outside the clinic door to block agents from entering.
"This is L.A.," said Mario Chavez, the clinic's director of government affairs. "If ICE really wanted to scare people, they could just do raids here."
Thousands of people were deported under President Obama, but operations focused on convicted criminals or those who had been caught entering the country illegally in the past. The Trump administration has said it will target any of the 11 million people in the country illegally.
A man was picked up after he dropped off his daughter at school. Another was detained on his front lawn. A young girl was stopped by agents on her way to have gallbladder surgery and then followed to the hospital.
Valenzuela, who came to the United States illegally from Mexico as a toddler, said her parents are on edge because of such stories.
"They've been saying: 'ICE has been here, ICE has been there. Please be careful,'" said Valenzuela, 21. "They just worry about me not coming home one day."
These fears have affected how people access healthcare. Statewide, roughly 40% of providers said patients from immigrant families have been skipping appointments or scheduling fewer visits, according to a recent survey by the Children's Partnership.
For years, health advocates had been pushing Californians, including immigrants who lack legal status, to go to the doctor. Regular visits could catch problems that would otherwise result in big emergency room bills, they said. Now some worry those medical issues are going unaddressed again.
A Kaiser Family Foundation survey found that some patients were making fewer appointments for checkups for their kids, and some expectant mothers are skipping prenatal care. People seem wary of drawing attention to themselves, the study found.
Samantha Artiga, a Kaiser Family Foundation analyst who led the study, said immigrants — whether in the country legally or not — appear unsettled by policy changes around immigration, such the decision to undo the Deferred Action for Childhood Arrivals program.
"Even if they're not affected by that particular policy change, it just makes them worried about the stability of their status, and we even heard that among green-card holders and lawfully permanent residents," she said.
---
The rush to leave public programs
Statewide, healthcare workers who enroll people in public programs said they've been fielding questions from worried immigrants about their health plans and other public benefits.
Elba Gonzalez-Mares, head of the nonprofit Community Health Initiative in Napa County, said her organization has been been helping county workers with urgent requests. Immigrants who lack legal status are eligible for certain public programs, such as food stamps for pregnant mothers or Medi-Cal for those younger than 19.
"They've received phone calls and actual people walking in and saying, 'I need to end it today,'" said Gonzalez-Mares, who pointed out that several people in Napa County were detained during a raid in February. "Anxiety is really high."
The concerns have increased workloads for health workers, but ultimately there hasn't been a significant drop in enrollment, according to county and state officials.
Ironically, people usually end up staying in a program once they learn that the system will remember their name even if they disenroll, they say.
Still, enrollment workers' jobs seem to have shifted recently: They now focus on stopping people from leaving programs, instead of signing more people up.
Edgar Aguilar, program manager of Dignity Health's Community Health Initiative of Kern County, said workers trying to enroll more people noticed a drop last year in how many people would open the door when they came around.
"They could tell they were there, but the door remained closed," he said.
---
Toxic stress: 'What if they deport my dad?'
Then there are the health effects that are more difficult to measure.
When Yessenia Cux leaves the house in the morning to go running, she worries she won't see her sister and brother-in-law again. She immigrated illegally to the United States from Guatemala in 2015.
"It's hard to be happy," said Cux, a junior at Manual Arts High School in South L.A.. "It's hard to think about a future when you're not sure that future is going to be assured."
Many healthcare providers said they had to conduct special training on anxiety and depression related to deportation because so many people were experiencing such problems.
"We have kids coming in and crying, 'What if they deport my dad?'" said Mangia, with St. John's. "I don't think we can underestimate the mental health impact."
Some health workers recounted stories of children in border counties coming to school with two backpacks, one with their pencils and books, the other with their belongings in case their parents get deported. Others said they'd heard kids talking about who would take care of them if their parents were taken away.
"I see children every day," said Maria Ruiz, who works at Soto Street Elementary School in Boyle Heights. "They go to the office and say 'I have a headache. I couldn't sleep. I have a stomachache' … they're seeing stress."
Pediatricians call this toxic stress. It can increase children's risk of infections and damage memory in the short term. The American Academy of Pediatrics recently warned that it can also cause physiological changes that lead to chronic health problems and other mental health disorders down the road.
"Every single pediatrician we spoke to raised this concern about the long-term effects of stress and anxiety," said Artiga, the Kaiser Family Foundation analyst. "What's happening today will have long-term implications that could affect children over their life span."
---
soumya.karlamangla@latimes.com
Twitter: @skarlamangla
---
The stories shaping California
Get up to speed with our Essential California newsletter, sent six days a week.
You may occasionally receive promotional content from the Los Angeles Times.