Lyft can pick you up at LAX starting Wednesday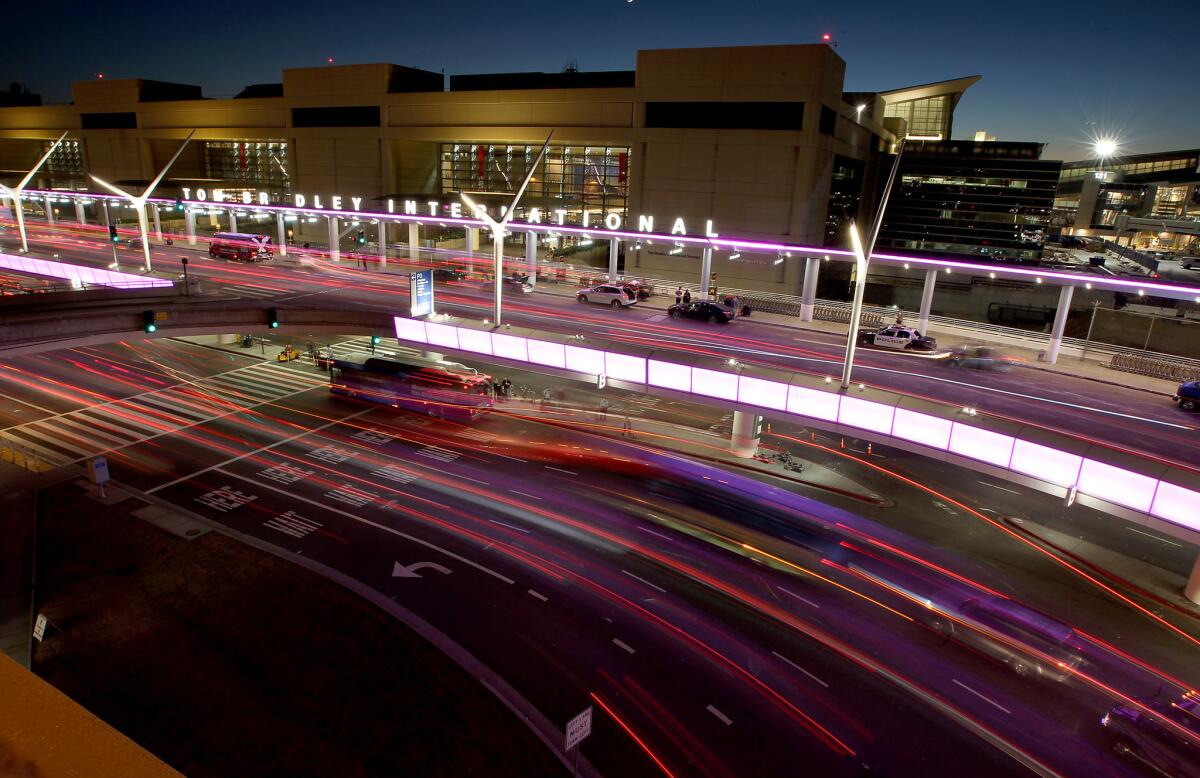 In what officials hope will be an early Christmas present to harried holiday travelers, Lyft on Wednesday will become the first ride-hailing service to pick up passengers at Los Angeles International Airport.
Earlier this year, Los Angeles officials agreed to allow Lyft and its larger rival, Uber, to apply for permits to work at LAX. Lyft completed its negotiations first, gaining a head start in the potentially lucrative airport market.
Backers say ride-hailing will be a major improvement for passengers at LAX, which, unlike most major air hubs, lacks direct rail service. Those who use the West Coast's largest airport must contend with gridlocked traffic and pricey parking rates.
When Lyft drivers begin picking up travelers Wednesday morning, officials say it will amount to the biggest change to ground transportation options at the airport since the introduction of shared-ride vans like Super Shuttle in the 1980s.
"We're doing a lot of work to show that we're a world-class airport—or at least trying to become one," said Los Angeles City Councilman Mike Bonin, whose Westside district includes the airport.
The biggest loser in the rise of ride-hailing could be Southern California taxi companies, which view the airport as their last remaining revenue stronghold.
The typical taxi trip from LAX to downtown is more than $50, not including tip. A ride with Uber or Lyft is closer to $30, although prices can climb during high-demand periods.
For more than two years, Uber and Lyft drivers have been allowed to drop off passengers at LAX, but only licensed livery drivers, shuttles and taxi drivers were allowed to pick up customers. Travelers could request a higher-end Uber or Lyft car service, operated by a state-licensed livery driver, but the companies' low-cost services were banned.
The taxi industry led the fight to prevent Uber and Lyft from serving LAX, arguing that their drivers were held to a lower standard compared to cabbies.
Passengers can hail a ride using Lyft's smartphone app, then follow signs marked "ride service" to the upper departures level, where drivers will be waiting. Lyft originally opposed the upper-level requirement because riders will have to carry their luggage upstairs from baggage claim.
Lyft drivers will be required to wait in a holding area until they get a request for a ride. No more than 40 drivers will be allowed in that area at one time.
The LAX permit will require Lyft to pay the airport a minimum of $25,000 per month from $4 fees for each drop-off and pickup. The fees, which will be passed along to passengers, will go to the airport's general operating budget.
Travelers' stepping off a plane to discover that Lyft and Uber were barred from picking up at LAX was "the worst signal to send about L.A.," Los Angeles Mayor Eric Garcetti told The Times. "It made us look like a non-innovative city."
Other California airports, in San Francisco and Orange County, have allowed Uber and Lyft pickups for some time. But the companies see LAX, the nation's third-busiest airport, as a key venue to demonstrate how the app-based technology can blossom as an alternative to driving, mass transit and taxis.
The approval has stoked fears among drivers for Los Angeles's nine licensed taxi companies, who say the pickups will cut into a dependable source of income.
Taxi drivers — who, like Lyft and Uber drivers, are independent contractors — depend on long-haul, lucrative trips from the airport to cover the costs of their vehicles and their commercial insurance.
After several years of steadily increasing ridership, Los Angeles' nine licensed cab companies reported a 24% drop in trips from the last quarter of 2014 compared to the same period in 2012, the steepest decline on record. Overall, taxi trips dropped 19% from 2012 to 2014.
Garcetti had originally said that services like Lyft and Uber would be operating at the airport by summer. But the process — mired in disagreements between city agencies and permit requirements that critics panned as onerous — took much longer than promised.
"Obviously, Lyft has shown that it can be done, and relatively quickly," Garcetti said.
Uber spokesman Michael Amodeo said he "couldn't agree more that Angelenos deserve more reliable ways to get to and from LAX."
He added: "We are confident that it's only a matter of time" until the region's "most popular" ride-hailing option is available at LAX, alongside the higher-end options operated by licensed town car drivers.
Airport officials spent the first half of the summer wrangling with ride-share representatives over what rules their drivers should be required to follow.
Then the City Council intervened in July, spending a month debating whether Uber and Lyft drivers should undergo the same background checks as their taxi competitors. In the end, the council did not establish new rules for the drivers, allowing them to continue using their favored background check method, which does not include a fingerprint scan.
After the City Council and the airport approved the application process, Lyft and Uber spent months in back-and-forth negotiations with the airport, providing documents and data that clarified whether the companies could meet the terms of their contracts.
For more transportation news, follow @laura_nelson on Twitter.
MORE: Get our best stories in your Facebook feed >>
ALSO
Bright light seen streaking across California and Nevada skies
What Tashfeen Malik's visa application reveals about the San Bernardino killers
La Cañada Flintridge bans sales, cultivation and delivery of medical marijuana
Sign up for Essential California for news, features and recommendations from the L.A. Times and beyond in your inbox six days a week.
You may occasionally receive promotional content from the Los Angeles Times.