Crackdown on archdiocese-owned oil field near USC gets OK, city attorney says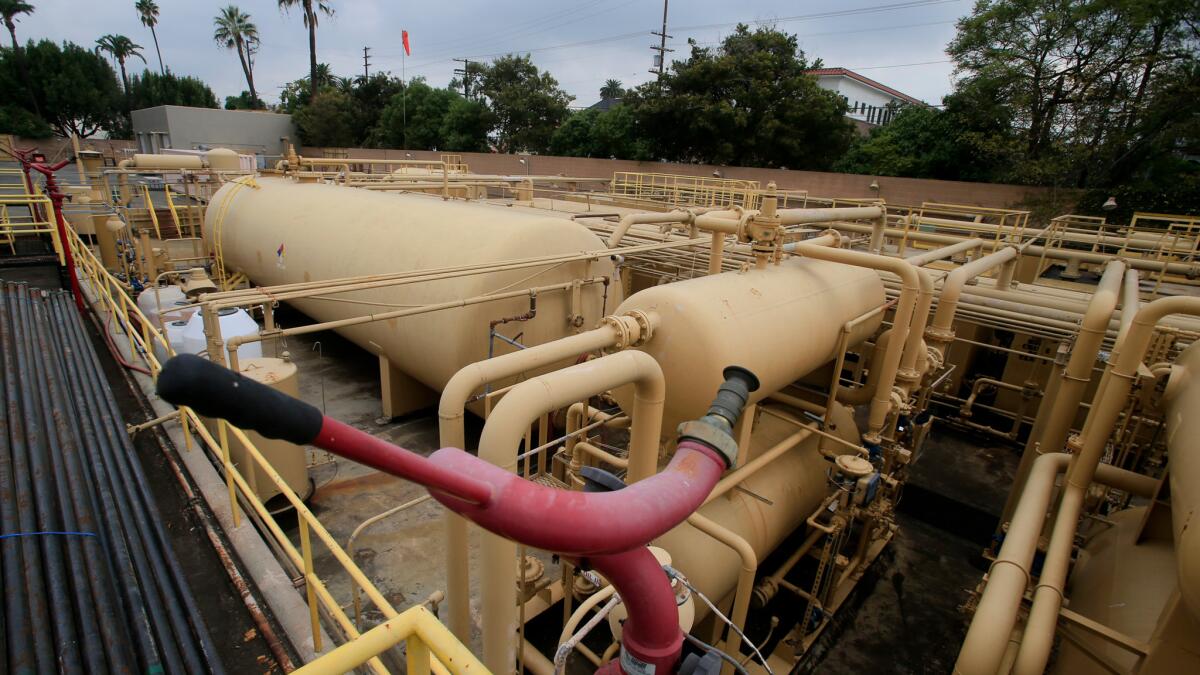 An oil field near USC that neighbors have long accused of causing health problems ranging from nosebleeds to serious respiratory illness must remain closed permanently or comply with stringent regulations, Los Angeles City Atty. Mike Feuer told The Times on Wednesday.
The two-acre field, operated by Allenco Energy Inc. on land leased from Los Angeles' Catholic Archdiocese, cannot reopen unless the company installs a health and safety monitoring system designed to be more protective of public health and more responsive to complaints from local residents than existing regulations require.
Allenco has agreed to pay $1.25 million in civil penalties, at least half of which will be used to fund investigations of polluting oil fields elsewhere, according to the permanent injunction granted by Los Angeles County Superior Court Judge Samantha P. Jessner.
Failure to comply with the order could result in contempt of court charges against Allenco, with penalties that could include fines and jail time, Feuer said.
"The imposition of these new, tougher rules in the community surrounding Allenco is without precedent, and residents there deserve nothing less," Feuer said. "This thing is a big deal, and one of the achievements I'm most proud of."
The new restrictions would, for example, put in place an independent expert with the authority to immediately shut down the facility if there are releases of methane, hydrogen sulfide or nonmethane hydrocarbons that exceed safe levels. Multiple releases of air contaminants, even at or below standard state or federal standards, can trigger a shutdown, and nominal chemical releases may trigger an investigation.
Residents of the University Park neighborhood recently asked Pope Francis to intervene with the Los Angeles Archdiocese, which owns the land, to prevent the oil operation from reopening.
"We are definitely reveling in the moment," said Nancy Ibrahim, executive director at Esperanza Community Housing Corp., one of the groups that has tried to raise attention about health risks near the oil field. "It is profound that a community of low-income renters has been able to achieve this kind of resolution."
The company voluntarily halted operation at the site in 2013 at the request of U.S. Sen. Barbara Boxer (D-Calif.), pending completion of investigations by agencies including the U.S. Environmental Protection Agency, the South Coast Air Quality Management District and the state Division of Oil, Gas & Geothermal Resources.
After operations were suspended, formal complaints of respiratory problems and nosebleeds all but disappeared.
Feuer filed a lawsuit in 2014 to stop Allenco from reopening after his investigation found that the company willfully disregarded violation notices issued by oversight agencies and that regulators did not move forcefully to enforce their numerous and repeated citations.
The complaint names Allenco owner Peter Allen and Timothy James Parker, vice president of operations, as defendants. The company on Wednesday refused to comment on the court order.
As a result of lax practices, Allenco exposed neighbors "to noxious fumes and odors which have resulted in adverse health effects on community members in the form of severe headaches, nausea, nosebleeds, chronic fatigue and respiratory ailments including asthma," Feuer's complaint said. "No community should have to live this way, with windows shut, children kept indoors to protect their health, and neighbors seeking relief from intolerable conditions."
The Allenco site was donated to the Catholic Archdiocese of Los Angeles in the 1950s by descendants of Edward L. Doheny, one of Los Angeles' early oil barons.
Twenty-one wells at the site had been idled in the 1990s because of low oil prices and calcification, U.S. Energy Department records show.
Allenco bought the oil production facility in 2009, and used hydrochloric acid and phosphoric acid to unplug some of the wells. Within a year production jumped more than 400%, from 4,178 barrels to 21,239 barrels in 2010, the complaint said.
Around the same time, neighbors began smelling a chemical odor in the streets and in their homes, and reported that they and their children were having headaches, recurring nosebleeds and bouts of dizziness.
The neighbors said they had traced the odors to property shielded by 12-foot-high, ivy-covered walls, shaded by oak trees and fringed with manicured lawns. Behind the walls, the site bristles with pipes, tanks, gauges and subsurface pumps.
Odors from Allenco's field had prompted at least 260 complaints to air regulators between 2010 and 2013 – up from just eight complaints from University Park in 2008-09.
The complaints, reported by The Times in 2013, led to city, state and federal investigations, including an onsite inspection that sickened U.S. EPA officials and resulted in Allenco spending more than $1 million in cash penalties and on improvements needed to fix leaks, improve equipment and comply with state and federal laws.
Air regulators in 2015 issued a permit allowing Allenco to restart operations, which it hoped to resume sometime this year.
The court-ordered hazard monitoring system will remain in place for at least four years from the date Allenco reopens, if it ever does, Feuer said.
Neighbors will be able to report observations and complaints about the oil field and keep track of what's happening there on a website tied to the system.
ALSO
China will not build L.A.-to-Vegas rail line — U.S. company calls the deal off
Sanders is defiant and unpredictable as his revolution reaches a crossroads
Sign up for Essential California for news, features and recommendations from the L.A. Times and beyond in your inbox six days a week.
You may occasionally receive promotional content from the Los Angeles Times.