Column: Yes, we'll pay to house the homeless, but not here, or here, or here, or...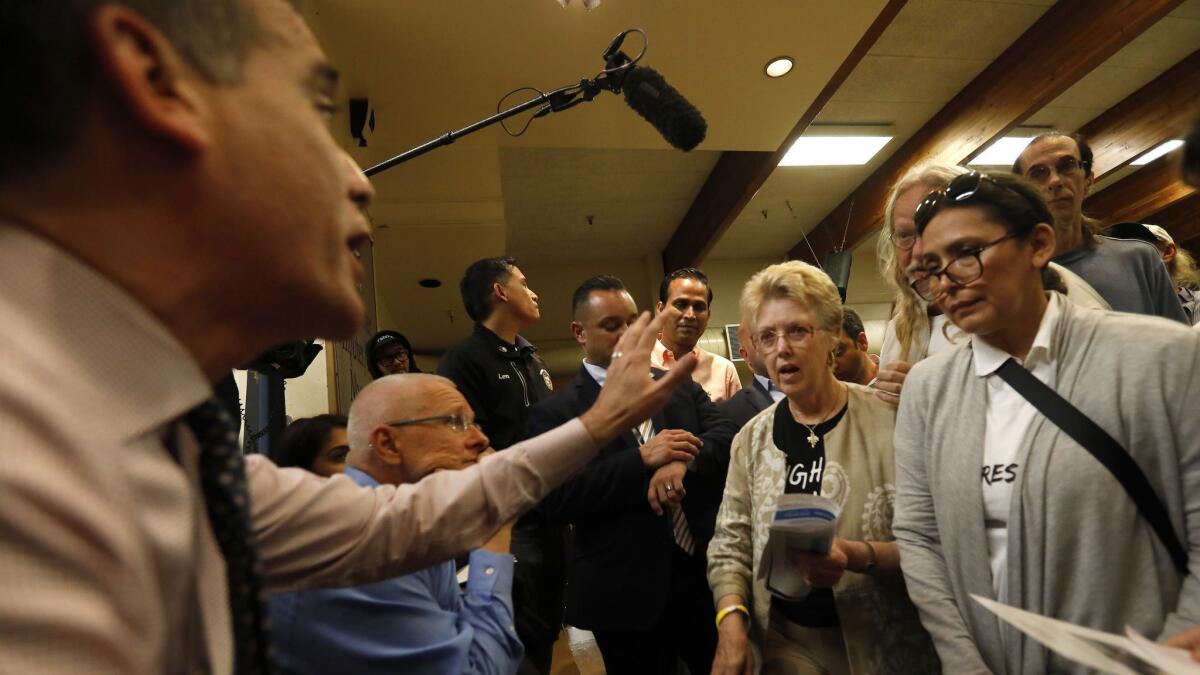 On the evening of Oct. 17, as Venice residents roughed up L.A. Mayor Eric Garcetti for his plan to build temporary homeless housing in the neighborhood, Pasadena residents gathered for a meeting on the planned conversion of a motel into permanent supportive housing.
That one didn't go so well, either.
"It was the most negative meeting I've ever been to," said Pasadena City Councilwoman Margaret McAustin. "People were not just against it. They were visibly angry and shaking their fists."
Anne Miskey is chief executive of Union Station, a housing and homeless services nonprofit in Pasadena that would have provided management of tenants at the converted motel. She was at the meeting and said city officials who tried to explain the project were called liars and shouted down.
"These people don't want to work," Miskey recalls hearing, among other complaints. "They're bums, they're mentally ill … they should be shipped out, put them in fields. We don't want them in our neighborhood."
And happy Thanksgiving to you, too.
McAustin said that at one point a woman held up a piece of paper and said it proved the meeting was a sham because the city had already begun to convert motels in the neighborhood without consulting residents.
That was news to McAustin, who asked to see the document.
She couldn't believe what she was looking at. Someone had used her official city letterhead to misinform the public.
"At that point I said, 'Where did you get this? This is a forgery, and this is against the law,' " McAustin said. "She said, 'Well, it was on my porch.' That's when I realized that a lot of the people who came into that meeting came in angry because they were under a false impression."
At the moment, the Ramada Inn conversion is dead. City officials say National Community Renaissance, whose purchase of the motel was in escrow, has pulled out.
Seventy or so homeless people in Pasadena who would have moved indoors will have to wait, and some of those people are senior citizens, the fastest-growing segment of the homeless population.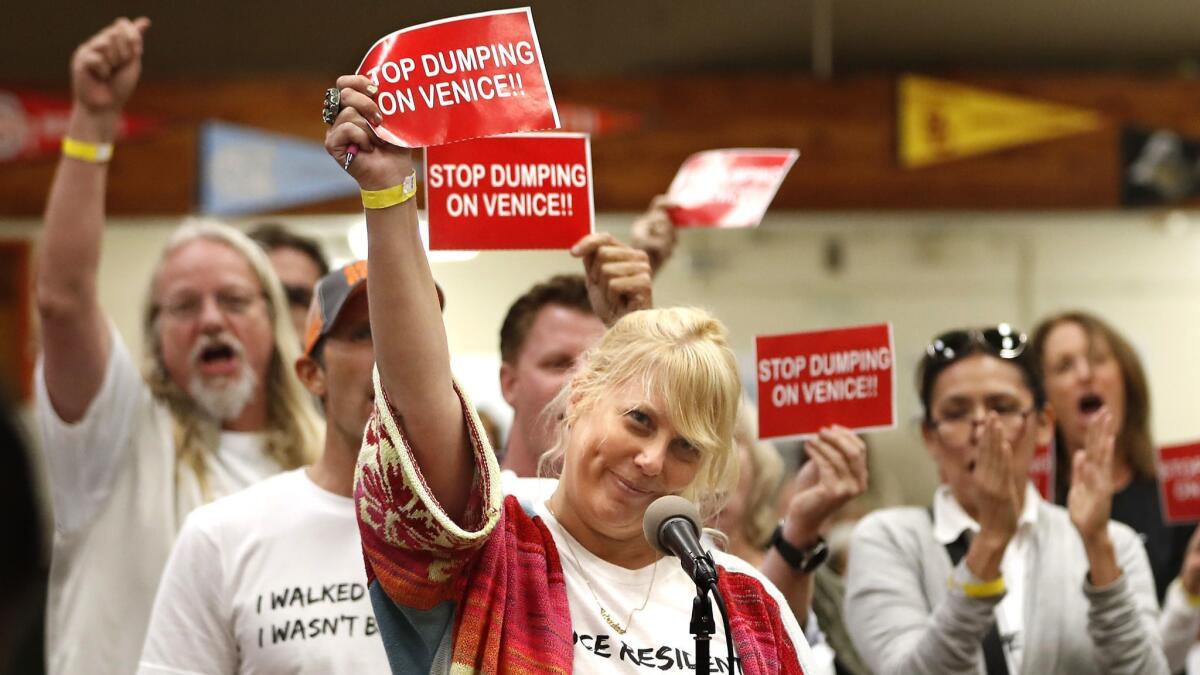 I hesitate to say we're at a crossroads when it comes to dealing with a catastrophe that has hit the entire region, with encampments filling the sprawl between mountain and sea.
But we're at a point where there's some potential to have an impact, and taking the next step is going to require a little more sacrifice.
Hundreds of millions of dollars are available for housing and services generated by Proposition HHH in the city of Los Angeles and the countywide Measure H.
That's not going to end homelessness, and don't believe anyone who tells you it's ever going to be ended. One of the drivers is that wages in today's economy don't pay the rising cost of housing, and nobody's got that problem figured out. So the 50,000-plus who are homeless now will have a few more filing in behind them.
But you can't do nothing. People got tired of how that worked out. So they gave their approval to measures that required two-thirds approval, which tells you how big the appetite is for solutions.
Yes, they said, we'll pay for housing.
Yes, they said, we'll pay for services.
Yes, they said, enough already.
Just don't put any housing or services anywhere near where we live.
At a meeting in Sherman Oaks to discuss potential supportive and emergency housing, Councilman David Ryu was shouted down by residents who threatened to recall him.
In Koreatown, a temporary housing plan was initially blasted before an alternative was hammered out.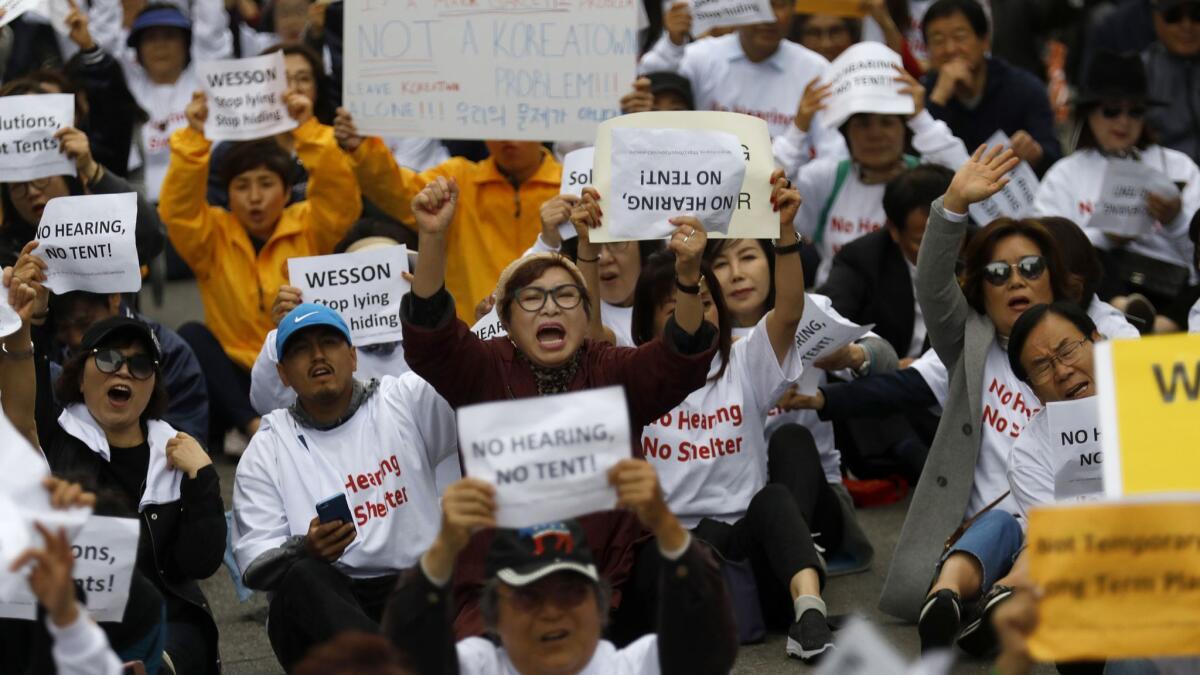 More than a decade ago, public officials rolled out plans to build five regional homeless service centers in L.A. County, but one community after another put the kibosh on the campaign.
Is it any wonder we've got tent villages everywhere you look?
I went to a screening last week of the documentary "The Advocates," director Remi Kessler's powerful look at the unsung heroes who are out on the streets of Los Angeles at all hours. They do the exhausting work of reeling in the most hardcore and long-term homeless, many of them dealing with mental illness and addiction (you can catch the movie through Thursday at the Laemmle Glendale). When you see troubled people get some dignity back, along with a set of keys, it becomes all the harder to give up on the rest.
In a panel discussion after the screening, Claudia Perez, one of the advocates featured in the movie, said she went to the Venice meeting on Garcetti's bridge housing proposal even though she doesn't live there. If housing is going to happen, said Perez — who is formerly homeless and now does outreach as the founder of L.A. On Cloud 9 — people who support it have to start showing up in equal force at the meetings where people shout it down.
Organize, Perez told audience members who asked what they can do to make a difference. Mobilize, she said. Start a YIMBY movement.
Another strategy, as Union Station's Miskey pointed out, is to do a better job of trying to address people's fears. She said the Ramada project should have been handled better, with city officials reaching out to residents before the meeting to justify that location — which is near a school — and explain the particulars.
Councilwoman McAustin agreed.
"I came away pretty bruised," she said of the meeting that turned into a melee. But she told me she is arranging meetings with opponents to explain the benefits of permanent supportive housing, one of which is fewer homeless people, another of which is the possibility of greater public safety rather than less.
In Venice, the anger and frustration of residents is understandable to a degree. For a long time, they've put up with a lot, including drugs, violence, trash and intimidation, especially in the area around Rose Avenue not far from the beach. Some say the city isn't distinguishing between homeless people who truly need help and those who just want to party; some say it's crazy to put temporary housing near a school; others say a shelter will only draw more people and crime and turn out to be a waste of money.
Those charges can't all be dismissed, but I have trouble believing that emergency housing that offers a link to more permanent solutions will make the situation worse rather than better. Garcetti and Councilman Mike Bonin went to the meeting to take their lumps and explain their position, but they didn't get past the lumps.
I saw a letter to the editor by Venice resident Chris Tilly, who said he went to the meeting and believed that those who supported the proposal or were undecided and wanted to hear more about it made up a majority, but they were muffled by those "willing to shout and interrupt."
Tilly, a professor of urban planning at UCLA, told me he's often annoyed by the hassles of living near homeless encampments, and he thinks public officials can be accused of doing too little too late. He says police need to be part of the solution, but you can't police away a problem created largely by a housing crisis that has left the working poor, the out-of-work poor, the mentally ill, the sick, the addicted and victims of domestic abuse sprawled on sidewalks.
"I believe that these problems are only going away when we have adequate housing alternatives," Tilly said, and when people stand in the way of taking steps in that direction, "it's not helping."
One of the advocates I most admire is Sister Mary Scullion, a Philadelphia nun who taught me a lot about patience and compassion when I lived back East, and who can teach us something here in Los Angeles.
When her nonprofit took over an abandoned apartment building in a nice Philadelphia neighborhood with plans to turn it into permanent supportive housing for homeless people, she got pushback from neighbors who said they already had people sleeping at their doors.
"I know," Sister Mary said. "That's why we're here."
Twitter: @LATstevelopez
Sign up for Essential California for news, features and recommendations from the L.A. Times and beyond in your inbox six days a week.
You may occasionally receive promotional content from the Los Angeles Times.