Pompeo's California speech draws questions from Iranian diaspora: 'How much do they really even know about the people of Iran?'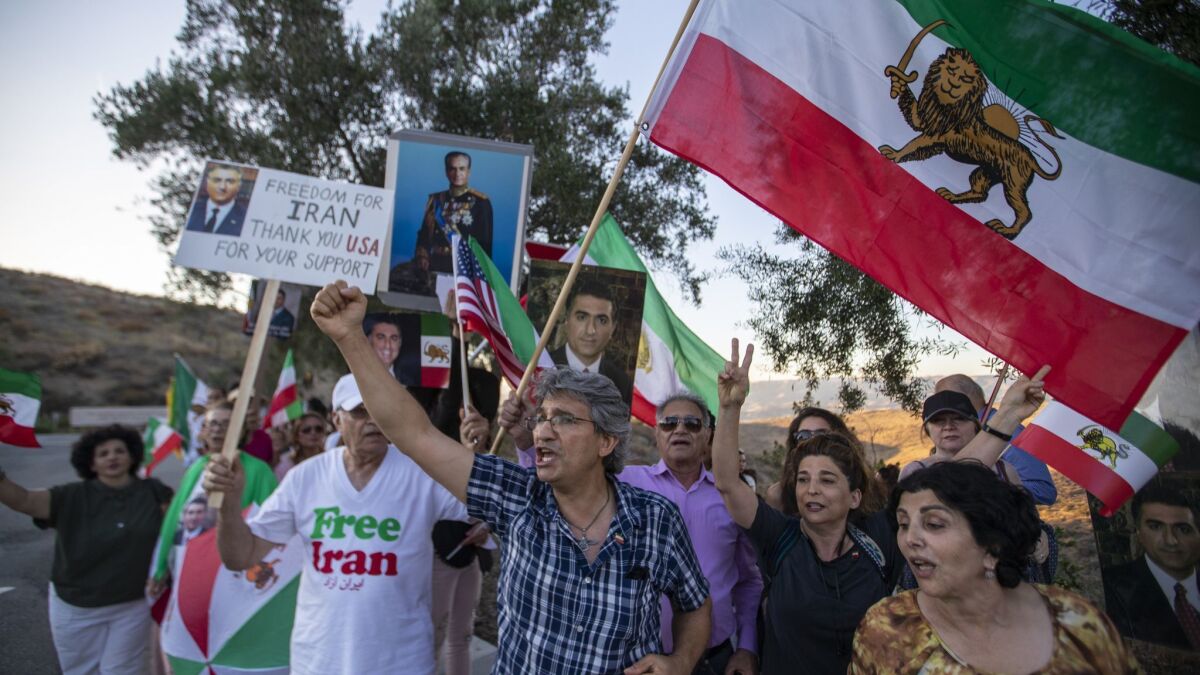 Farshad Farahat tuned into Secretary of State Michael R. Pompeo's speech in Simi Valley in hopes of hearing him lay out a plan for helping the Iranian people. Instead, he said, all he heard was bluster.
"They don't have a policy when it comes to Iran and that's the problem," Farahat, 39, said. "The fact is they are deeply hurting the Iranian people."
In a Sunday evening speech titled "Supporting Iranian Voices," Pompeo said the leadership in Tehran "resembles the Mafia more than a government." His remarks, given at the Ronald Reagan Presidential Library, marked a rare outreach by the Trump administration to the community — part of a nascent campaign by the U.S. government to discredit Iran's leaders
Pompeo called Iran's leading clerics "hypocritical holy men" and blasted Iran's government as "not normal" while pledging support for Iranians who would challenge it. He pointed to the Iranian government's human rights abuses as proof of his assertions but said the U.S. is open to speaking with leaders there if Tehran changes its policies.
Among California's diverse Iranian diaspora, reactions to Pompeo's speech ranged from a shred of hope that the Trump administration could effect change in Iran to fear that the secretary of State is prepared to resort to war. An estimated 500,000 Iranian Americans live in Southern California, the largest enclave outside Iran.
Farahat, an actor in Los Angeles, said Pompeo's stance would only strengthen Iran's elite Islamic Revolutionary Guard Corps. He worries that pulling out of the nuclear accord and reimposing harsh sanctions against Iran will only suffocate the country's working and middle class. Iranians face worsening inflation and a decline of their currency, which economic analysts say could make imports scarcer, and medicine in particular more difficult to acquire.
"I was hoping to hear how he would engage Iran economically … to strengthen civil society, the democratic movement and the middle class, and weed out the theocracy," Farahat said.
Before Pompeo's speech, Iranian President Hassan Rouhani urged President Trump to "make peace" with Iran, according to a report from the semiofficial Iranian Students News Agency.
"America should know that peace with Iran is the mother of all peace, and war with Iran is the mother of all wars," Rouhani said.
Trump returned fire on Twitter on Sunday night.
"NEVER, EVER THREATEN THE UNITED STATES AGAIN OR YOU WILL SUFFER CONSEQUENCES THE LIKES OF WHICH FEW THROUGHOUT HISTORY HAVE EVER SUFFERED BEFORE," Trump tweeted. "WE ARE NO LONGER A COUNTRY THAT WILL STAND FOR YOUR DEMENTED WORDS OF VIOLENCE & DEATH. BE CAUTIOUS!"
In a statement, the Public Affairs Alliance of Iranian Americans said its members spoke with Pompeo and informed him of the "near unanimous opposition Iranian Americans have toward the administration's travel ban and any form of military conflict with Iran." The group also cautioned that the diaspora's support for the Iranian people should not be confused with support for opposition groups, such as Mujahedin Khalq, which was previously designated as a terrorist organization.
Iranian Americans who oppose Trump's policies said they wondered how the administration could express its support for Iran's citizens while imposing harsh sanctions and barring them from entering the United States.
"Frankly, I thought it was insulting to sit in front of a room full of Iranian Americans and tell them what they've already known for decades without offering anything realistic or tangible with regard to how to address the problem," said Reza Marashi, research director for the National Iranian American Council.
Marashi said he doesn't believe the Trump administration is "concerned about the well-being of 80 million Iranians" or about Iranian Americans.
"They're using us as political tools," he said.
Masti Lashkari said she found Pompeo's remarks hypocritical. Lashkari, who was born in Iran and moved to California in 1994, said some of her family members have been affected by the travel ban. She watched Sunday's speech online, she said, and felt Pompeo was sharing his opinion on the regime without providing a plan.
"They claim they care about the people of Iran, but how much do they really even know about the people of Iran?" Lashkari, 33, said. "If they really, sincerely care about the people, why are they placing these weird rules and regulations on the people of Iran?"
Like many Iranian Americans who attended the Sunday evening event, Ahmad Ahmadian made an appearance because he was curious about what Pompeo would say.
A student activist and Green Movement supporter, Ahmadian left Iran in 2011 after he was kicked out of the University of Tehran for protesting against government policies.
"I've been skeptical about Americans' foreign policy toward Iran. I don't believe the nuclear deal improved human rights in Iran," said Ahmadian, 28. "We've tried to create change in Iran through reform for the past 20 years, and it hasn't had a positive outcome."
Ahmadian, who said he supports sanctions against Iran, said he knew the policy could make life harder for his family there. But it's a trade-off he's willing to take.
"Sanctions are a better alternative than war," he said.
Faraz Kiani, who read about Pompeo's talk after the gathering, said any comments against Iran's government are welcome — regardless of whom they come from.
"I'm not a Trump supporter. I don't care about right or left," Kiani said. "Any time they bring awareness and call out the government for what they are in Iran, I applaud that."
A California native, Kiani said he voted for President Obama twice but felt his administration "betrayed the Iranian people with the deal he made." He said he doesn't agree with placing sanctions on Iran, nor does he want to see a war with the Islamic Republic. But he saw Pompeo's remarks as an opportunity to shed light on human rights abuses in his family's homeland.
"These people are billionaires, their families live lavishly, and the people in Iran are suffering," Kiani said. "Nobody wants war as far as I'm concerned, but I think the tough talk is what works with these guys."
Others said they were looking for new information on how the U.S. would approach Iran, but Pompeo failed to deliver.
"I was kind of disappointed," Fred Parvaneh said.
Parvaneh left Tehran when he was 17, a few years before the Islamic Revolution, and never returned. Now 60, he said he doesn't want to see a war with Iran.
"I don't think it's my place to really dictate what Iranians' path should be, but I despise the clerical rule," he said of Iran's government.
He said he's happy to see Trump's Cabinet taking a stand against the Iranian regime, but he is worried that it could come at the cost of the average Iranian.
"Do I like the travel ban? Absolutely not. I think it's unfair," Parvaneh said. "Deep down inside, I'm sort of happy about Trump's strong stance — but it's directed at the regime and not at the Iranian people."
Times staff writer Melissa Etehad contributed to this report.
For more California news follow me on Twitter: @sarahparvini
---
UPDATES:
5:45 p.m.: This article was updated with additional comment.
This article was originally published at 5:15 p.m.
---
The stories shaping California
Get up to speed with our Essential California newsletter, sent six days a week.
You may occasionally receive promotional content from the Los Angeles Times.