California rainstorm too little, too late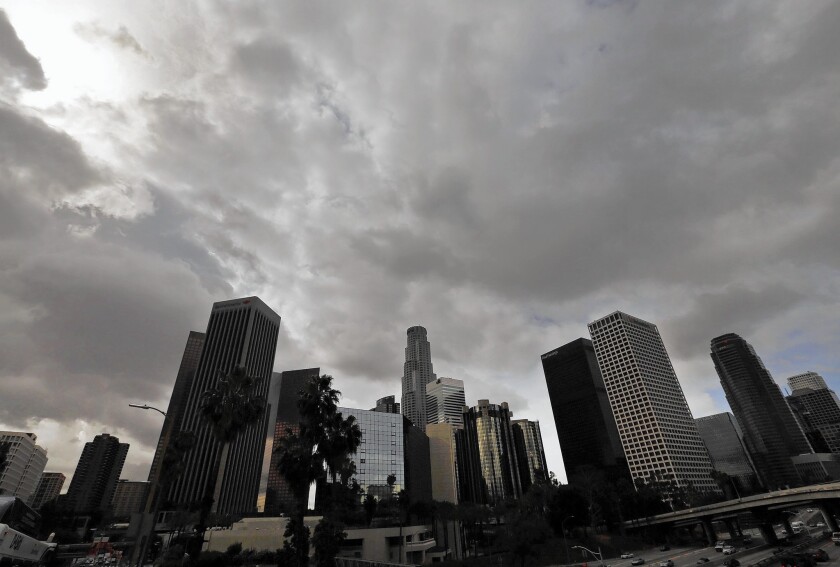 Every drop counts.
So the mantra goes in drought-weary California, where long dry spells are interrupted by mostly minor rainstorms like the one we just experienced.
But do these light storms really make a difference?
The rain and snow that falls in Southern California does help recharge our local groundwater supply and fill small reservoirs. But the way California's water system is set up, consistent heavy downpours must also drench Northern California to make a real dent in the drought.
When it rains locally, where does the water go?
Between 80% and 90% of the rain that falls in the urban Southland winds up in a vast storm drain system that eventually dumps it into the ocean, said Bill Patzert, a climatologist with the Jet Propulsion Laboratory in Pasadena.
The county's flood control system, though, managed to capture about 37 million gallons of water from Thursday's storm — enough to serve more than 200 households for a year.
Locally, rain collects in one of 14 reservoirs in the mountains and is held for later use, said Bob Spencer, a spokesman for the L.A. County Department of Public Works. At the same time, water in the system is shunted to sunken basins called "spreading grounds," where it slowly seeps into the ground and replenishes the local aquifer, he said.
About 38% of the county's water comes from local groundwater sources, according to a recent UCLA study.
Are there other ways a storm in Southern California can help?
Rain has nitrogen in it and can acts as "nature's fertilizer," Patzert said. It also cleans the air of dust and pollen, which can help temporarily relieve people suffering from allergies, he added.
And, "to the extent that rainfall convinces people they do not need to water their lawn, it's a big plus," said Doug Carlson of the state Department of Water Resources. He pointed to the month of December, in which Californians experienced heavy rain and statewide water conservation spiked.
Perhaps just as important, simply seeing rain can give residents a psychological boost.
"It's been so dreary and dry, you get a little rain, you get a little hope," Patzert said. "But in terms of genuine relief or hope for a drought-buster? You'd have to be delusional."
Why does Northern California rain matter so much?
Most of the rain and snow in California falls in the northern third of the state and in the Sierra Nevada.
But "the greatest portion of Californians have settled in the part of the state that doesn't get much rainfall," Carlson said. "The wise water engineers and politicians of 50 and 60 years ago recognized that they needed to pull together a plan to account for a lot of water in the north and almost none in the south."
To do that, officials built the State Water Project. Fed by rivers and massive reservoirs, the project delivers water to farmland in the San Joaquin Valley and urban Southern California through an extensive aqueduct system.
"The infrastructure was built in the northern two-thirds of the state," because that's where most of the rain and snow was falling, Carlson said. "The problem is now we've entered a new era where averages don't mean much anymore. We've entered an era of variability."
About 58% of the water used in L.A. County comes from outside the region, mostly from the north via the State Water Project and the east from the Colorado River. That imported water is supplied by the Metropolitan Water District of Southern California, which this year is rationing its supply to the 26 cities and water districts it serves, including the Los Angeles Department of Water and Power.
Though Metropolitan is getting its full supply of Colorado River water this year, the State Water Project deliveries are only 20% of requested amounts. The drought has also reduced the amount of water Los Angeles is getting from the Owens Valley, forcing it to buy more supplies from Metropolitan.
To refill Metropolitan's State Water Project supply, the Northern California and mountain areas that have traditionally gotten the lion's share of rain and snow need more of both.
On April 1, Gov. Jerry Brown trekked to a Sierra Nevada meadow and stood on a brown field that normally would have been covered by several feet of snow. The Sierra Nevada snowpack, which normally provides the state with about a third of its water supply, had hit a record low for that day, and Brown used the dramatic backdrop to issue an executive order mandating California's first statewide 25% reduction in water usage.
Lake Oroville, a key northern reservoir that feeds the State Water Project, now holds less water than it did a year ago.
State water resources officials have said it would take 150% of the average rainfall in the northern Sierra for California to recover from the current drought. An index of eight measuring stations there said Friday that 34.1 inches of rain had fallen in the area, about 74% of normal.
And now that summer is weeks away, Patzert does not expect improvement any time soon.
"Unless you have some biblical intervention, we're done," he said. "We've got to get through between now and October. It's guaranteed it's going to be dry."
So how dry has it really been?
Since the water year started in October, Los Angeles County has gotten between 50% and 60% of its normal rainfall, said Jayme Laber, a hydrologist with the National Weather Service.
For example, downtown Los Angeles normally receives more than 14 inches of rain by this time of year. This year, downtown has gotten less than 8 inches.
The region "really lost a lot of ground" during unusually dry winter months, which normally account for the bulk of our rain, Laber said. Between January and March, rainfall downtown was between about 20% and 35% of normal, he said.
Twitter: @ByMattStevens
---
The stories shaping California
Get up to speed with our Essential California newsletter, sent six days a week.
You may occasionally receive promotional content from the Los Angeles Times.