UberX can pick you up at LAX starting Thursday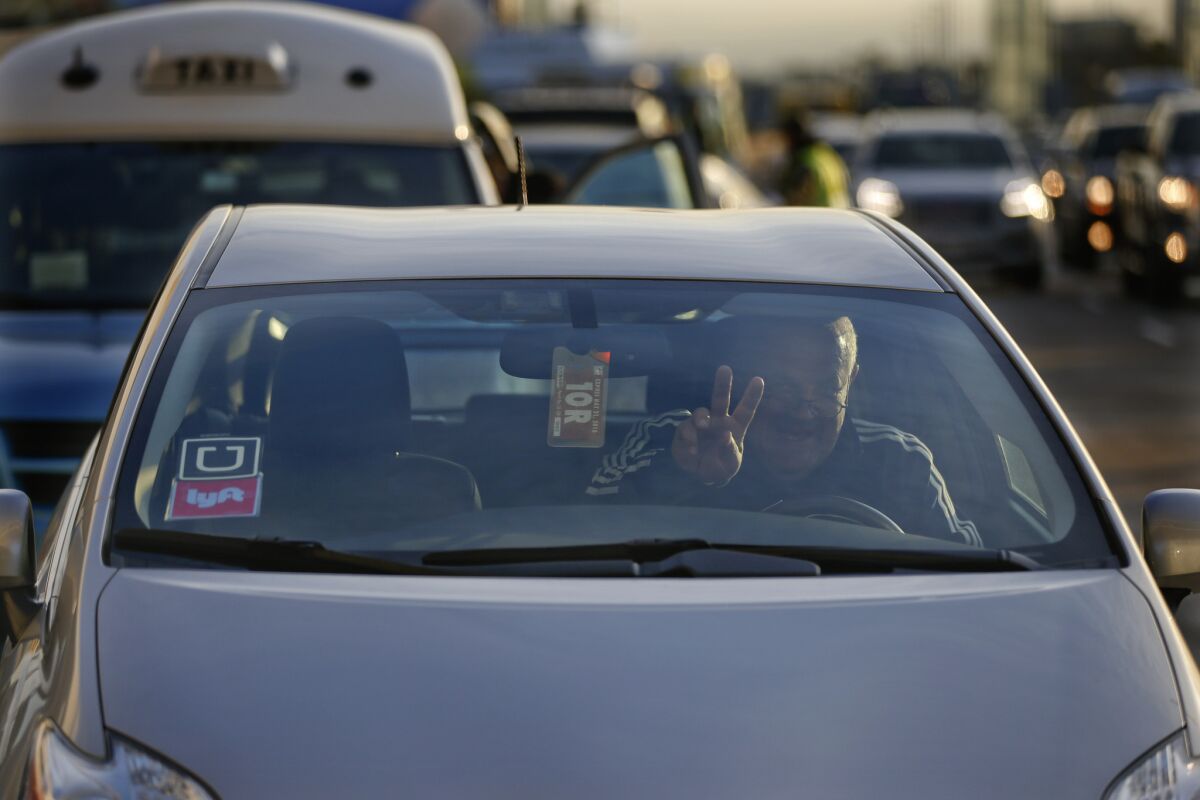 After months of negotiations and political infighting, the wait is over: Drivers for Uber's lowest-cost ride service will be allowed to pick up travelers at Los Angeles International Airport starting at 8 a.m. Thursday.
Uber is the second ride-hailing company to be granted full access to one of Southern California's most lucrative ride markets. Its main rival, Lyft, started working at LAX in December.
"We're very excited to play a part in simplifying and modernizing the LAX experience," said Christopher Ballard, Uber's general manager of Southern California, in an interview with The Times.
See the most-read stories this hour >>
Last summer, after months of debate, Los Angeles officials agreed to allow ride-hailing companies to apply for permits to work at the airport. Uber and Lyft spent months proving to officials that they could comply with the terms of their contracts.
In December, Lyft became the first ride-hailing service to pick up passengers at Los Angeles International Airport.
For more than two years, Uber and Lyft drivers have been allowed to drop off passengers at LAX. Travelers could request a higher-end Uber or Lyft car service, operated by a state-licensed livery driver, but the companies' low-cost services were banned.
"As with any airport negotiation, it's a very extensive process," Ballard said. "A lot of work went into this on both sides of the aisle."
Uber and Lyft drivers have been working at other California airports, including in San Francisco and Orange County, for some time. But LAX, the West Coast's busiest airport, has been seen as a key venue for the companies to prove that they can provide a viable alternative to driving, mass transit and taxis.
Both companies expect to do a brisk business at LAX. During Lyft's first two weeks of full operations, drivers picked up and dropped off more than 50,000 people, airport officials said.
The typical taxi trip from LAX to downtown is more than $50, not including tip. A ride with Uber or Lyft is closer to $30, although prices can climb during high-demand periods.
In a prepared statement, Los Angeles Mayor Eric Garcetti said travelers' options will "expand dramatically" with the arrival of UberX. The introduction of ride-hailing at LAX marks the biggest change to ground transportation options there since the introduction in the 1980s of shared-ride vans such as Super Shuttle.
"It's always good when we expand passenger and customer choices," said Los Angeles Councilman Mike Bonin, whose Westside district includes LAX. "There's a market out there for Lyft, and there's a market out there for Uber."
Starting Thursday, passengers seeking an UberX or UberXL ride will be able to hail the cars using the Uber app, then follow signs marked "ride service" to the upper departures level, where drivers will pick up passengers at the curb.
Will you be taking an Uber back from your next flight? Join the conversation on Facebook >>
The upper-level requirement was originally unpopular with both companies, because passengers will have to carry their luggage upstairs from baggage claim to catch a ride.
Passengers seeking a ride in an Uber driven by a state-licensed town car operator — the UberBLACK, UberSUV or UberLUX services — will catch those rides on the lower level, where taxis and limos pick up.
Drivers for both companies are required to wait in a holding area east of 96th Street until they get a request for a ride through the company apps. No more than 40 drivers per company are allowed in that area at one time.
The LAX permit requires Lyft and Uber to each pay the airport a minimum of $25,000 per month from $4 fees for each drop-off and pickup. The fees, passed along to passengers, will go to the airport's general operating budget.
Taxis pay a similar fee, passed on to passengers, to make pick-ups at LAX, but drop-offs are free.
For more transportation news, follow @laura_nelson on Twitter.
ALSO
Undercover sting by black police officers prompts crackdown on racial bias by LAX cab drivers
After drone crashes into power lines, West Hollywood cracks down
State Senate committee chairman plans oversight hearings on California's bullet train
---
The stories shaping California
Get up to speed with our Essential California newsletter, sent six days a week.
You may occasionally receive promotional content from the Los Angeles Times.