L.A. Council members in Valley raise alarm about crime and homelessness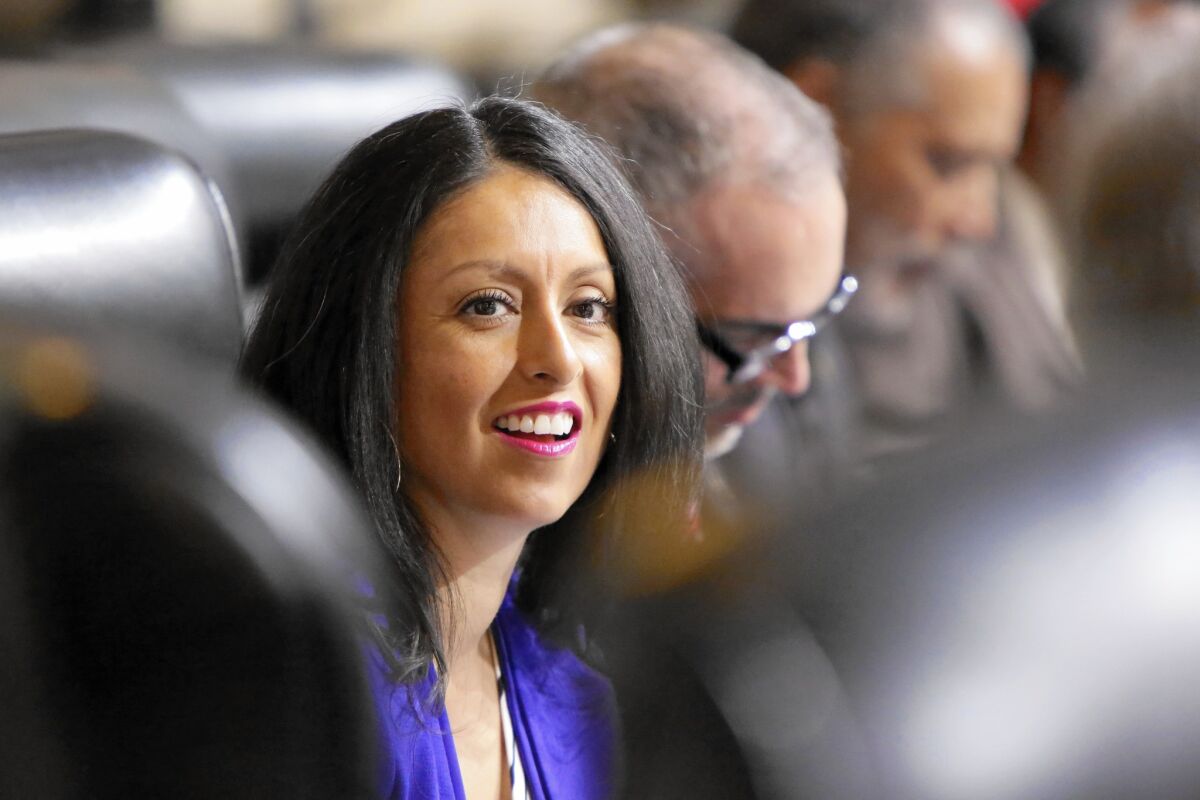 Citing rising crime and burgeoning homelessness, Los Angeles City Council members representing the San Fernando Valley on Thursday called public safety a major concern.
"One of the things that keeps me up at night, I have to say, is public safety," Councilwoman Nury Martinez said.
Added Councilman Paul Koretz: "We're facing some of the toughest issues that we could, and how we respond will greatly impact the Valley and the city and our future."
Public safety and poverty dominated the conversation at the State of the Valley luncheon at the Garland Hotel in North Hollywood, where the elected officials took business leaders' questions as part of a panel discussion hosted by the Greater San Fernando Valley Chamber of Commerce.
"It's such a big issue because if someone comes to your business and they don't feel safe, then they don't want to come in," said Nancy Hoffman Vanyek, chief executive of the chamber.
As they have elsewhere in the city, crime and homelessness have surged in the Valley. As of Sept. 19, there had been a 17% increase in violent crime in the Valley this year compared with 2014, and a 10% increase in property crime, according to data from the Los Angeles Police Department's Valley Bureau.
The Valley's homeless population jumped 8% in the last two years to 5,216 people, according to biennial figures from the Los Angeles Homeless Services Authority.
But the council members in attendance offered few solutions to the problems, which they said were complicated and required more analysis.
Martinez, who represents much of the eastern and central Valley, said that large homeless encampments were becoming a more common sight in her district and that it was appropriate to allocate more resources "for people who actually want help."
"But what do you do with the countless others who do not want help, who refuse to do anything else but stay in those [unauthorized] living quarters?" she said. "My district and my constituents have the right to enjoy parks and be able to walk their kids to school in the public right-of-way, and we need to do something about fixing this."
Councilman Mitchell Englander, who represents the northwest Valley, called homelessness a crisis, saying that though people used to think the problem was geographically isolated in downtown's skid row, now "there is no community that's immune to this."
The City Council on Tuesday declared homelessness a local emergency and pledged to devote up to $100 million to the issue. The city's homeless population overall has risen 12% since 2013.
Englander cited the recent opening of the San Fernando Valley Rescue Mission's 90-bed family shelter in Northridge as a positive step in combating homelessness. But city leaders, he said, need to develop more housing, job training and mental health and addiction services.
"There's a lot more to do," Englander said.
Koretz, whose Westside-based district includes Encino, called for "the right kind of analysis" of crime data "to find out why we did so great for all these years, and suddenly we've done a dramatic U-turn."
Hoffman Vanyek echoed a decades-old complaint: that despite the large size of the Valley, many business leaders still feel neglected when it comes to city leaders addressing public safety and economic issues in their region.
"We're truly the stepchild, it seems like," she said.
---
The stories shaping California
Get up to speed with our Essential California newsletter, sent six days a week.
You may occasionally receive promotional content from the Los Angeles Times.