First & Spring: L.A. eyes plan to hire lobbyist to explore ways to use city-owned land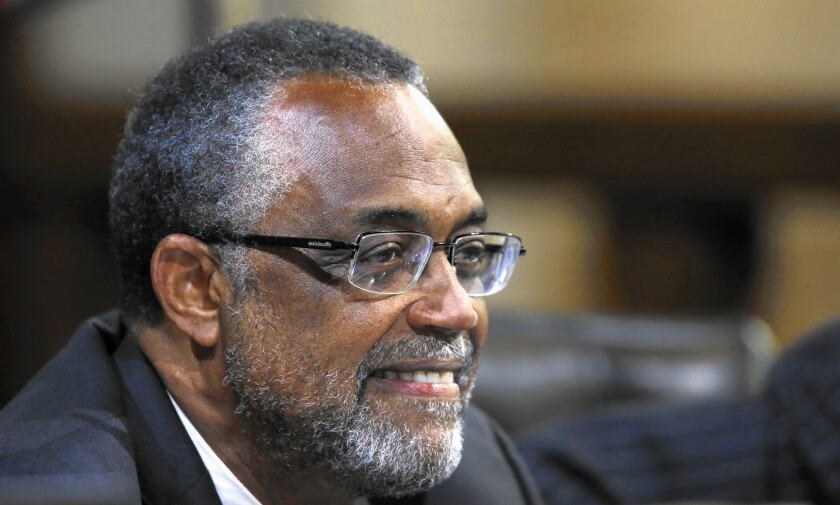 The Los Angeles City Council voted Wednesday to explore whether L.A. should retain a private company to come up with ideas for developing city property — and suggested using a process that would avoid competitive bidding for the work.
Two days later, after The Times asked about the reason for avoiding a bid process, City Councilman Curren Price asked the council to amend his proposal. He said he wanted to head off any perception that he was dictating which company the city should use.
The original plan, which was approved without discussion, sought recommendations from city staff on whether it was feasible to use Altrium Partners on a "sole source basis" to come up with economically and socially beneficial ways to use city property.
A "sole source" process does not involve competitive bidding. The council approved a revised version of the proposal Friday, cutting out the "sole source" language.
Price said he singled out Altrium, which is headed by longtime City Hall lobbyist Ira Handelman, as an example of the kind of firm the city could work with in "underserved" areas. The proposal also states that the city should look at using "any other appropriate entity" for the work, he said.
The councilman, who represents parts of South L.A., said his goal is to examine ways to use vacant or "underutilized" city-owned property to bolster the economy and help the community. Using a "sole source" process, the councilman added, was meant to speed up that plan, not to favor anyone.
See more of our top stories on Facebook >>
The proposal "doesn't say, 'Give them a contract,'" Price said Thursday. "It doesn't say, 'Give them some land.' It says, 'Report back what you find out. Does this make sense?'"
The city charter says Los Angeles must put its contracts out for a competitive bid except in certain cases. For example, city agencies awarding a contract may find that competitive bidding would be "undesirable, impractical or impossible."
Handelman is a registered lobbyist who represents real estate developers doing business across Los Angeles. His consulting firm, Handelman Consulting Inc., earned more than $575,000 in lobbying fees during the first nine months of 2015, according to city lobbying reports.
His new company, Altrium, was formed last year in Delaware and registered with the California secretary of state in December, one day before Price introduced his initial proposal at City Hall.
Handelman said that although Altrium was only recently formed, he and his partner, Matthew Aleksich, had been researching the idea for more than five years. Price, a former state senator, praised Handelman's knowledge of urban redevelopment and said he has known the consultant since he was in Sacramento.
Some critics question the wisdom of using an established lobbyist representing developers to do city real estate work. Doug Haines, who serves on the East Hollywood Neighborhood Council, said that if Handelman wants to perform such work, he should give up his lobbying practice to avoid any potential conflicts of interest.
NEWSLETTER: Get the day's top headlines from Times Editor Davan Maharaj >>
Handelman Consulting had at least five real estate clients in Hollywood last year, according to Ethics Commission reports. Among those was Hollywood Cherokee Ventures, whose proposal for a 224-unit residential project goes before the council Tuesday.
"You don't want to have a consultant who's thinking about his other clients while supposedly serving the public trust," Haines said.
Kathay Feng, executive director of California Common Cause, said someone who had represented developers might be "well placed to be able to evaluate whether property can be used in a more productive way." But she said they should halt that business before working for the city on real estate projects.
"A consultant who has an existing client base of property developers might lean towards proposals that their clients are inclined to push for the city," Feng said.
Handelman said he plans to eventually work solely with Altrium, though he did not specify when. But he disagreed with the idea that there was any conflict between Altrium and his consulting business, saying that any Altrium projects would be different from those of his clients.
"There's no conflict in my mind at all," he said.
Price spokeswoman Angelina Valencia said that if a conflict of interest emerged, "we would not support moving forward" with the idea. She stressed that "no one is being hired at this point."
Price's proposal gives no details about the terms of any possible deal between Altrium or any other company. Jan Perry, who heads the city Economic and Workforce Development Department, said her agency will prepare a feasibility analysis to decide the best approach for developing city-owned property.
She declined to speculate how Altrium might be involved, saying she is performing her "due diligence."
Handelman said that if Altrium were selected by the city, any development projects that the firm came up with would still have to be evaluated and vetted by the city.
Follow @LATimesEmily and @DavidZahniser for breaking news from Los Angeles City Hall.
ALSO
Finally, a smart approach to helping L.A.'s homeless
L.A. lawmakers obtain formal power over 2024 Olympic bid
D.A. Lacey under pressure after Beck recommends criminal charges against officer in fatal shooting
---
The stories shaping California
Get up to speed with our Essential California newsletter, sent six days a week.
You may occasionally receive promotional content from the Los Angeles Times.