Do you still love L.A.? The high cost of housing is testing our affections, poll shows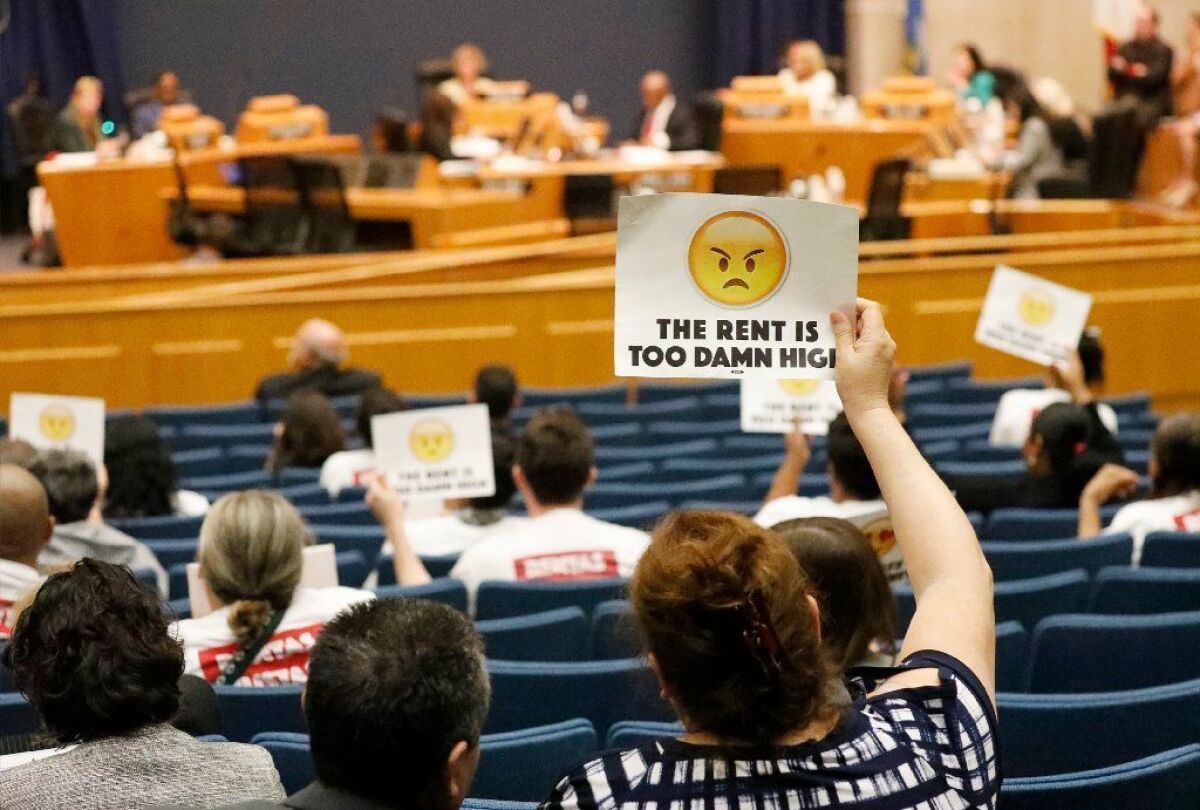 A majority of Angelenos say they're satisfied with their healthcare, public safety and neighborhoods — even their relationships with people with other races and religions.
Yet their opinion on their overall quality of life is just meh.
Why?
It's too expensive here, a new poll suggests.
The high cost of living — for housing, in particular — continues to be a drag on their satisfaction, according to a recent UCLA quality of life survey conducted in Los Angeles County.
"The overall rating is one point above the midpoint, which suggests an overall mediocre rating," said Zev Yaroslavsky, who oversaw the survey as director of the Los Angeles Initiative at the UCLA Luskin School of Public Affairs. "No way to get around that."
The annual survey examines several categories, including transportation, the economy and education. The responses are then weighted by their relative importance to Angelenos, forming an index of the general quality of life.
While satisfaction with some areas, such as the economy, has improved since the survey began in 2016, the most dramatic drop has been for the cost of living. For the first time, a majority of respondents say that housing is the most important factor to their overall satisfaction — suggesting that the rising cost of it is a factor in their views, the report says.
In general, homeowners and older residents were slightly more satisfied with the cost of housing, yet cost concerns cut across all income levels, according to the survey.
The results show the clear effect of the issue on Angelenos' lives and perhaps on the region's future.
The survey found, for example, that more than half of the respondents — about 57% — say they or their close friends or family members have considered moving because of rising costs. More than 70% of renters have had that experience.
Despite those growing concerns, the survey did show some progress in other areas over time.
A strong majority of respondents said they were happy with their healthcare, neighborhoods and relationships with residents of different races and religions, though those categories appeared to be less salient in Angelenos' lives. The poll also found that county residents' overall satisfaction with their jobs and the economy has increased significantly since UCLA began the survey four years ago, up from an index score of 52 to 59.
There was, however, some evidence of a difference in satisfaction among Angelenos by age, income and housing status.
In addition to the quality of life questions, the survey also asked Angelenos about the Woolsey wildfire, which burned 96,000 acres, destroyed 1,600 structures and killed three residents last year.
About three in four of the respondents said residents whose homes were destroyed should be allowed to rebuild in the same neighborhood. Yet a similar number said they were opposed to new development in areas with a high wildfire risk.
While the fire — the most destructive in county history — has informed Angelenos' views about development, the survey indicates it also might have contributed to a five-point drop in satisfaction about the local environment, down to 56% from 61% four years ago.
Last year, about 23% of respondents said "steps being taken to deal with climate change" was most important. That increased slightly to 28% this year.
"Clearly, we have seen an increase in concern about climate change this year," said Yaroslavsky, a former member of the Los Angeles County Board of Supervisors. "This undoubtedly has to do with the disastrous California fires we experienced."
To come up with their findings, researchers conducted interviews online and by phone with 1,400 county residents earlier this spring. They asked respondents to rate the issues most important to their quality of life — and their satisfaction with each. The poll has a margin of error of plus or minus 2.6 percentage points.
The overall quality of life index score this year was 56, the same as last year — essentially midpoint on a scale of 10 to 100.
Still, the findings, which were presented at a UCLA conference last week, offer a roadmap to local leaders for focusing their attention and public investment.
"This survey is important to our region and its communities, in that it helps capture at a point in time what county residents consider most important to them, personally," said Yaroslavsky.
The stories shaping California
Get up to speed with our Essential California newsletter, sent six days a week.
You may occasionally receive promotional content from the Los Angeles Times.