'Buy a lady an overpriced drink?' L.A. police say bar scam is widespread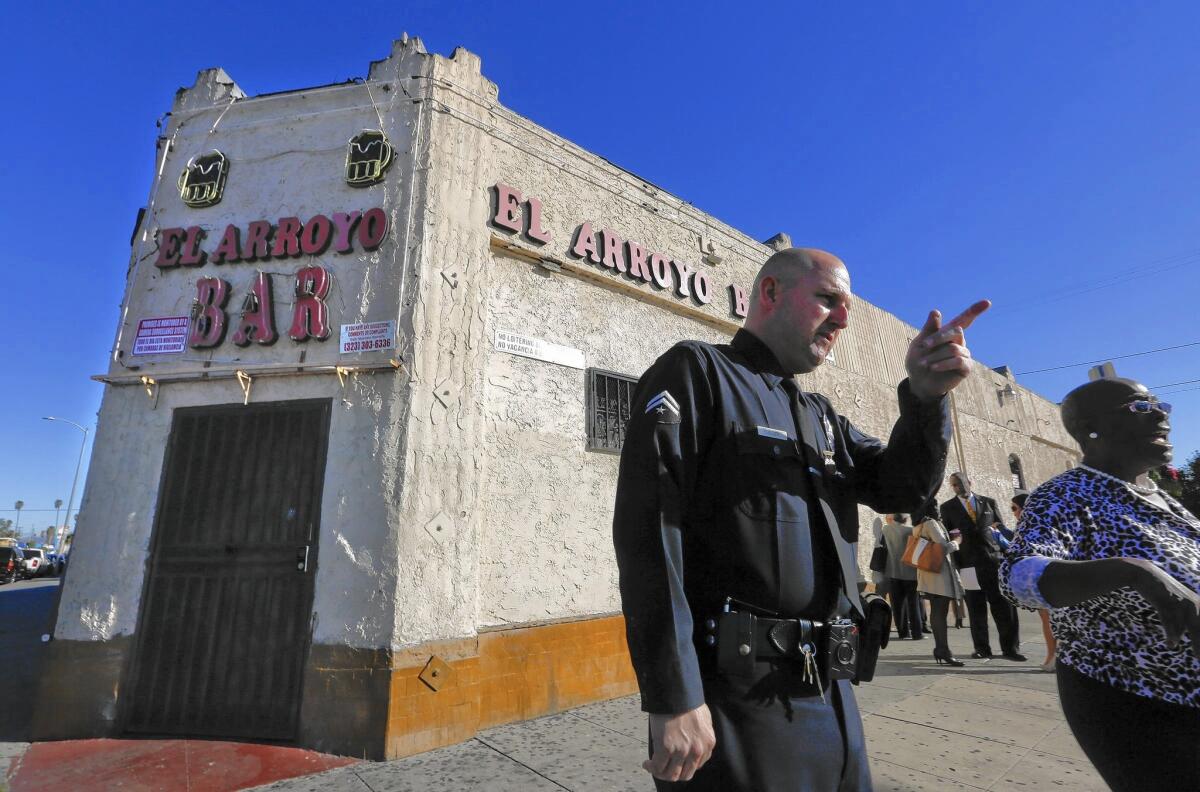 It's a scene that plays out at bars around the world: under the dimmed lights, a man orders a lady a drink. But at El Arroyo Bar in South Los Angeles, authorities said, some men ordered drink after wildly overpriced drink, over and over again, as a usually scantily clad young woman sat by their side.
She was a fichera, and her job was to gently coax the usually male immigrants from Mexico or Central America to buy her drinks that could cost four times their regular price. In exchange, such women sit with them, dance a little, flirt and maybe lend a sympathetic ear as the men relax after a long day. The bartender pays the women for every cocktail they can get the customer to buy them.
"The patron's wallet is wide open," said Capt. Jorge Rodriguez of the Los Angeles Police Department. "In a short period of time, they can rack up a big bill and get scammed out of a lot of money."
See the most-read stories this hour >>
In September, undercover cops watched from the back of El Arroyo Bar as three ficheras dressed in hot pants and low-cut shirts sipped on miniature cocktails purchased for them. The bartender stuffed wads of cash in the women's hands after the men bought a round of drinks. Fichera is derived from the word ficha, which is a slang term for bottle cap.
The practice violates laws that prohibit the solicitation of alcoholic beverages. Over the years, El Arroyo Bar has incurred tens of thousands of dollars in fines for employing ficheras. The women and the bar manager, Marcelo Barrales, have also been charged with misdemeanors.
This week, city officials voted to shut down the bar as part of an ongoing effort to crack down on problematic businesses that drain city resources and attract illegal activity.
The years-long investigation into El Arroyo Bar offered a peek into the little-known world of fichera bars that have sprung up across South L.A. as waves of immigrants from Mexico and Central America moved into once historically black neighborhoods.
Such practices are not unique to bars in the Latino community; for example, the LAPD says women are employed to do the same thing in establishments in the Korean community. And in Little Saigon in Orange County, hostesses at coffee houses are employed to encourage customers to order pricier fare, including drinks.
Ficheras can be found in small neighborhood bars around Huntington Park, East L.A. and now South L.A., particularly along Florence Avenue.
"I don't know if it's growing or if it's spreading," LAPD Officer Justin Fuller said. "It has always been a common thing."
A typical beer at these places costs about $5, but patrons are charged $15 to $20 for one mixed drink for a fichera, Fuller said. Those beverages are watered down, "soda with a splash of alcohol," as Capt. Rodriguez described it, and served in smaller, 7-ounce cups. The women are paid by commission and split the profit with the bar. They often do not earn an hourly wage or any benefits.
Management at El Arroyo Bar has repeatedly denied that it allows women to solicits drinks.
In a phone interview, Alejandro Barrales, the 26-year-old son of the manager and grandson of the owner, Juan Barrales, said he never saw any ficheras during the occasional times he worked the register at the bar.
"We have waitresses and servers," who follow a dress code, he said.
The bar's uniform consists of black shorts and different colored T-shirts, which the women coordinate to match, and a name tag, he said. Barrales believes El Arroyo Bar's bad reputation preceded it from the days when it operated as Los Amigos under a previous owner.
In 2009, his grandfather purchased the bar. That same year, the city attorney's office deemed the establishment a nuisance.
"How come we are the only ones they are trying to shut down when other bars have more trouble?" he said.
City officials said neighbors complained of used condoms in El Arroyo Bar's parking lot and reported lewd conduct near the bar.
Police said the bar was a breeding ground for illegal activity. There were 29 arrests in the last four years and the bar was cited for more than 50 violations of state and local law.
Resident Stephanie Campbell said children had to walk through the alleys to avoid sidewalks soiled with urine and feces from drunk patrons.
Los Angeles Councilman Curren Price, who represents the 9th District, stood outside the bar Tuesday to announce the closure as neighbors watched, some looking bewildered.
"The notorious El Arroyo Bar has been a nuisance that has robbed this community of a peace of mind," Price said. "This problem is finally being solved."
To some neighbors, the bar was just a spot to enjoy a cold brew.
That's how Edgar Rodriguez saw it. Two weeks ago, he and a friend drank some beers there. Though he noticed men buying women drinks, he thought nothing of it.
"The bar activities do not spill into the outside," Rodriguez, 22, said. "I don't understand how the kids don't feel secure. The bar is closed during the day."
Later that night, a block away, the signs for Fuego nightclub flickered on. Police said some of the same ficheras who had been employed at El Arroyo Bar also work there.
Twitter: @AngelJennings
ALSO:
Citing big pay, lawmaker calls for state audit of L.A. County Fair Assn.
Police warn of kidnapping extortion scam targeting Southland residents
Claremont McKenna dean resigns after students protest campus racial bias
Sign up for Essential California for news, features and recommendations from the L.A. Times and beyond in your inbox six days a week.
You may occasionally receive promotional content from the Los Angeles Times.