Palos Verdes Estates man acquitted of murder last year arrested on suspicion of carjacking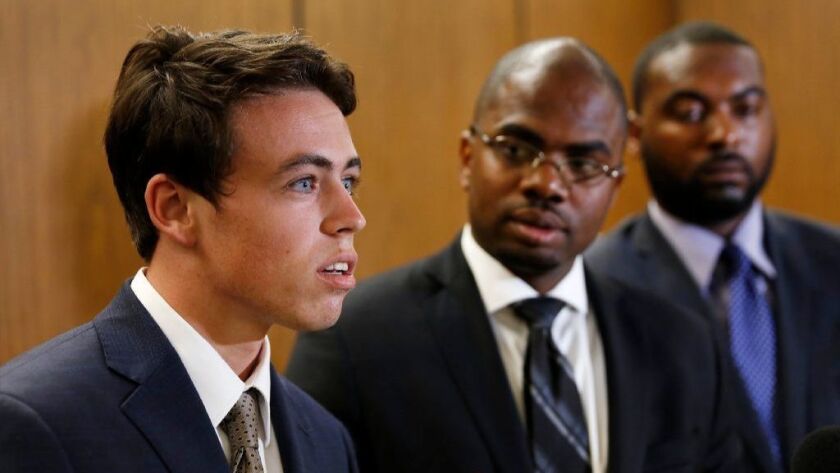 A college student from Palos Verdes Estates who was acquitted last year in a South Los Angeles killing was arrested Tuesday night on suspicion of carjacking, according to the man's attorney and arrest records.
Cameron Terrell, 19, was arrested at 6 p.m. in Palos Verdes Estates, internal Los Angeles Police Department arrest records obtained by The Times show.
Terrell's attorney, Jovan Blacknell, confirmed the arrest in an email. He said that the incident is not recent and occurred before the 2017 killing of 21-year-old Justin Holmes. Terrell and two other teens were arrested in connection with the slaying.
"When the homicide did not stick, they tried to find something else," Blacknell said. The attorney said he did not have specifics about the new case.
"His arrest was intentionally done by surprise on his spring break to interrupt his schooling," Blacknell said. "There is no other explanation as to why they would do this now."
The LAPD issued a statement Wednesday night confirming the arrest but declined to give specifics on the crime. Police said that during the investigation into Holmes' killing, evidence "was discovered by investigators for additional felony crimes, and due to the dates of those incidents, they could not be charged concurrently" with the murder case. Terrell was a juvenile at the time of the other alleged felony crimes, police said.
Police confirmed that Terrell is being held without bail.
Last July, a jury found Terrell not guilty of murder in the killing of Holmes.
On Oct. 1, 2017, Holmes was walking with two friends near South Western Avenue and West 78th Street when two teenagers got out of a black Mercedes-Benz and asked about their gang affiliation.
The two people with Holmes ran. Holmes, who worked for U-Haul, told the teens he wasn't from a gang. One of the juveniles shot Holmes, then ran to the black car, driven by Terrell and registered to his father.
The case first grabbed headlines after Terrell's family was able to post the $5-million bond, which required $500,000. After his release, Terrell was able to finish high school off campus.
Much of the trial focused on Terrell's alleged gang affiliation. His attorney told jurors that Terrell was having problems at home and began hanging out at Jesse Owens Park in South Los Angeles. There, he met another teenager who would later join a gang.
Prosecutors told jurors that Terrell was fully committed to the gang, and even got a gang tattoo. As evidence, prosecutors showed jurors social media accounts of Terrell throwing gang signs and flashing weapons. Following his acquittal, his attorney said at the time that he was going to attend the University of Houston.
Holmes' family has filed a wrongful-death suit against Terrell and his family.
For more crime news, follow @nicolesantacruz on Twitter.
---
The stories shaping California
Get up to speed with our Essential California newsletter, sent six days a week.
You may occasionally receive promotional content from the Los Angeles Times.