Prominent attorney is accused of killing scavenger, with the help of highway patrol officers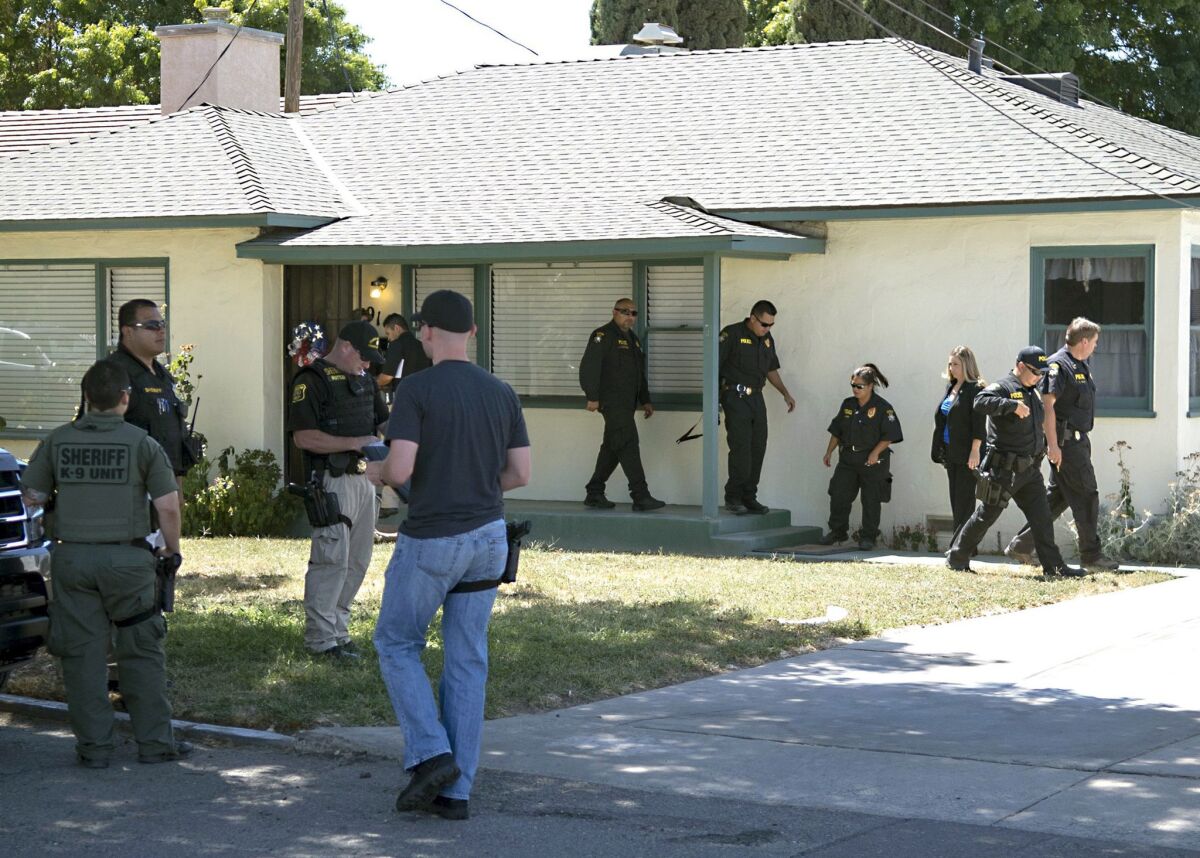 Three California Highway Patrol officers, a Modesto criminal defense attorney and five others have been arrested in connection with the 2012 killing of Korey Kauffman, a 26-year-old Turlock resident whose body was found more than a year later by hunters in a remote Mariposa County forest.
The arrests — on charges of first-degree murder, conspiracy and lying in wait — follow an investigation by the Stanislaus County Sheriff's Department with help from the Stanislaus County district attorney's office; police in Turlock, Modesto and Ceres; the California Department of Corrections and Rehabilitation; and the state Department of Justice.
Frank Clifford Carson, a prominent defense attorney who ran for Stanislaus County district attorney in 2014, is portrayed in a 334-page affidavit in support of the arrest warrants as aggressive; dismissive of help from law enforcement; angered by repeated thefts of antiques, car parts and other materials from his Turlock property; and intent on retaliating against those responsible.
Interested in the stories shaping California? Sign up for the free Essential California newsletter >>
Carson's property backs up to the home where friends last saw Kauffman on March 30, 2012, after he stated that he was going to steal some irrigation pipe stacked in Carson's yard. According to his stepfather, who first reported him missing, Kauffman made a living as a "scrapper" or scavenger of metals.
Carson was arrested on suspicion of first-degree murder, with enhancements that include lying in wait, false imprisonment, conspiracy and the use of a firearm.
Also arrested on similar charges were his wife, Georgia DeFilippo; Daljit Singh Atwal and Baljit Singh Athwal, owners of the nearby Pop N Cork; Robert Lee Woody, a felon who was already incarcerated on charges related to Kauffman's killing; and Walter Wells, who was stationed with the CHP in Merced but is no longer employed there, according to the agency.
No bail was set for any of them.
Two other CHP officers who work out of Merced — Eduardo Quintanar Jr. and Scott J. McFarlane — were arrested on suspicion of conspiracy to commit a crime and being accessories; each is being held in lieu of $250,000 bail. They have been placed on administrative leave and have had their peace officer powers revoked pending the results of the Highway Patrol's internal investigation.
Carson's daughter was arrested on suspicion of the same counts, with bail set at $50,000.
A spokesman for the Stanislaus County Sheriff's Department said he expects the district attorney's office to file charges against the group Monday. No attorneys representing any of those arrested could be reached for comment late Friday.
The affidavit paints a picture of a cozy relationship among the officers and Atwal and Athwal, two brothers who entertained the officers with parties in a back room of their store; the officers allegedly tried to intervene when the brothers came under suspicion.
For years, Carson had been filing complaints about burglaries that he believed stemmed from the home behind his. Wiretaps and seized computers indicated that his daughter expressed concern a little more than a year before Kauffman's disappearance that her father was "freaking out" about the burglaries and was going to be at the property with a gun.
Interviews disclosed in the affidavit also contend that Carson had helped a man bail out of jail so that he could "do something" to the people living at the home behind his and that rumors circulated that he had asked Atwal and Athwal to do the same.
The affidavit states that Woody, the felon, told his son he heard gunshots at Carson's property that night.
Cellphone records placed Athwal in Mariposa County just after Kauffman's disappearance.
The affidavit states that all three CHP officers withheld information during the investigation, and that Wells may have been in possession of Kauffman's cellphone after he is believed to have been killed.
Twitter: @leeromney
Hoy: Léa esta historia en español
ALSO:
Spurned by local law enforcement, ICE stages elaborate immigration raids
Many poorer areas of L.A. get less trash service, analysis shows
A knife, a robbery and a woman shot dead by the LAPD -- residents ask why
---
Life is stressful. Our weekly mental wellness newsletter can help.
You may occasionally receive promotional content from the Los Angeles Times.