Betsy DeVos scheduled, then canceled, a visit to an L.A. charter school that emphasizes special needs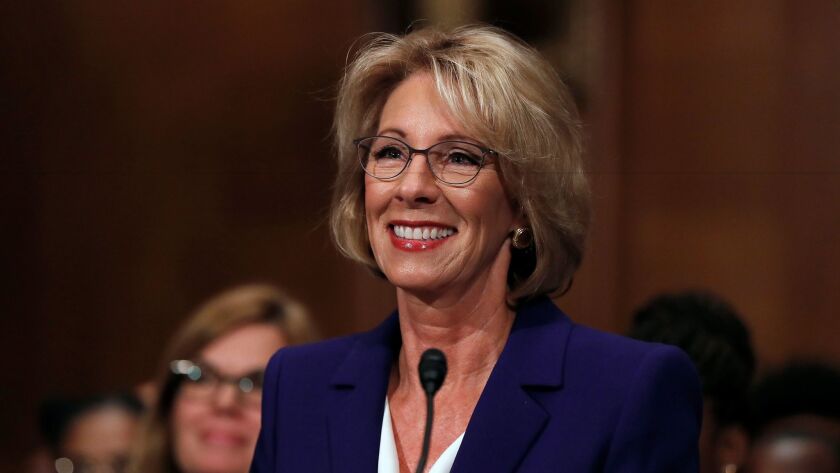 The news spread quickly among the parents of the CHIME Institute's Schwarzenegger Community School.
They had received no official notice, but they picked up the reports that Betsy DeVos — Donald Trump's secretary of Education, whose confirmation many of them had opposed — planned to visit their Woodland Hills school on Monday when May Day marches were planned in downtown L.A. and elsewhere.
Shortly after parents began posting about the visit in a Facebook group, some began planning protests, as did at least one outside group.
But by late Sunday afternoon, federal officials, citing scheduling issues, said DeVos would no longer come. Parents received a robocall confirming as much — their first word from the school on the visit. "I did not want to provide any information until I was absolutely sure," CHIME's executive director, Erin Studer, told them.
Parents' reactions were complicated, as has often been the case as DeVos makes herself known to America's schools. On her first visit to a public school in Washington, D.C., protesters all but chased her off the premises — though she eventually made her way into the campus. Meanwhile, embarrassing video of her reception made the rounds on the Internet.
CHIME is a charter school that focuses on integrating students with special needs into academic and social life. Special education was a particularly weak point for DeVos during her confirmation hearing, which wasn't lost on parents.
"Trusting that she would understand all the minutiae and complexities of special education was really scary to me," said CHIME parent Dawn Hamilton.
But Rose Beemer, who has several children at CHIME, said that though she was initially surprised that the school would host DeVos, she wound up posting a statement in support of the visit, because "I did see the opportunity as a wonderful one for the school to gain attention." One of her children is on the autism spectrum, she said, and has learned language and made friends since starting at CHIME.
Some parents were worried about the effect that media coverage and possible protests would have on CHIME's students, particularly those who are sensitive to noise. But they also saw how the publicity could help them.
"I went back and forth between concern and mild horror to then thinking OK, it would be great to share our school," Hamilton said. She said her daughter Emerson, who has cerebral palsy, is receiving all of her therapies and services within the classroom, leading to a more inclusive experience.
When DeVos canceled, Hamilton was relieved, but also disappointed that "this was a missed opportunity to educate" DeVos.
Four parents interviewed by The Times said they assumed the visit was called off out of fear of protests — though protesters are more or less a constant for DeVos.
Her press secretary, Elizabeth Hill, insisted a scheduling conflict was to blame, though she would not specify what it was. "The visit just no longer worked for the schedule," she said.
On Monday morning, parents dropping off their children noted the presence of several police cars. Other than that, they said, it was a typical Monday morning.
---
The stories shaping California
Get up to speed with our Essential California newsletter, sent six days a week.
You may occasionally receive promotional content from the Los Angeles Times.