Deasy's exit reflects other school battles across the U.S.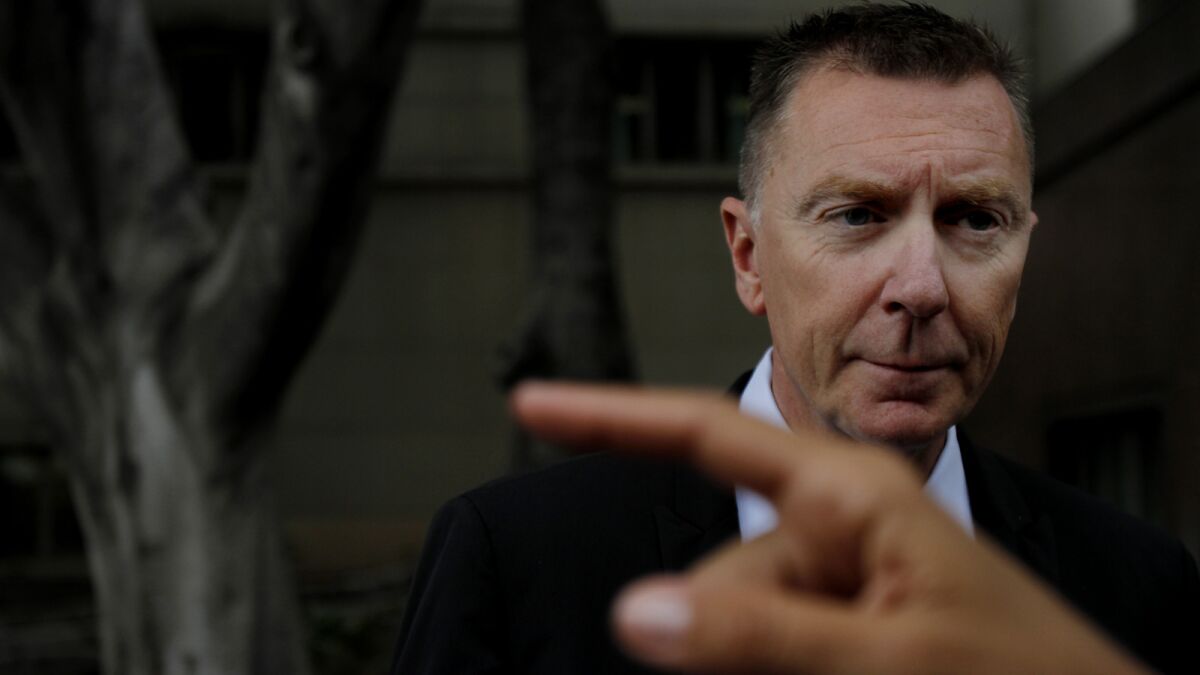 John Deasy was one of a group of big-city school leaders to push for radical change: More independent charter schools, using student test scores to help evaluate teachers and relying less on seniority when teachers are laid off.
And Deasy's departure as L.A. schools superintendent last week shows how difficult it has been for them to succeed.
Top leaders in some of the largest districts — in Chicago, Philadelphia, New York, Washington, D.C., Texas and elsewhere — have come under tremendous pressure: some lost their jobs, one faced a massive teachers strike, and lawsuits have been filed against them, among other things.
These administrators have been fought by teacher unions and some community activists who have joined to oppose so-called corporate reform because it often involves data-driven performance reviews that can affect high-stakes personnel decisions, and expanded school choice for parents that includes charters.
Deasy left the L.A. school district last week after 31/2 years, during which time he clashed repeatedly with the teachers union and struggled to maintain solid relations with some school board members. Union leaders say Deasy's exit marked a repudiation of his policies.
"Deasy's resignation is a reflection that this top-down, my way or the highway, competition-driven, test-score-fixated way of doing schooling is not working," Randi Weingarten, president of the American Federation of Teachers, said in an interview. "The John Wayne strategy does not work."
Deasy supporters sharply dispute that. They assert they want to hold teachers and schools to higher performance standards so that children, especially those in poor communities, receive a quality education. The unions, they said, feared that those policies would weaken their power.
"The job of a good superintendent like John Deasy is to push hard for school improvement, and too often good superintendents get a lot of grief for trying," said Bruce Reed, president of the Eli and Edythe Broad Foundation in Los Angeles, which provides funding for an academy for superintendents. "In L.A. and cities across the nation, we still have a long way to go to give kids the equal education they deserve, and we should all be pushing harder and faster for equal opportunity. Parents don't want a go-slow approach."
------------
For the Record
Oct. 21, 3:20 p.m.: An earlier version of this article misspelled Edythe Broad's name as Edyth. Also, it misstated the relationship between the Broad foundation and the academy for superintendents.
------------
The fight between these forces is intensifying nationally.
"There is clearly a pushback, and it's having a real effect," said Frederick M. Hess of the American Enterprise Institute, a Washington-based conservative think tank. "The riptides are so strong that even a superintendent like Deasy, who tried to be strategic and deliberate, got pulled out in the undertow."
Deasy left his job in the nation's second-largest school system despite gains in such areas as student test scores, graduation rates and attendance since he took over in 2011. But his ability to lead was compromised by a confrontational teachers union, a shift in the school board makeup and back-to-back policy snafus on two technology projects, the iPad rollout and the computerized student information system.
The fate of his key policies are still unknown. But they and similar efforts across the nation are facing new challenges.
Charter schools, which are independently run but publicly funded and frequently non-union, are embroiled in bitter battles in New York, Louisiana and elsewhere. In New York, Mayor Bill de Blasio succeeded charter enthusiast Michael R. Bloomberg and vowed to start charging charter schools rent and temporarily forbid new schools from using public facilities. With the backing of Gov. Andrew M. Cuomo, charter advocates succeeded in winning the right to use public space, but De Blasio remains ambivalent.
The Journey for Justice Alliance, a new educational advocacy group funded by national teacher unions and such philanthropists as the Ford Foundation, has unveiled a new tactic against charters: federal civil rights complaints.
The Advancement Project has helped parents in Newark, New Orleans and Chicago file complaints with the federal government, arguing that the closure of their neighborhood public schools and the expansion of charters violate their children's educational rights. In Chicago, closures of some campuses have created massive overcrowding at others, and some students in New Orleans were denied admission to nearby charters and forced to attend distant alternatives, said Jitu Brown, national director for the Chicago-based Journey for Justice.
In Los Angeles, United Teachers Los Angeles is pushing contract proposals requiring stricter oversight of charters and other sweeping changes in struggling schools, such as replacing staff and curriculum. Union President Alex Caputo-Pearl said his members will work to slow charter approvals in favor of a "community schools" model that widely collaborates in developing reforms.
Jed Wallace, chief executive of the California Charter Schools Assn., said parents will continue to back charter schools. Nearly a quarter of L.A. Unified students attend those campuses, with tens of thousands on waiting lists — a show of support, he said, that charter opponents cannot stop.
"They can make it more difficult, but ultimately they cannot stop this process from happening," he said.
Standardized testing is another hotly contested subject. Diane Ravitch, an education historian and critic of Deasy and others with similar positions, called testing the "linchpin of the corporate reform movement" because low scores can open the door to school takeovers by private operators. They are also being used for such crucial decisions as teacher hiring, firing and pay in some districts, with instructors judged in part by their students' gains in test scores.
Resistance to standardized testing has mushroomed across the nation, with student unions forming against them in such cities as Providence, R.I., and Portland, Ore. In Texas, 90% of school districts have adopted resolutions against high-stakes testing. In Florida, 11 school districts representing 42% of public school students called for the state to suspend standardized testing.
Caputo-Pearl said the union would push for changes in Deasy's teacher evaluation system, including an end to testing data for anything other than framing goals or shaping teaching practices.
That will probably draw a challenge from organizations such as EdVoice, a Sacramento-based educational advocacy group funded by the Broad Foundation and others. Bill Lucia, the group's executive director, said California court rulings have ensured that policies involving teacher evaluations and job protections would continue regardless of who runs the school district.
In 2012, an L.A. County Superior Court judge affirmed that state law required the use of student test scores in teacher evaluations, while another judge this year struck down five laws involving traditional teacher job protections, saying they violated students' constitutional rights to an equal education by keeping "grossly ineffective" teachers on the job. Deasy supported both cases.
Most agree that the growing backlash against testing, charters and other policies opposed by teacher unions and other activists is spelling peril to superintendents who push them. Last week, former school superintendents in Oakland and Sacramento spoke out in support of Deasy, saying their efforts to push changes had also sparked huge teacher union opposition.
Tony Smith, the former head of Oakland's schools, said some of his changes — including closing schools, sidestepping seniority rules and requiring some teachers at failing campuses to reapply for their jobs — prompted union members to march on his house in protest.
"Anybody who is talking about putting students first from the superintendent's seat is a target," Smith said in an interview.
Hess said Deasy's departure follows the exit of similarly minded school chiefs, such as Joel Klein in New York and Michelle Rhee in Washington, D.C. He predicted that their critics could aim to take down others like them, such as Tom Boasberg in Denver, Terry Grier in Houston or Rhee's successor in D.C., Kaya Henderson.
"Deasy was one more domino in the chain," Hess said. "The biggest effect is that the anti-reform angst that got targeted on Deasy will now rush to find a new target, and some superintendent who was getting less attention is now about to win the lottery."
Twitter: @teresawatanabe
Twitter: @stephenceasar
The stories shaping California
Get up to speed with our Essential California newsletter, sent six days a week.
You may occasionally receive promotional content from the Los Angeles Times.