As more universities drop SAT and ACT requirements, Cal State chancellor asks for a closer look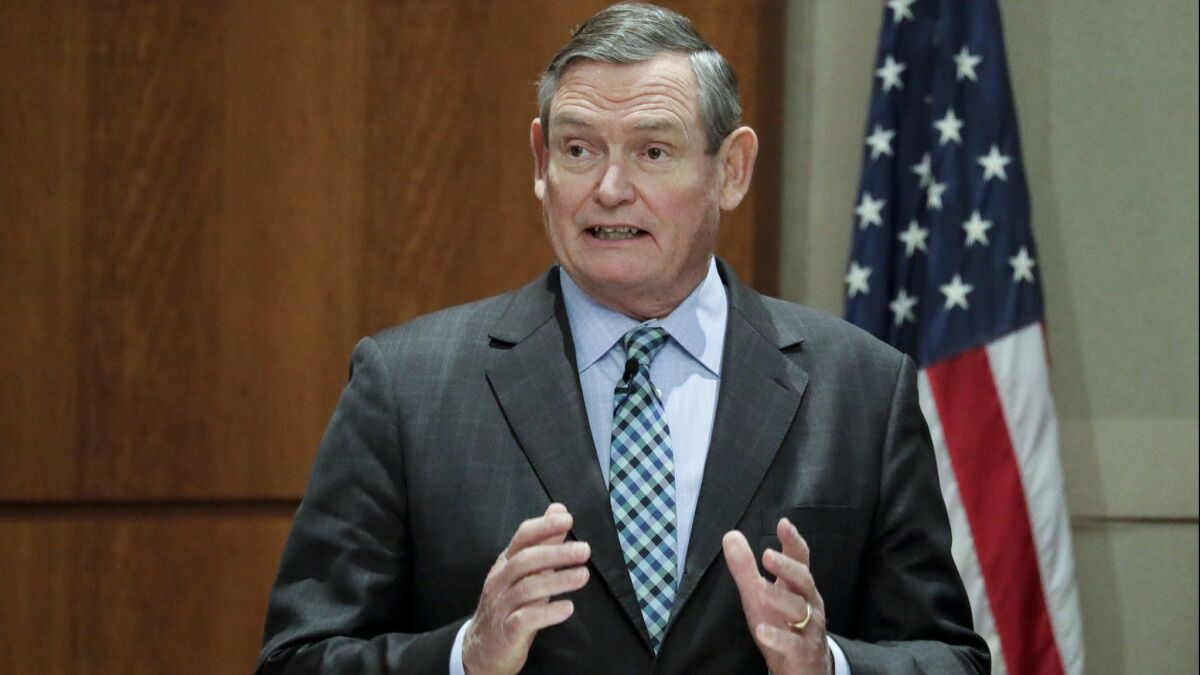 California State University Chancellor Timothy P. White said Wednesday that he has asked academic leaders to study whether the SAT and ACT are valid predictors of student success, raising hopes that the nation's largest public university system will ultimately drop standardized test scores as admission requirements.
Several studies have found that the tests do not accurately predict whether students can do well in college. Critics also argue that they place low-income students who can't afford expensive test prep at a competitive disadvantage. Those concerns have prompted a growing list of more than 1,000 colleges and universities — including the University of Chicago — that have made the tests optional.
White said he shared concerns about the tests' limitations and wanted to make sure that Cal State applicants are subject to "meaningful evaluations."
"We do focus on being inclusive rather than exclusive," White said after an appearance Wednesday at Cal State Northridge. "There is a lot of evidence that [standardized testing] has a bias against students based on their demographics. There's no doubt about that. What I want to make certain of is that there isn't an unintended consequence of any sort of changes that create other problems."
White said he expected to make an announcement on the issue "pretty soon."
Last week, the University of California's faculty leaders announced that President Janet Napolitano had asked them to study how the standardized tests are used in the admissions process and whether changes are needed.
White said the news from UC prompted him to ask a Cal State Academic Senate committee and a systemwide admissions advisory task force to launch a similar study.
Cal State leaders plan to discuss the issue with their counterparts in the UC Office of the President "in the very near future," said Cal State spokeswoman Toni Molle.
A decision by UC and Cal State to drop the tests would upend the nation's education landscape. The two systems educate more than 720,000 students from every state in the nation and exert outsize influence on national educational trends.
When UC changed its testing requirements in 2003 to include demonstration of students' writing ability, the College Board — which administers the SAT — and ACT Inc. added writing components to their tests to fit the bill.
UC Regent Eloy Ortiz Oakley, chancellor of the California Community Colleges, has called for an end to the testing requirements. On Twitter, he has urged students to post their test experiences and ask their universities to #DroptheSAT.
Oakley told The Times last week that the tests are a better measure of wealth than preparedness.
UC Merced Chancellor Dorothy Leland, whose campus has the UC system's highest proportion of students who are first-generation, low-income or living in the U.S. illegally, also told The Times last week that she believes the standardized tests are biased and that alternative, better methods are available to predict whether students can thrive in college.
In April, a major study of more than 950,000 applicants to 28 colleges and universities found the tests failed to fully identify talented students capable of college success. Campuses that dropped the test requirements, the study found, saw an increase in applicants, including more black and Latino students.
Twitter: @teresawatanabe
The stories shaping California
Get up to speed with our Essential California newsletter, sent six days a week.
You may occasionally receive promotional content from the Los Angeles Times.