That mysterious $1.5 billion found in an audit? Cal State says it's 'nothing nefarious'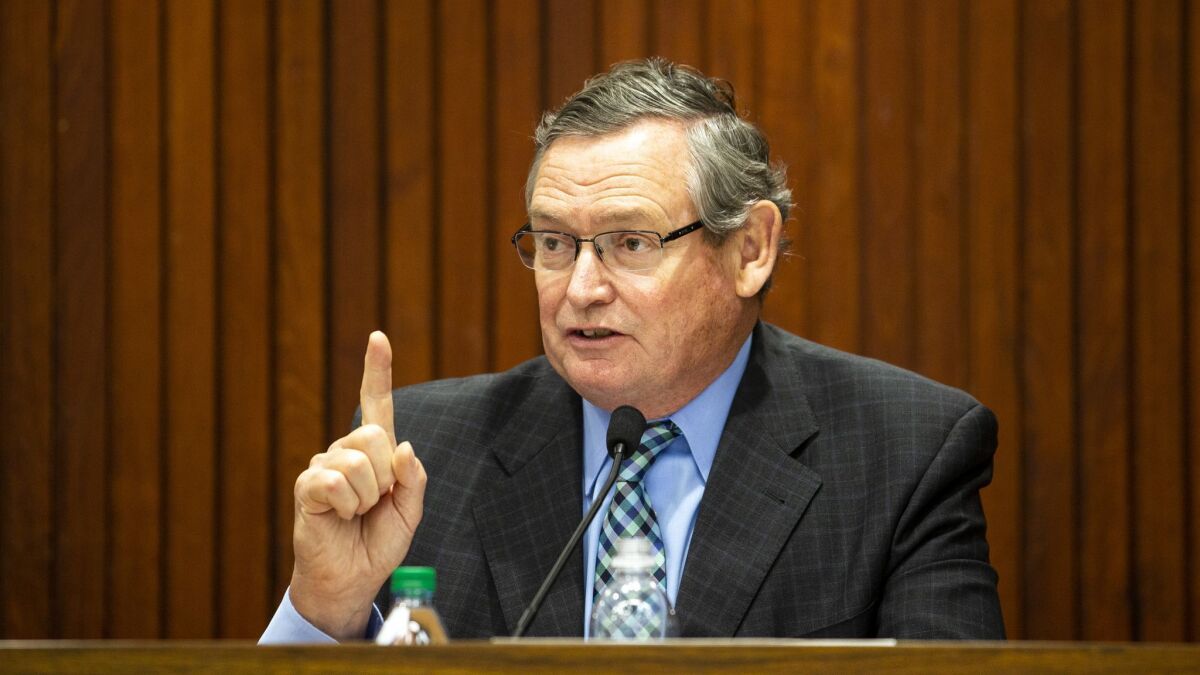 Is California State University hoarding a $1.5-billion surplus, hiding it from legislators and students while threatening to hike tuition unless the state ponies up more money?
Or is Cal State just socking away money in a rainy day reserve, prudently using it for onetime needs, such as building projects, and fully disclosing it in multiple public meetings and documents?
It depends on whom you ask.
A state audit released this week found that the Cal State chancellor's office accumulated a "discretionary surplus" in outside accounts of more than $1.5 billion as of last June, primarily from excess tuition revenue.
Cal State did not come clean about the largesse, according to the audit, which looked at spending between 2008 and 2018. University officials failed to mention the then-$1.4-billion surplus in an "academic sustainability plan" submitted to the state Legislature in 2016 and similarly withheld the information in legally-required meetings with students about potential tuition increases.
Cal State did properly safeguard the funds, the audit found.
But while squirreling away the money, university officials also requested and received several state funding increases, and repeatedly raised tuition during the years of the audit. Tuition, for instance, increased from $3,048 to $5,742 over that decade.
The money "is available for CSU to spend at its discretion to support instruction and other operating costs," California State Auditor Elaine Howle said in a letter to Gov. Gavin Newsom and legislative leaders on Thursday. "By failing to disclose this surplus … the Chancellor's Office has prevented legislators and students from evaluating CSU's needs in light of its unspent financial resources."
Cal State leaders sharply disagree with those findings, calling them misleading and unfair.
"Those who think we're doing something on the sly just really are totally, totally inaccurate," Cal State Chancellor Timothy P. White told The Times. "There is nothing nefarious here."
White said the audit promotes two major misconceptions about the finances of the nation's largest four-year university system.
First, he said, the money is not a "surplus," meaning that it's not extra money that can be used for ongoing, permanent costs, such as salaries or hiring faculty.
White calls the money an "operating reserve" made up of three pots: cash reserves ($662 million), which is used for debt service, for example, or for fronting financial aid for students until their federal money comes in, plus capital facilities and maintenance ($376 million) and a third reserve to guard against an economic downturn ($459 million).
"You cannot use onetime dollars — a piggy bank, if you will — to pay ongoing costs," he said. "When you do, you go bankrupt."
He noted that the Public Policy Institute of California recently lauded what it called Cal State's "prudent savings strategy." The institute said Cal State's growth in operating reserves was "key to preserving access and maintaining strong student outcomes during the next recession."
The second misconception in the audit, White said, was that his office hid information about the money from legislators and students.
In fact, he said, Cal State has disclosed the reserves in more than 30 documents, at a September 2017 board meeting dedicated to the budget attended by student leaders, and in regular reports to trustees and other officials.
He said Cal State did not include the information in the "academic sustainability plan" to legislators or in the meeting with students that was in the audit because those events focus on ongoing costs, while an "operating reserve" is used on onetime expenditures.
Adam Day, chairman of the Cal State Board of Trustees, agreed that university officials have fully disclosed and discussed the reserves in numerous public meetings during the five years he has served. He believes the reserves are actually too low — covering only about half of the five to six months of operating costs that experts recommend.
But Cal State's explanations haven't mollified critics.
Mia Kagianas, president of the Cal State Student Assn., said it was "disappointing and concerning" that Cal State officials did not disclose the funds while consulting with them about tuition levels.
The CSU Employees Union blasted university officials. "For years, the CSU has claimed 'poverty' and now we find they've been holding $1.5 billion in outside accounts," union President Neil Jacklin said in a statement. "This is just the latest example of CSU leadership irresponsibly managing public funds without fear of consequence."
And the legislator who requested the audit, Assemblywoman Sharon Quirk-Silva (D-Fullerton), called for greater state oversight of Cal State funds.
The audit also found that while Cal State spent parking revenue properly, it failed to fully explore alternative transportation options, such as bike lanes, before investing in expensive parking facilities primarily paid for by students.
Cal State Channel Islands, for instance, increased parking prices by 34% to help fund new parking facilities. But parking capacity actually decreased by 21% because the campus increased enrollment.
White said he valued fair and impartial audits, and would consider all recommendations for ways to more frequently and clearly report financial information to the public. Last month, Cal State developed a "transparency website" with additional information about the funds in question.
"I want to be accountable to everybody and anybody," White said.
---
The stories shaping California
Get up to speed with our Essential California newsletter, sent six days a week.
You may occasionally receive promotional content from the Los Angeles Times.